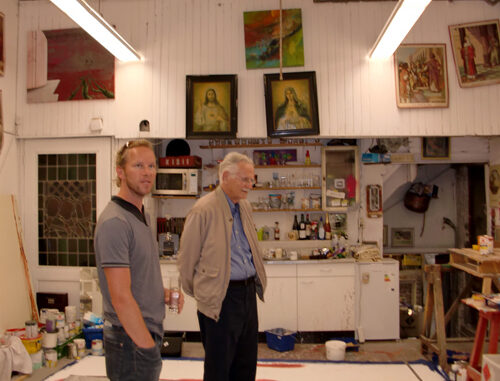 This is a surprising tale, an Internet story that could not have happened without "Google". About a year ago my husband, Leon Keer, a professor at Northwestern University, received an email from Leon Keer, an artist in Utrecht, Netherlands saying that Leon Keer, the professor had been found on "Google" and that the two of them must be the only people in the world with that name. This was, of course, intriguing. The professor was very interested in learning about the artist and his work and during several months emails flew across the ocean with descriptions and photos of paintings. The professor received a book of the artist's work. He considered a purchasing a painting but wanted to see the paintings in person first. Fortunately, the professor had a professional meeting in Paris recently, to which he added a side trip to Utrecht, Netherlands to meet the artist and see his studio and to see the actual paintings. This also provided an opportunity to explore the charming city of Utrecht.

There was excitement and delight when the two Leons met one another. They both have extensive worldwide reputations though the professor is older than the artist. The two are not related though they share the same name. Each was fascinated to learn of the other.

Artist, Leon Keer, completed his studies at college, prepared to enter the travel field. But there were no jobs to be had in that field at the time. What to do? When he was hired to paint a large picture for a shop, he discovered he could use his innate to create art that was appreciated and his career took a new turn.

His story is best told on his website: Leon Keer
www.leonkeer.com, "Leon Keer (1970) learned to paint through designing and producing large advertising murals for multi­nationals (since 1997) such as Coca-Cola, Schweppes, Heineken, Red Bull, Reef, Evian, Royal Club, Remy Martin and Absolut Vodka. He has executed commissions in the Netherlands, Germany and Australia. His knowledge of materials, acquired by painting on all kinds of foundations for his clients, led to an interest in experimenting with materials and techniques.

Leon Keer works with a mixture of tech­niques, uses a rich variety of materials, ranging from professional acrylic paints to adhesives, solvents, primers and tar. His subjects and images are entirely contemporary: they could be freeze frames from a video clip.
A message – formerly so important in all of Keer's commercial work – also seems to be present in his own work. Current issues are reviewed, such as current environmental concerns and the livability of this world. The artist observes great impotence and with that a cer­tain degree of indifference from the individual. Leon Keer is constantly aware of the beautiful versus the ugly, a contrast that he expresses and amplifies in his work and which he uses as a metaphor for live. His paintings reflect his thoughts, confronting the viewer with the diseased spirit of our times, visible decay counter-pointing a timeless longing for unspoiled beauty."

We were very excited about visiting the studio and seeing the paintings in person we knew from the book and the web. Artist, Leon brought us to his studio, which had previously been a glass factory. Entering, it felt like we were greeting old friends (the pictures we had seen on the web), and also saw some unfamiliar paintings. We knew his work was very powerful, but in person, it was even more so.

He showed us magazines, some from 1966, which contain stories that have inspired some of his paintings. A recent stay in San Francisco, California inspired others. We enjoyed seeing his works and learning about his approach to painting. It was dinner time, and we agreed to think about our purchase and enjoy the evening, which included experiencing the painters' culinary artistry.
Leon and his wife, Marije welcomed us into their home. It was evident that people with a great sense of design and use of space lived here. Dinner could not have tasted better in the finest restaurant and it could not have been more interesting. We shared stories of our travels, our lives, our relatives, our ideas. It was an evening we will never forget.
Some of the stories that Leon Keer (the artist) shared were about some of his experiences when he travels to participate in street painting. He is an enthusiastic street painter, as follows: " Mostly I am busy making murals and paintings on canvas but I am very enthusiastic about drawing on the streets. The transitoriness and open-air experience does match with my point of view about art. More info about my work: www.dufois.nl / www.leonkeer.com / www.madonnari.nl".
The Street Painting Society of which he is a member has an interesting history as follows: "The history of Street Painting has many versions and is an art with little documentation until the early 70's. Mostly a poor mans art form, it was a way for artists to make a living in early 16th century Italy. A very nomadic way of life, a street painter would plant himself in front of a church or cathedral and paint the image of the Madonna and child on the streets in soft pastel. Passersby would throw coins on the artwork as a sign of appreciation and honor. Because of their depiction of the Madonna, these artists became known as Madonnari, a term still used today.
The first organized street painting festival was in the city of Grazie, in Mantova Italy in 1973. It is always on the Ascension Holiday, August 15th, to honor the Holy Mother. In 1985, after witnessing the beauty of the Italian festival, a Santa Barbaran named Kathy Koury put together the United States first Street Painting event to raise money for her non-profit. Since then, Madonnari festivals have sprung up around the world to raise money for children's charities and non-profit organizations. Artists volunteer their time to paint beautiful images on the streets & out of their studios.
Over the years, street painting has evolved into worldwide marketing and money raising phenomena. Advertising agencies and events are now using Street painting as a marketing tool to advertise their brand or event in a new and intriguing way & street painting and street painters are becoming household names."
As we were approaching our hotel after a truly memorable afternoon and evening, the two Leons discovered another coincidence. They both have "M" as their middle initial. As artist, Leon Keer, moves forward in the work he does both with his paintings and his street paintings, we hope to keep track of his progress.
Photos- Leon Keer (professor) and B. Keer
Published on Jul 24, 2011