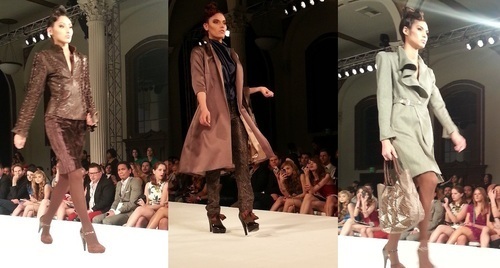 Style FashionWeek hosted my first fashion show! Going in I didn't know what to expect. I had been to a fashion trade show with my mom a couple of years ago, and we saw a floor fashion show, but this was definitely different. I checked in as media, with Lawrence Davis, and then we went to find our seat assignments. We walked the red carpet, and got stopped to have our picture taken. I have to admit, my heart fluttered a little, and it made me feel special, for someone to want to take my picture.
There weren't too many people in the courtyard when we arrived, but there were a few booths showing their wares. We were let in early as they were finishing setting up because of our media passes. The runway was raised, long and white, with chairs set up on either side. It reminded me of dress shows that royalty go to in Europe that you see on the movies. I've seen America's Next Top Model, and Project Runway, and it was also familiar in that sense. Seeing it in real life though, is something else.
We went back outside and mingled with the other guests that had started to arrive. Soon they announced that the doors were now open. We found our seats; front row!!
The evening started with Gegorio Sanchez who was debuting. His new Fall/Winter 2013/2014 collection the Gregorio Sanchez Collection was sleek, and tailored. The collection had pant suits, dress suits, and jackets of all kinds. One of my favorite pieces was the navy blue dress shirt, paired with brown skinny patterned pants with a knee length 3/4 sleeve jacket in a light burgundy/mauve color.
I also loved the soft collar and sharp shoulders on the light green knee length jacket.
Beso Moda's Spring/Summer 2013 collection "Rhapsody" would get everyone ready for the warmer weather. Her line included amazing beadwork, and beautiful gowns. She did an amazing job on her black & white striped dress, getting the lines just right to make a pleasing look on any woman. Her final piece had the crowd clapping: a mini black dress with a long flowing train.
The final show of the night was Ina Soltani's Signature Collection.  The dramatic lines were pleasing to the audience. The Spring/Summer 2013 collection was a great mix of soft and hard fabrics. Her lines were bold and fit the woman's body nicely.
One of the highlights of the show was her gold full length dress. Her long black dress with the lighted seams was another one of my favorites.
The three collections were all well done, and exciting for me, to watch on the runway. My first runway shows will be a fun memory to look back on!
Photos taken by Splash Magazines Photographers