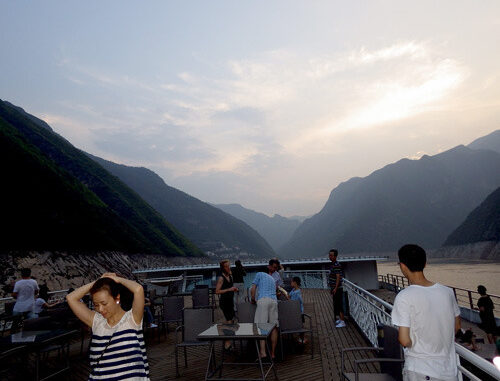 I have had a long-standing wish to take a Yangtze River cruise and to go through the Three Gorges. When the opportunity to accompany my husband to Chongqing, China presented itself, I was thrilled. He was invited to participate in a conference between professors from Chongqing University in China and Northwestern University in the U.S. After three days of meetings in Chongqing, the conference continued on the M.S Yangtze 2 Cruise Ship. I could hardly believe this was my dream come true. This was the first cruise for my husband and me. What a great beginning!
Initially, our group at Northwestern was a little hesitant about taking the cruise, wondering exactly what the five star designation really meant. We need not have been concerned because it really was a five star experience. This line was the first to offer this cruise many years ago but the ship has been completely renovated as the website says, "The M.S Yangtze Two sets a new high-water mark in cruise ships. It is a marvel of engineering, built according to the top standards of oceangoing vessels—all in the service of providing modern, luxury cruises with classic charm; our signature blending of east and west. It is the first and the only ship equipped with an indoor thermostatic and constant-humidity swimming pool covering an area of 110 m2." and "Yangtze 2 made her first voyage in Sept. 2011. As the newest 5-star cruise at the most competitive price, Yangtze 2 cruise becomes greatly popular." If our experience is typical, it should be very popular.
We boarded the ship after dinner, late enough in the evening to see Chongqing aglow, all lit up.
Entering the lobby area of the ship to check in with our passports, we found ourselves in a lovely and luxurious space. Our passports were quickly processed while we waited in the dining room, and soon we were given a key to our room.
And then we opened the door to our room. We could not believe what we were seeing. Was this large, luxurious room really ours? Yes, and it was wonderful.
After a brief orientation we settled down for the night and were awakened in time for an amazing buffet breakfast by gentle music piped into our room. Because the Yangtze River was too high at night, our journey began in the morning. (I missed the Taichi Exercise on the deck.)
Shortly after breakfast, River Guide, Shelley, offered English-speaking guests a full briefing in English on all aspects of the cruise in the Sunshine Bar on the deck. While one member of our group had a foot massage, two of us went to a lecture on Traditional Chinese Massage presented by Dr. Zhao, the ship's doctor and expert on massage. The lecture was fascinating and very informative.
After lunch, hearty souls headed out to the shore excursion of Fengdu Ghost City. Those who did not want to climb and walk stayed behind and also enjoyed a foot massage. However, they missed dramatic, unusual sights, memorable sights.
We returned in time for the Captain's Welcome Party, a great buffet supper followed by a Cabaret Party. This was fun because, in addition to a great performance by ship staff members, many guests performed.
The following day was very busy. Our buffet breakfast began early so that guests would have time to leave the ship at Feng Jie County and participate in the two and a half hour tour of the White Emperor City, the most famous historic scenic spot along the Three Gorges. It is true that climbing was involved, but our group that stayed behind the previous day had no reason not to join this tour because there were men who carried them up and down the mountain in chairs. This way they were able to enjoy the amazing views, too. Others remained onboard where they could watch films, play cards or other games, have a massage, etc.
The second activity that day followed our lovely buffet lunch. The excursion took place while the ship was docked at Wushan County. Here we filled a small boat and explored the Mini Thee Gorges. This was relaxing, beautiful and fascinating. We heard native songs from our boat drivers and also from a group in another boat on the water.
After we returned to the ship our journey began again and we soon entered the second gorge, thought to be the prettiest. Soon after we noted an interesting phenomenon of the mountain, it was time for dinner. This was the Captain's Farewell Banquet, and it was a delicious sit down, dinner with very good service. Then, though the evening continued with a movie, beer night, karaoke and dancing, our group settled down relatively early anticipating getting up early to observe the Yantze2 going through the 5 step ship-lock.
Hoping to see how the ship went through the locks, some people got up early, some slept on the deck and others slept through as we did. After we had breakfast, we departed the ship and went on to see the Three Gorges Dam and the locks through which our ship had come. According to Wikipedia, " The Three Gorges Dam is a hydroelectric dam that spans the Yangtze River by the town of Sandouping, located in Yiling District, Yichang, Hubei province, China. The Three Gorges Dam is the world's largest power station in terms of installed capacity. Wikipedia"
Opened: 2003 Height: 607′ (185 m)Address: 三斗坪, Yiling, Yichang, Hubei, China.
It is a huge, ambitous project that involved experts from all over the world and it is very controvertial. One of the bus drivers told us about the way the dam impacted his family. He said his parents did mind moving higher up the mountain, his grandmother found it very hard and a cousin of his took advantage of all the changes to move to Shanghai. It was interesting to speak to friends who took this trip in years past. Many years ago, there was no talk of the dam. More recently, those on the ship could see the houses marked for evacuation. And on this trip there was nothing we could see of the "lost homes and artifacts", only stories.
We had one last stop in Yichang, "The Ecological Garden Restaurant" where we enjoyed the food and the ambiance. It was unique in our experience. Then we were taken to the Yichang Sanxia Airport to catch a plane to Shanghai so we could catch our plane home.
The cruise did not end for others. There was more for them to see and do as there would be for you, if you took this cruise. It is an amazing thing to do.
We remember the: huge and beautifully appointed room, great food, entertainment, fascinating side trips, incredible views, a wide range of activities that included lectures and movies. Massages, beauty shop, and on board shopping and the availability of the staff.
Photos: Barbara and Leon Keer