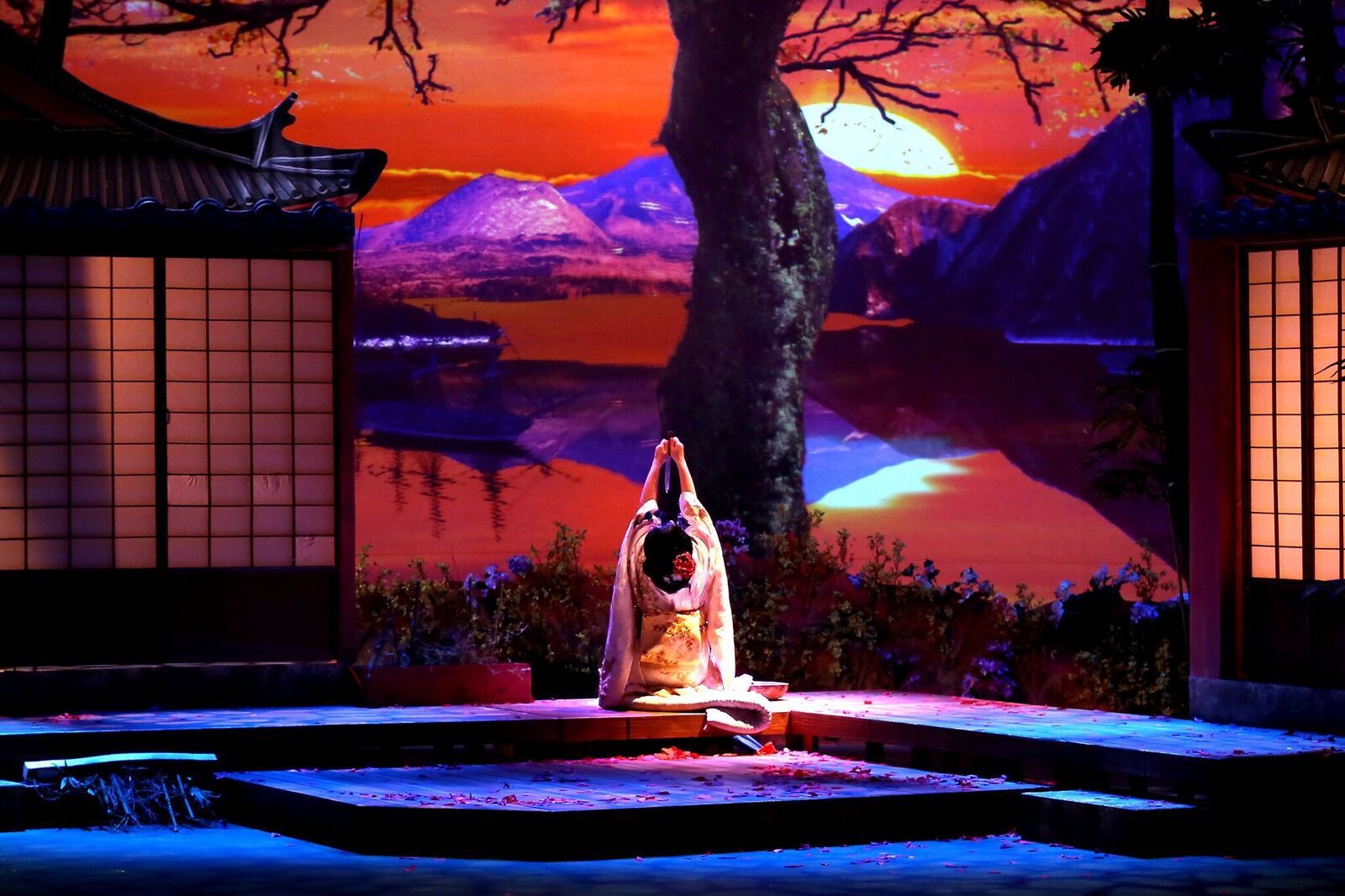 West Bay Opera once again proves that an exciting, fully-staged opera can be experienced on the Peninsula, in a cozy theater and at affordable prices.  This production, the final opera of their 60th season, is Giacomo Puccini's Madama Butterfly.
One of the most loved and most performed of all operas in current times, the opera had a rough start in its early days. The first production, which opened in 1904, was poorly received. It took four more revisions by Puccini and another few years, before what is now referred to as the "Standard" version, an opera in three acts, began to take off. Since then, the opera has inspired two Broadway musicals (Miss Saigon and M. Butterfly) and the film Fatal Attraction. This is the ninth production of Butterfly for West Bay Opera.  The first, in 1959, was produced before today's General Director, José Luis Moscovich, was born.
West Bay Opera's innovations this time around are a bit more subtle than usual. Maestro Moscovich has chosen to present the opera in its original setting with a (virtually) untouched score. The creativity comes mostly in staging. They have been experimenting with photo and video projections for their backdrops for a while now. But by taking advantage of software advances, through programs such as Adobe's After Effects, waves ripple, clouds float by, and ships come and go from Nagasaki harbor. This is a clever use of technology to update the performance, without the need to change the libretto or the music, as is often required if the setting or the era is shifted.
Another attempt at innovation is offering a performance on Wednesday evening, starting at 7 PM. The house was about three-quarters filled, so that must be considered at least a partial success. This was also touted as "take your grandchild to the opera" night. Maestro Moscovich joked that some people questioned whether Butterfly has appropriate themes for grandchildren. His response is that since the average age of the audience tends to be about 75 years old, the average grandchild is likely about 35 years old! Seriously though, this is a great opportunity to expose teens or twenty-somethings to the joys of opera.
The principals in this production, ably supported by an excellent chorus, offer believable and artistic interpretations of these timeless characters. Olga Chernisheva, in the leading role, brings the audience nearly to tears as she sings the most famous aria from this opera, and one of the most famous in the soprano repertoire, Un Bel Di (One Fine Day). Kristen Choi, in the role of Suzuki, Butterfly's servant, and Igor Vieira, as the American consul, are particularly effective actors as well as clear and forceful singers.
The West Bay Opera Orchestra, under the baton of Maestro Moscovich, provides a rich musical backdrop for the singing. An interesting aspect of the score involves the orchestra's use of pentatonic themes behind Japanese subjects, and references to the Star Spangled Banner behind the American subjects.
For those not familiar with the opera, here is a quick synopsis of the plot:
Benjamin Franklin Pinkerton, a lieutenant in the U.S. Navy, buys a house in Japan, and arranges a marriage through a marriage broker.  He is to wed a 15-year-old geisha named Cio-Cio, the Japanese word for butterfly. For Pinkerton, this is just a temporary marriage of convenience, since he makes it clear that someday he will take a "real" (American) wife. But for Cio-Cio-San, this marriage means everything. She falls madly and completely in love with Pinkerton, and even converts to Christianity, causing her to be denounced and abandoned by her own family. The couple lives in happiness for a short time, but then the lieutenant must return to his ship, the USS Abraham Lincoln, and leave Nagasaki. He promises that he will return, and Cio-Cio-San begins her long wait.
Three years go by, and Cio-Cio-San continues to spend her days on the top of the hill, waiting for Pinkerton's ship to return. In the meantime, her food and money are becoming scarce, but she turns down the offers of other suitors, knowing that someday, her husband will return.
The American consul in Nagasaki arrives with a letter from Pinkerton, and tries to read it to Cio-Cio-San, but she interrupts so often, and is so excited by the arrival of the letter, that he doesn't have the heart to tell her what it really contains. The consul asks Cio-Cio-San what she would do if Pinkerton never returned, and she responds by producing their three-year-old son, whom she has named Sorrow. Stunned by this, the consul writes back to Pinkerton, telling him of his son and the sentiments of his Japanese wife.
When the letter arrives back in the states, Pinkerton and his new wife, Kate, are overwhelmed by the news, and set out for Nagasaki, most likely to take his son from Cio-Cio-San to ensure a better life for him in America.
Once they arrive, Cio-Cio-San slowly learns the devastating news that Pinkerton has married an American woman, and realizes that her life is ruined.  She reads the inscription on the hara-kiri knife her father once used: "Who cannot live with honor must die with honor." She must die so that her son will not feel guilty that he has abandoned her.
One last innovation comes in the last few minutes of the opera. As the inevitable suicide approaches, one expects Cio-Cio-San to avail herself of her father's hara-kiri knife, which she always seems to have nearby. But, West Bay Opera has programmed a new twist on the ending. (You will need to catch one of the remaining performances to learn more. Enough spoilers!)
CAST
Cio-Cio San                Olga Chernisheva
Pinkerton                   David Gustafson
Suzuki                       Kristen Choi
Sharpless                   Igor Vieira
Goro                          Michael Desnoyers
Bonzo                        Kiril Havezov
Yamadori                   Ryan Bradford
Kate Pinkerton            Carolyn Bacon
PERFORMANCES
Friday, May 20, 2016         – 8:00 PM
Sunday, May 22, 2016       – 2:00 PM
Wednesday, May 25, 2016 – 7:00 PM
Saturday, May 28, 2016     – 8:00 PM
Sunday, May 29, 2016       – 2:00 PM
221 Lambert Avenue
Palo Alto, CA   94306
Lucie Stern Theatre
1305 Middlefield Road
Palo Alto, CA
 94306
(650) 424-9999
All photos by Otak Jump and are used by permission.