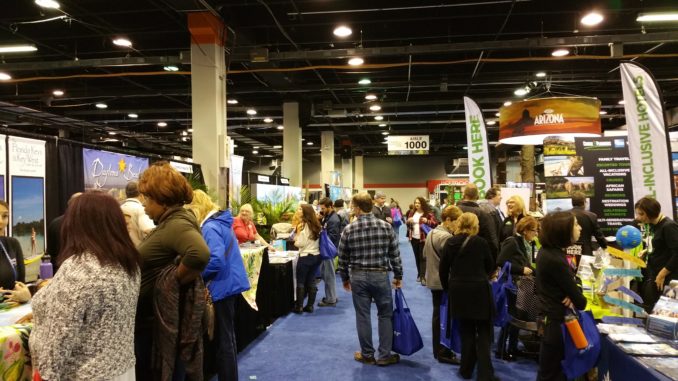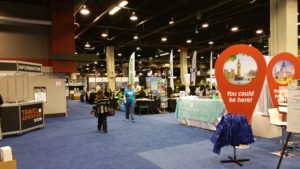 If you're looking to plan your next vacation, or to discover the latest and greatest ideas in travel, the Travel & Adventure show is a great place to start.   With vendors from all over the world, you can research your next trip, talk to experts, meet with travel agents, or book a cruise to an exotic destination or one much closer to home.
The gathering in Rosemont had everything from local destinations around the Midwest like the Wisconsin Historical Society's Old World Wisconsin history village in Eagle, just outside of Waukesha; or the natural wonders of Charlevoix, Michigan and the Western Upper Penninsula, to U.S. destinations like North Dakota, Oklahoma, Arizona, California and Florida.  There were booths from Alaska, Hawaii, Puerto Rico and the U.S. Island territories.
There were also rich opportunities to discover abroad, from nearby Mexico and Canada to exotic locations in Africa or Asia and experiences that highlighted the drama and history of Europe.
Activities for every fitness and age level were represented, from leisurely cruises from all the major carriers as well as some boutique vendors to adventures like ziplining, rustic hiking, and white water rafting.  Nearly every type of travel experience was there to discuss including, it was excellent to see, accessible travel for those with mobility issues.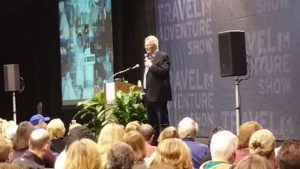 And the show isn't merely about travel planning, there are informative lecture series, like the programming at the Savvy Travel Theatre covering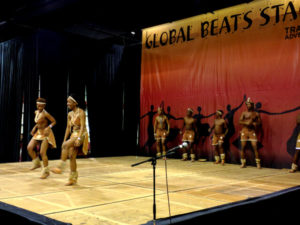 ways to optimize your travel experiences from information about certain types of tours to a lecture on indispensable technology for travelers.  The Taste of Travel Theatre hosted celebrity chefs and an incredible cooking competition, Culinary Fight Club.  The Destination Theatre showcased some incredible locations.  And the Global Beats stage gave incredible International cultural performances.  There are more than 30 in all over the course of the weekend.
For those who wanted a more hands-on experience, there was a live camel to ride, a scuba pool and Segway area.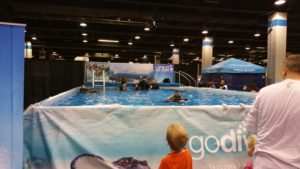 Most of the booths were offering some sort of giveaways.  You could sign up for a chance to win a trip.  You could get special discounts only offered to show attendees.  You could get insider tips and tricks on how to plan and book your next travel adventure.
There's so much there, it can be a little daunting.  Wear comfortable shoes.  Take some breaks at the programming.  If you come early, there are fewer crowds.  It's a rich experience and perfect for people who like to plan and dream of their next vacation adventure.
Upcoming 2017 shows are in
San Francisco Feb. 11-12, 2017
Los Angeles  Feb. 18-19, 2017
San Diego March 4-5, 2017
Denver March 18-19, 2017
Philadelphia March 25-26, 2017
Dallas April 1-2, 2017
More information at the Travel & Adventure show Website.
The show will be returning to Chicago (actually Rosemont) February 10 – 11, 2018, at the Donald E. Stephens Convention Center.
TRAVEL and ADVENTURE DEEP DIVE – Taste of Travel Theatre
By Judith Singer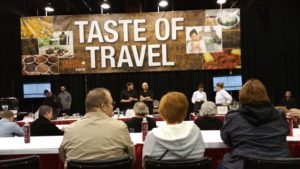 The Taste of Travel Theater featured culinary demonstrations, tastings and timed competition. With only one out-of-town presenter in the lineup, the two-day set was more of a Featured Chicago Eats stage than a true taste of international travel.
Two highlights were a cooking demonstration and tasting by Chef Joey Beato, Executive Chef and Partner of Community Tavern, and one of a list of national cook-offs from the national organization Culinary Fight Club, one of many competition groups that feed competitors to the World Food Championships.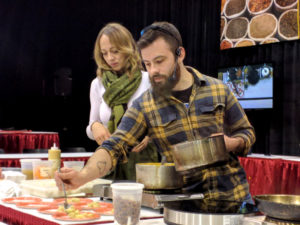 Chef Beato, who boasts such distinctions as one of Zagat's 30 Under 30 for 2013 and Best New Restaurant in Chicago Magazine, hosts wine events and focuses on local food production, which includes an in-house bakery and charcuterie. Chef Beato demonstrated a French style gnocchi in a tart, cheesy sauce.  Unlike traditional Italian gnocchi, the Parisian variety is made with choux paste – the same stovetop-cooked dough that comprises cream puffs and eclairs.  Unlike its dessert counterparts, though, this dough was enriched with shredded cheese, a healthy dose of Chinese mustard and fresh herbs. Once simmered, the little nuggets became soft, delicate pillows with a perfectly consistent texture and just the right surface to pick up the rich, cheesy Mornay sauce accented with the same mustard and herbs, as well as diced root vegetables and a generous helping of meaty, smoky, house-made bacon.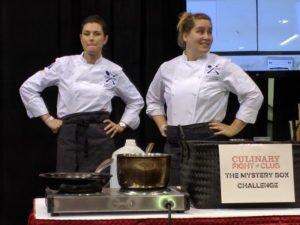 On the competition stage, three pairs of contestants battled a 45 minute countdown clock to prepare a finished dish based on an array of ingredients from the now-ubiquitous Mystery Basket, as well as a CFC-branded bottled sauce, because marketing.  This round of Culinary Fight Club featured the teams led by Chef Jessica Bograd Kasey McDonald of CSSI Marketing + Culinary, Chef Paul Caravelli, Executive Chef at Knife and Tine and Chef Tim Davidson, Chef de Cuisine at Troquet River North. By the end of the 45 minutes, judges Michelle Guilbeau of CBS and John McLean of Good Eats Restaurant Group sampled three decidedly different dishes.
Chefs Bograd and McDonald presented a deconstructed lasagna featuring pasta discs layered with a carrot/sweet potato puree with the sriracha version of the required sauce, a mushroom Mornay, a crispy shredded bacon and leek salad, with fresh touches of basil, spinach and lemon zest. It was hard to resist reaching over to snag a taste.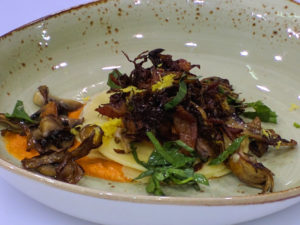 Chef Caravelli and his sous served up what sounded like a deeply earthy foie gras and mushroom poststicker dressed in an orange and garlic sauce that also incorporated the sriracha variation on the competition-branded sauce, with a drizzle of Japanese Kewpie mayonnaise.
Chef Davidson and his assistant created a bacon-mushroom dumpling with pickled carrot and a decadent duo of bacon-based drizzles; one made with avocado and bacon fat and the other a bacon fat mayo using the bbq variety of the bottled sauce.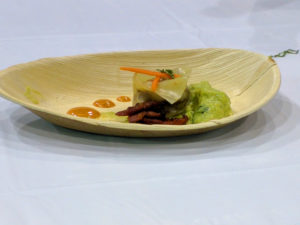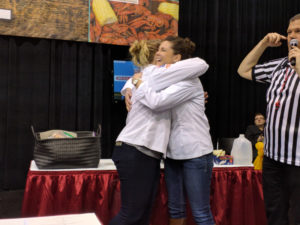 With the judging criteria focused on flavor, plating and creativity, it was chefs Bograd and McDonald who took the win with their nuanced, well balanced and creative dish.
Save
Save