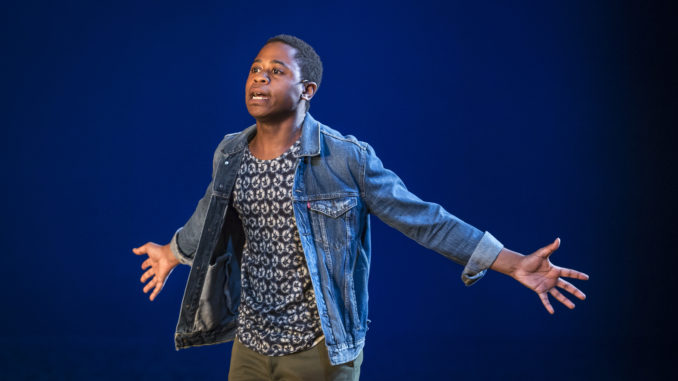 Everyone has a name. Everyone has a story. Are the names real? Are the stories real? Does it matter? These are among the questions posed by "Objects in the Mirror," a play written by nationally recognized playwright, Charles Smith, and directed by Goodman Theatre's Resident Director, Chuck Smith. The two Smiths are not related.
"Objects in the Mirror" is based on the real escape and immigration story of actor, Shedrick Yarkpai. Yarkpai left civil war-torn Liberia on foot, without his mother, but with his uncle, and other family members in 2001. After a long and dangerous journey, dodging child-soldiers, and questions at military checkpoints, the family spent almost four years in a number of crowded, festering refugee camps in Cote d'Ivoire and Guinea before immigrating to Adelaide, Australia. Yarkpai credits his time in the camps with his introduction to writing plays and acting.
Charles Smith met Yarkpai when he appeared in Smith's play, "Free Man of Color," in Adelaide, Australia. "Free Man of Color" is about the American Colonization Society's (ACS) mid-eighteenth century, racist and cynical deportation of educated, free black people back to what is now Liberia, formerly "The Grain Coast" of West Africa, creating the free republic of Liberia, but with the intent of ridding the United States of free black people. Yarkpai's story of escape from that same country, more than 175 years after the ACS started the migration, resonated with the playwright.
Act One of "Objects in the Mirror" depicts the family's journey, and how Shedrick, played by Daniel Kyri making his Goodman Theatre debut, loses both his name, and his story as his uncle, John Workolo, manipulates the system, and reality, to get the family out of danger, and out of the camps. Through a series of deceptions designed to please or placate soldiers and immigration officials, John transforms Shedrick into a person deemed acceptable for passage across borders.
After acceptances into the USA, followed by disappointment, the family is finally allowed into Australia, but they're not the same people who left Liberia, and that is the basis for Act Two as Shedrick works to figure out his own identity and story.
Unfortunately, the harrowing journey of Shedrick and his family is told rather than experienced, taking much of the drama out of the Act One. The audience does not see any of the mentioned attacks by child soldiers, or the tense interrogations at military checkpoints, but is informed through discussions between Shedrick, Uncle John, and his cousin Zaza, played by Breon Arzell.
The highlight of "Objects in the Mirror" is the performance of Lily Mojekwu as Luopu Workolo, Shedrick's mother. Mojekwu character keeps Shedrick real whether she's with him, across the world, or deceased, and the actress does it with humor, drama, and a big personality. As Shedrick struggles with his persona, his mother reminds him that he started life as "baby boy Workolo" and the Shedrick and the Yarkpai came later, and mostly by chance.
Allen Gilmore plays Uncle John as a practical realist who will do or say whatever it takes to take care of his family. Unfortunately, Uncle John descends into a homophobic rant late in Act Two that might changes one's opinion of him.
Australian family lawyer, Rob Mosher, played by Jeff Award winner Ryan Kitley, is a seemingly cautious and caring person who works with people who have been abused. Mosher assists Shedrick in his identity quest, but the audience is left wondering if "Mr. Rob" expects more from Shedrick. Unlike Act One, Act Two retains its drama and conflict through Shedrick's unpredictable interactions with Mr. Rob while also taking opposing advice from Uncle John.
"Objects in the Mirror" is an interesting study of identity, the identity of a man, his nationality, and the larger society to which he belongs. It's funny at times, but the poignancy and sadness of the immigrant's journey from his devastated homeland is lost in the storytelling, but strangely even in that, the play sends a message about its other themes, storytelling and survival.
The set is sparse, a roof with some modern furniture for Mr. Rob's home which later transforms into Uncle John's plain immigrant's kitchen, and the beach at Adelaide, with its dreamy ocean backdrop. For the journey from Liberia, set designer, Riccardo Hernandez, chose to rely on projected graphics to indicate the various locations. Depending on where one is seated in the theater, backgrounds of West Africa are more or less effective.
"Objects in the Mirror" is playing in the Goodman Theatre's Albert Theater through June 4, 2017. For tickets see GoodmanTheatre.org/Objects.
Photos by Liz Lauren