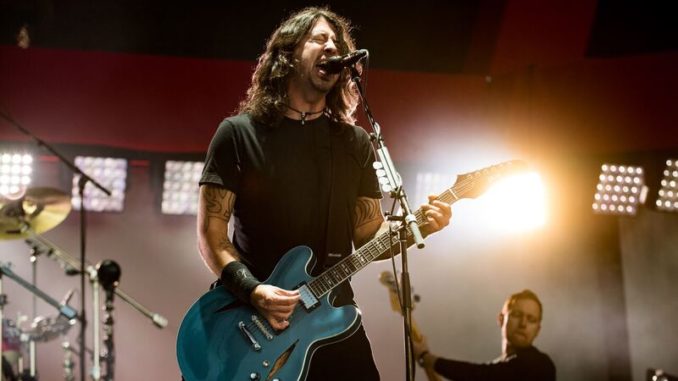 It comes as no surprise that the fifth installment of BottleRock Napa Valley broke a few records.  The sold-out 3-day music festival was recently held over Memorial Day Weekend at Napa Valley Expo. Not only did it boast an impressive line-up such as: Maroon 5, Tom Petty and The Heartbreakers, and Foo Fighters, it raised the bar on the luxury, culinary, and craft breweries and vintners which once again proves that it's a force to be reckoned with.
Presented by JaM Cellars, BottleRock Napa Valley entertained more than 120,000 this past weekend. From the world-renowned musicians, Michelin-starred chefs, vintners, brewers, art installations – BottleRock is an experience.
"It was truly an amazing and enjoyable weekend," said Dave Graham, CEO and co-founder of BottleRock Presents. "We are already deep into planning the 2018 festival and will continue to build and enhance the premium experience our festival-goers expect from BottleRock Napa Valley."
Each and every year there is one factor that seems to be a step up than its previous year. Personally, I've been to each and every BottleRock and seem to be pleasantly surprised each time. I run through the grounds as if its Christmas morning, smiling from ear-to-ear and overwhelmed with excitement! This year proved to be no different in terms of excitement!
Semi-new alternative band, The Heydaze, started making waves in the latter part of 2016. They even made it on to Alt-Nation's Advanced Placement playlist in December. They kicked off with a high energy performance that was pure 'vibes,' at BottleRock.

We had a chance to catch up with a new favorite and get their thoughts on the festival!

"We LOVE Bottlerock. We've collectively attended many festivals as both fans and performers and there is nothing quite like this one," The Heydaze stated. "Between the wine, the location and the overall vibe of the festival, it was really an absolute blast to play. The crowd was one of our favorites ever. We give Bottlerock a solid 
10/10
 "
Day 2 was set to be a pretty promising day with acts such as: AlunaGeorge, Alt-Nation favorites and newcomers Judah and The Lion, 888, and 90s throwback Everlast to name a few. Andra Day took over the main stage for her afternoon set. If you weren't in the area, I'm sure after hearing her sultry pipes quickly caught your attention. "You're energy is amazing," she notified the crowd before closing out with her hit single, 'Rise Up.' Her tone was perfect for the day that paid homage to a few other classic artists such as Mavis Staples and Tom Petty and the Heartbreakers.
Corey Harper also caught up with us to chat after his performance on Saturday! "BottleRock was a milestone for my music and myself as an artist, and concert goer. The feeling of playing on the main stage in front of everyone connecting to each other through the music was a moment I'll replay in my head for a long time. The staff was incredible, and everything was catered for the artists to feel valued and comfortable. There's not a lot of festivals that offer the same experience."
While the 'vintage' crowd jammed out to Tom Petty and The Heartbreakers, others took to the newly added SILENT DISCO! While the silent disco was going on throughout the day the main event was in the evening, when Big Boi and The White Panda did a solid collab! Nearly 5,000 attendees squished under the tent for an intimate dance party!
Day 3 was hands down the best day in terms of versatility. Major acts included: Band of Horses, Live, The Naked and Famous, St. Lucia, Gavin Degraw, and more. Festivalgoers had to struggle to choose between two heavy hitters of te evening – The Foo Fighters and The Roots! Luckily there was a 30 minute gap that allowed attendees to see a bit of both spectacular show. If you didn't have festival envy before you most certainly would now as these two acts pretty much stole the show! Dave Grohl was given a two-hour set to play his major hits which span over two decades. The frontman engaged the audience and even asks that everyone sing 'Happy Birthday,' to his wife Jordyn Blum, who was in the crowd. "Maybe we have been making a new record, maybe not,"Grohl teased before playing their single 'Big Me.' The Roots are widely known as being the hype band for The Tonight Show with Jimmy Fallon, and put on a high energy performance that was mind-blowing.
At first glance, there were a few additions that were quickly noticeable. Luxury played a HUGE part in this years planning. The Sutter Health Wellness Spa offered many services to ensure attendees were at their best throughout the festival. Hair styling, make up, temp tattoos were offered in addition to massages and hydration stations. The spa was a very much needed addition and a relaxing way for attendees to rejuvenate and take a break from the massive dance party held mere steps away.

The festival also added expanded VIP viewing decks, however, the biggest and most welcome surprise was the lush new 210,000 square foot Bermuda grass lawn at the JaM Cellars Stage. BottleRock's VIP Village, Sky Deck, Luxury Suites and Platinum ticketing options add a level of comfort above and beyond most music festivals while general admission offers unparalleled amenities on the festival scene. The added turf was also a nice touch. Giving attendees more space to lounge and indulge in the many instagrammable moments that are easily associated with BottleRock!
Let's be honest, food and beverages are NEVER lackluster at BottleRock as it certainly lives up to the 'Napa standard,' being basically the gastronomic place to be in Northern California. A few favorites were: Morimoto, La Taberna, Cole's Chop House, Southside, Cross Hatch Eatery, Itani Ramen, Red Whale Coffee. Wines were flowing the entire time at BottleRock! Jam Cellars, Stags Leap, Sterling Vineyards, Blackbird Vineyards, to name a few in addition to the craft brews onsite.
One of the liquor brands that struck a chord was
Milagro Tequila
. Not only were the cocktails infused with fresh ingredients, (such as their take on a traditional paloma, which had elderflower added or the green chili infused spicy margarita,) but they even had an artist from Mexico City painting live art throughout the weekend. "Each day he arrives at 9am and paints a live mural till 6:30 or 7:00," stated a Milagro representative. "They're inspired by Mexico City street art with a modern twist."
Dates for next years festival have already been set for May 25-28 2018! BottleRock Napa Valley is easily described as one of the best festivals in the country as it caters to all audiences and lives up to the 'Napa standard.' I don't know about you, but as long as BottleRock happens over Memorial Day Weekend, my plans are set for life. The scene – sheer perfection; the food and beverages – unparalled; BottleRock – a MUST!