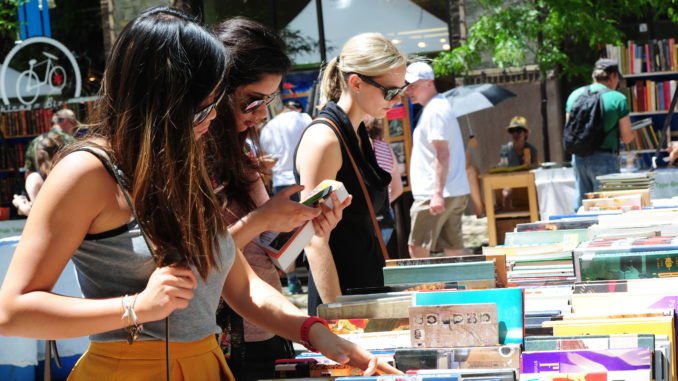 Believe it or not, it's that time of year again. Time for the Printers Row Lit Fest, that is — which, I should note, also happens to be one of my favorite events of the summer. Recently, I had the opportunity to speak with Program Manager Teresa Basso Gold to get a better idea of some of this year's highlights of the event. Read on to see what they had to say.
Andrew DeCanniere (AD): To begin at the beginning, how did the Printers Row Lit Fest come about, anyway?
Teresa Basso Gold (TBG): It used to be the Printers Row Book Fair and was started by the Near South Planning Board. It has since been acquired by the Chicago Tribune, in support of our commitment to the written word, and is now in its 33rd year. We've continued to partner with the Near South Planning Board but also really try to incorporate more programming, including nationally well-known authors, but to keep a local flavor as well.
AD: It really is a wonderful event. Unfortunately, I wasn't able to make it to the last two, but I plan to be there again this year.
TBG: It is and every year we become more excited — especially right now.The energy just builds as we get closer.
AD: Speaking of which, what are some of this year's highlights?
TBG: This year, we're honoring David Levithan. He's receiving our Young Adult Book Prize. It's an annual book prize we give to an author. Especially this year, the themes of his books really resonate with very important topics that speak to teens in this day and age. We have Rick Bayless, along with the co-star of Food Network's Chopped, Amanda Freitag. They're both appearing on the Food & Dining stage and she has also appeared with Bobby Flay on Iron Chef, so we're really excited about having her appear as well.
We have Scott Simon, whose new book is about his history as a Cubs fan. He's going to be appearing with Irvine Welsh. Then, he will be throwing out the first pitch at the Cubs game, so that's really cool. He's a big fan of the Lit Fest and has appeared in the past. Jonathan Safran Foer will be appearing at the festival. Amy Dickinson, from the column Ask Amy will be appearing with Peter Sagal. We'll have Scott Turow and Joseph Kanon, who will be appearing at the Harold Washington Library Center.
There are a lot of authors who have books that will be coming out within the next week or so, which is great. It's nice because a lot of the attendees haven't read their books yet. So, it gives the people an opportunity to not only listen to them speak, but they can also purchase their books on-site. All of our programs also include book signings with authors, which is a great opportunity for our attendees to meet the authors.
Cory Doctorow is huge in the Sci-Fi genre. Kareem Abdul-Jabbar has a new book about his relationship with Coach Wooden, both on and off the court. He doesn't make too many appearances, so we're very excited about that. He will be appearing with Richard Roeper, and Bruce Dold will be introducing the program. Senator Al Franken will be there and we're very excited for him to appear as well. His book is going to be released on May 30th, so not only is it timely, but it's great because it's newly published and a lot of people haven't read it yet.
Then there's also a really cool program about Hemingway. Mary Dearborn wrote about Ernest Hemingway and she will appear with Stacy Keach — who is starring in the Goodman Theatre production Pamplona. Bill Kurtis will be leading the conversation. That's one of our many programs that will be held in our C-Span Room. They will be covering several of our events throughout the weekend, and that is a great partnership for us. They're always very enthusiastic and supportive of the Lit Fest.
We have a pop culture theme with Luvvie Ajayi. She had a huge following and really touches on pop culture and social media. This year, I think we're also really excited about all of the different audiences we're going to reach, and the different genres. We're really trying to make it even more diverse. That's always a goal every year, and I feel as though this year we came really close — if not spot-on — to achieving that goal.
Janet Mock and Jennifer Finney Boylan will be at the festival. We have two 2017 Pulitzer Prize winners: Heather Ann Thompson for non-fiction and Tyehimba Jess for poetry. He's actually going to be appearing with Luis Rodriguez and Patricia Smith, and the program will be lead by Nate Marshall. I'm really excited about that program.
I think the other thing is that as excited as we are that all of these authors will be appearing, they're equally excited about it. They're all very supportive of the Lit Fest. Publishers are very supportive and enthusiastic about our mission and what we've accomplished over the years.
AD: And then there are events for children as well, right?
TBG: Little Lit Park, where the children's programming will be, is great. We have Justin Roberts and the Not Ready for Naptime Players. Nili Yelin, our MC, really pulls it all together. She's wonderful. She's The Storytime Mom. We're partnering with Book Club Chicago and they are doing a program that is going to be a tribute to Amy Krause Rosenthal. We're going to be focusing on three of her books, and that's going to be a really special program. Then, former Chicago Bears player Israel Idonije has a children's book we're really excited about.
We're hoping for good weather, as always. It's sponsored by KIND Snacks this year. They're going to have mom and tot yoga classes. So, we'll start out both days with yoga classes. There will be two offered each day. There will be other readings and performances in that area as well. It's a lovely park and a lot of families show up and stay throughout the day, depending on the weather — and depending on how tired their children are.
Workshops are just so popular. They're the first to sell out. However, show up at the event, even if it shows that the event is sold out, because it is very likely you will be able to attend. We have several writing workshops. We have a mystery workshop this year. Then there is the Mystery Writers of America. We partner with them and they are going to be doing a flash fiction contest. That is always well-received. We have more and more, but those are just some of the highlights.
For more information regarding the 33rd Annual Chicago Tribune Printers Row Lit Fest, or to order tickets to programs, please visit the festival's website. You can also find them on Twitter, Instagram and Facebook.
Additionally, please note that since the above interview took place, Goodman Theatre has announced that all remaining performances of Pamplona will be cancelled as Mr. Keach, who starred as Ernest Hemingway, recuperates from an illness.