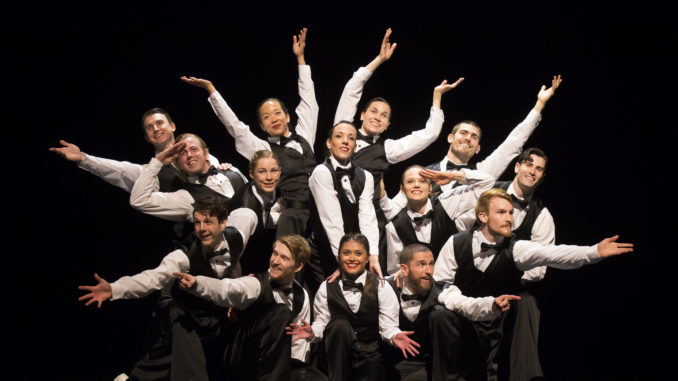 "We wore costumes," noted a dancer who had performed in the 1980s under the direction of Hubbard Street Dance Chicago founder Lou Conte. "Today they dance in their underwear."
That droll observation isn't such a bad way to summarize how the company has evolved as it celebrates the start of its 40th year. The Conte years bubbled over with energy and stagecraft, including evocative costumes. Today's dancers are among the most technically accomplished in Chicago, but the mood is more somber and the pieces more uniform — and especially hard to distinguish when the dancers appear to be gyrating in their underwear (OK, not really underwear but neutral dance shorts and tops).
Those differences are delineated in Hubbard Street at 40, the troupe's Summer Series. The blockbuster anniversary program works its way back in time through eight varied pieces, from last year's "Imprint" choreographed by Lucas Crandall, to Conte's "The 40s," created in 1978. The smorgasbord approach offers something tasty for everyone.
Of the six more recent pieces, three stood out. William Forsythe's "One Flat Thing, reproduced" begins with a bang, with 14 dancers in brightly hued T-shirts propelling 16 long metal tables onto the stage and aligning them into 4 precise rows. The tables serve as de facto gymnastics equipment, as the dancers lift themselves onto the surfaces and slide across them to spacy music by Thom Willems. The high-energy piece is engaging but repetitive and a little cold. I couldn't help but contrast it mentally to choreographer Pina Bausch's 1978 "Café Müller," which wrings emotion from chairs.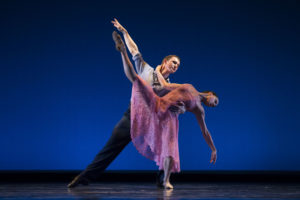 The Water Section of "One Thousand Pieces" — Alejandro Cerrudo's homage to artist Marc Chagall's stained glass windows on display at the Art Institute of Chicago — was a pleasing choice, set to music by Philip Glass. Water droplets scatter like crystals from the dancers' feet, an effect that looks risky and pretty at the same time.
Crystal Pite's cheekily narrated text and choreography for "A Picture of You Falling" is riveting. As danced on different nights by Jesse Bechard and Jason Hortin, the work demands the soloist to manipulate his body like an oddball mechanical toy trying to rearrange its parts.
When the program turns its attention to the 1970s and 1980s, the shift is not only in time but in geography as Hubbard Street distances itself from the European influences that now prevail and returns to its American roots.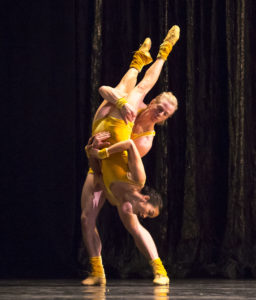 Twyla Tharp's "The Golden Section," moves at warp speed, as dancers clad in lemony leotards and legwarmers bounce to the ringing, rhythmic music of David Byre like citrus fruit tossed in the air. Group lifts and dancers emerging from the wings to catch a body in motion add to the excitement.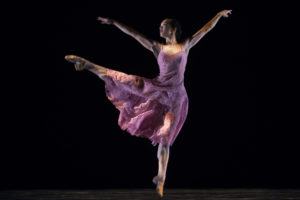 Hubbard Street invited founder Lou Conte back to teach the current generation of dancers two of Conte's most popular creations. "Georgia," set to music by Hoagy Carmichael, highlights a female dancer (Jacqueline Burnett or Jessica Tong), partnered with a male dancer (Jason Hortin or David Schultz). The piece is as lyrical and lovely as I remembered it, but today's dancers have more muscular bodies honed by evermore demanding choreography.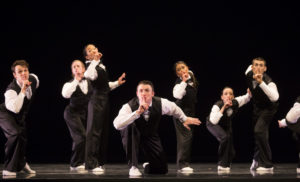 Conte noted that teaching the troupe "The 40s" meant acquainting them with the tap movements that had been part of the earlier dancers' training, and as technically accomplished as the group is, they did not always hold their movements down in the low crouch that defines the piece. But in their bow ties, black vests and wide-legged pants — costumes! — the dancers reveled in the exuberance of the piece, propelling themselves in vertical jumps like energizer bunnies.
In revisiting its roots, Hubbard Street primes itself for the future.
Photos: Todd Rosenberg
Hubbard Street Dance Chicago Summer Series
Harris Theater for Music and Dance, 200 E. Randolph St.
Running time: 2 hours
Through June 11, 2017
Tickets $30–$102 at Hubbard Street Dance or (312) 850-9744