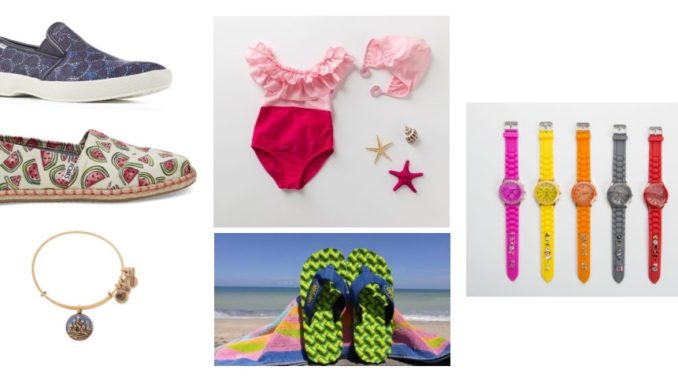 Please note products are listed from most to least expensive.
Ectu Cargo Backpack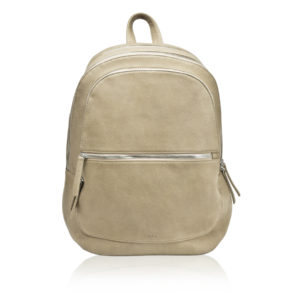 Distinguishable by the soft Italian leather, the spacious backpack features several compartments to keep essentials organized. The relaxed shape complements any man or woman's corporate to leisure lifestyle.
Italian calfskin leather, Silver hardware, Zip-Around closure, Front zip pocket, Front storage compartment with an interior open pocket, Spacious main compartment, Padded rear pocket holds a 13″ laptop, Black canvas lining, Adjustable shoulder strap, Dimension: 11.25″ L x 15.5″ H x 7.25″ D, Custom dust bag included, Color: Camel
$675.00  Buy Now!!
ic! berlin
What makes ic! berlin frames unique is that we ditched the screws that traditional glasses use long ago and created our own patented interlocking hinges. Our eyewear is 100% made in everyone's new favorite creative haven – Berlin, Germany – and has been for more than 20 years. Each and every one of our frames features high quality materials, which make ic! berlin glasses virtually indestructible – and a favorite of such celebs as Alicia Keys, Heidi Klum, Brad Pitt, Matthew McConaughey and the late Prince.
$479 – $600  Buy Now!!
Pyrrha Positivity Capped Attraction Charm Open Bangle
Handcrafted using reclaimed sterling silver, this piece features matching capped attraction charms on an open, oval bangle. Available with a choice of 15 different attraction charms, each with a symbolic meaning culled from heraldry. Peridot (pictured) attracts positive energy.
$196  Buy Now!!
KEEPTIGHT Velocity Tank + Capris Outfit
The Velocity™ Capri + Tank by KEEPTIGHT is designed from the ground up as a performance piece, the Velocity will get you through the toughest of workouts. The outfit is proudly made in the USA with a smooth, is extremely comfortable, easy to care of and comes in sizes XS-XL.
Technology
COOLPASS™ + SHIMMER™ moisture management system transports moisture for effective evaporation, keeping you cool and dry
ULTRASEAM™ flat seams and tougher stitches eliminate chafing, are tougher, and doesn't restrict athletic movement
$190.00  Buy Now!!
UWEZO Women's Oxford
Searching for a stylish shoe that doesn't lack substance? Empower your outfit and others with the unique, radiant and strong designs from UWEZO! Transcending age, race, gender, economic status, and fashion trends, UWEZO translates to "talent, capacity, ability" in Swahili – the best shoe to take you there and get it done. With each dollar you spend, you create the world you want to live in. Fashion is the ultimate form of self-expression – show the world what you think and what you care about with UWEZO.
$185.00   Buy Now!!
Carmen Sol Tote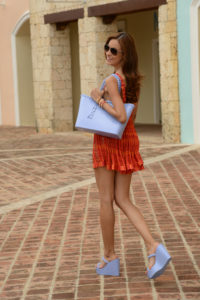 From the white sand beaches of the Caribbean to the concrete jungle of New York City, Carmen Sol's Italian made shoes, totes, and charms bring the relaxed charm of island living to any landscape.  Carmen Sol offers modern pieces designed with a resort flair in more vivacious hues than any other brand on the market.  Crafted in Italy from non-toxic jelly material, all of their designs are made for fun in the sun and sand.
Carmen Sol Benefits:  Water Resistant, Slip Resistant, Rose Scented, Made in Italy, Available in 14 Dazzling Colors, Crafted with Prop 65 compliant jelly material, Eco-friendly packaging
From the beach to the playground, the Charms Tote is an amazing multitasker. Sturdy, waterproof, and gorgeous to boot, it can be personalized with inspirational charms and is available in two sizes.
$155  Buy Now!!
Mei L'ange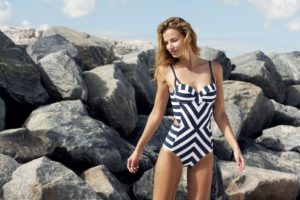 Mei L'ange is a New York-based swimwear label made for the modern woman. Confident in her own skin, the Mei L'ange woman never vies for attention or sacrifices comfort; rather, she projects just a whisper of allure. A multi-faceted sophisticate, she balances a natural femininity and grace with a lively free spirit and a perpetual sense of adventure.
The line's medley of contemporary design elements — from abstract motifs to edgy hardware — create a bold statement without sacrificing comfort. Made using extraordinarily soft and fine premium fabrics, the Mei L'ange collection offers a timeless, go-to style you'll reach for again and again — because elegance should be effortless.
$150.00  Buy Now!!
Cate & Chloe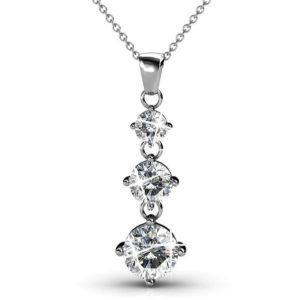 Give your bridesmaid a one of a kind piece from Cate & Chloe! From the all new Luxe Swarovski Collection to the Down to Earth Statement Collection, Cate & Chloe offers a versatile selection of jewelry hand selected to ensure it meets the standards of the C&C vision for stylish design. Their Luxe Swarovski Collection is perfect for wedding day festivities and will make your gals feel super special. Surprise your besties with the highest quality of genuine Swarovski jewels in classic diamond shaped bracelets, uniquely tiered pendants, eye-catching earrings and rings set in 925 sterling silver, 18k Gold, and 18k Rose Gold.
$135.00  Buy Now!!
Charleston Shoe Co. Cannon Sandal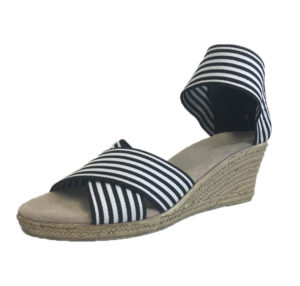 The ultimate year round sandal! The crossover straps are so comfortable and allow your foot to stretch as much as needed! Dubbed by our very own customers as the perfect shoe for travel and summer time!
$135.00  Buy Now!!
Off The Beaten Track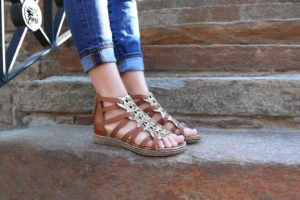 What do you have planned this summer? Whether it's jet setting the globe, roaming the cobblestone streets of a new city, or just hitting the pool, Off The Beaten Track has the perfect sandals for you. Enjoy comfortable fits with elastic and gore tech attributes that conform the sandal to your foot. OTBT's travel-inspired active footwear moves with you. Soak up the sun while feeling the comfort sole in sandals, wedges and chunk heels that offers not only casual styling, but stability for ease of wear all day. What are you waiting for? Get outside and explore the unknown this season with casual and comfortable sandals by OTBT!
$119.00  Buy Now!!
Mary Poppins – Indigo Florentine
True to its name, this handy tote is ready to carry all you need each day. Beautifully artisanal, from the 100% genuine, full grain hand-stitched leather to the hand blocked cotton – this bag will catch everyone's eye, for good reason.
$116.00 Buy Now!!
Stella Large Long Handle Tote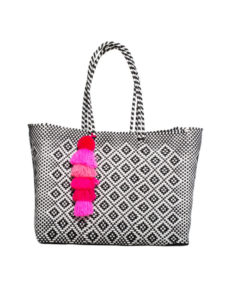 Handmade by artisans in Oaxaca using a clever technique that results in a sophisticated, stylish finish, this durable, dependable tote can go anywhere. A fresh new take on the practical woven bag, this tote keeps all your essentials secure and comes in various vibrant colors.
$115.00  Buy Now!!
Boutique Mexico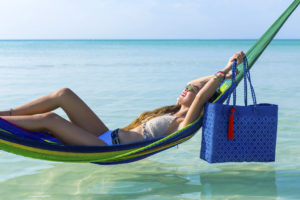 Made from recyclable material Boutique Mexico provides vibrant and multicolored totes and pouches that will add a pop of glam to your summer wardrobe. Boutique Mexico creates close relationships with its artisans to work together to help end poverty in Mexico. These handcrafted products, ranging from jewelry to beautiful bags are the perfect way to travel in style while making a true difference in the environment. Boutique Mexico's totes are spacious enough to fit anything you might need – without sacrificing style. Wherever your adventures may take you, these bags will be your new favorite travel buddy.
$110.00  Buy Now!!
The Foxy Bra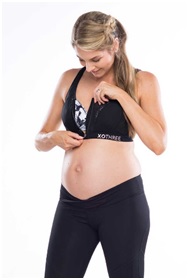 Need to nurse your baby in between mommy and me Yoga class?  Meet XOthree– an Australian active wear brand that has just hit the States. This new fitness line for moms is definitely one worth talking about! XOthree has finally found a way to make breastfeeding easier for the active mom – without compromising on style! Here's how: What makes XOthree's collection stand out is how the designs transcend the traditional idea of maternity wear. With a focus on style and comfort first, XOthree's clever approach makes the maternity features of each garment virtually invisible. The designs have reinvented the traditional function of maternity bras and provide easy access for breastfeeding while still giving you the perfect amount of support needed for low to high impact activities.
This is the new must have for nursing moms! Click on the link to learn more! Follow this amazing company on IG @XOthreeactive
$106.35  Buy Now!!
Insane Home Fat Loss (app)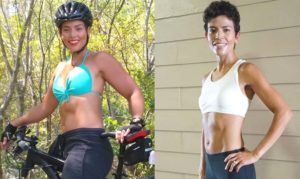 The Insane Home Fat Loss regimen: how you can burn belly fat, build six pack abs, increase your fat burn and lean muscle growth – with your mobile device, on the go. Fitness guru Jonny Catanzano, Head Trainer and Fat Loss Specialist at Six Pack Shortcuts, the #1 most subscribed fitness channel on YouTube, developed Insane Home Fat Loss and Six Pack Shortcuts, gimmick-free "afterburn" training programs with no sit-ups, strict diet, or need for a gym. It takes 14 minutes or less to activate the afterburn effect in the 30-minute workout with 24/7 access to Shao's personal coaching on your mobile device.  3-4 workouts a week are ideal.
$97.00  Buy Now!!
Shapeez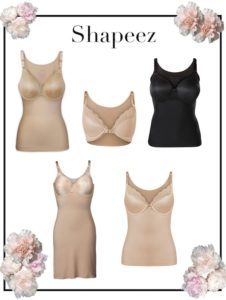 Shapeez is a bra and shapewear line for women that is designed with a patented smooth-back made from breathable moisture-wick microfiber. Shapeez eliminates visible bra lines, back bulges, muffin tops and tucks tummy bulges, while the underwire bra and luxurious all-way stretch fabric provide remarkable comfort.
Available in 12 different designs, Shapeez comes in black and nude to go unseen under any dress. Shapeez also has shapewear with and without foam-cups as well as with a push-up solution.
$89.00 – $100.00  Buy Now!!
myCo
Sac Marin in Peach, by Marin et Marine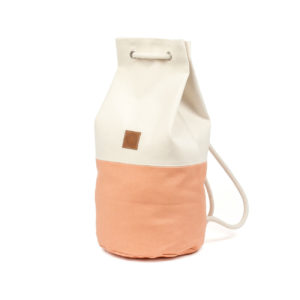 A contemporary and lined drawstring duffel-style backpack, handcrafted in Germany of organic cotton canvas.
$87.70  Buy Now!!
olSlim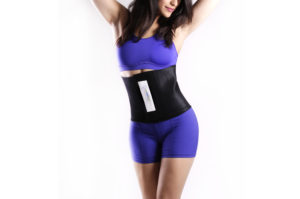 Get the body confidence you deserve when you slip on a bathing suit this summer with the help of myCoolSlim. myCoolSlim delivers a safe and effective cold temperature directly to stubborn areas of fat around the stomach, thighs or bottom and gets rid of it! myCoolSlim is specially designed based on science to freeze and naturally eliminate fat cells. Simply freeze the gel packs, slip them into the neoprene pockets of the compression wrap and velcro myCoolSlim around your targeted area for 30 minutes a day. myCoolSlim is a safer and much cheaper alternative to expensive plastic surgery.
$79.99  Buy Now!!
Flexi Lexi
Keep your bridesmaids comfy and cute while they help you on your big day. Comfortable and stylish, these easy breezy designs will let you move around with ease. These leggings have a unique look with funky fruit patterns and original ombre designs.Based in the bustling Bangkok, Thailand, Flexi Lexi offers flexible, fitting,comfortable and chic yoga bralettes and leggings. Born from a desire to create the perfect fit for your bralettes, Flexi Lexi quickly expanded more items to their store, including best-selling designs like Flexi Yoga Pants, Flexi Dancer Leggings, Scrunchy Shorts, Mermaid Tails, Flexi Ballerina Tutus and more!
$79.00  Buy Now!!
The Ethiopia Set by Simbi
SIMBI is a high quality, handcrafted accessory and fashion collection that is recognized for fashionable styles, as well as its philanthropic efforts of purifying water and transforming the lives of the people of Haiti. Every piece is handcrafted in Haiti, by the Haitian community, which provides one-of-a-kind wearable art, which is just as unique as the person who wears it.
Bora Bora Inspired, A Stack of 3 Bracelets, Hand Stamped Charms, Charm Words: Assorted, Painted/Glazed Clay Beads, Light Weight, "Cool to the Skin" Feel, Vegan, Ocean Approved (rinse with fresh water for a longer life), Handmade in Haiti
$79.00 Buy Now!!
Cougar Shoes Women's Lula Rain Sneaker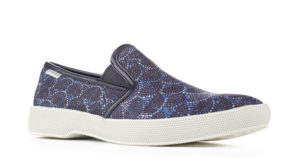 Cougar Shoe's Lula Rain Sneaker is waterproof printed Nylon upper and will attract attention rain or shine.
$75.00  Buy Now!!

thread em
Founded in 2017, thread em offers a unique variety of boldly beautiful and colorful artisan-crafted Italian leather handbags and luxurious silk scarves. Staying true to her Italian heritage, thread em's founder and designer, Emma Frattolillo, is known for her distinctly playful appeal that blends modern art, traditional Italian craft, and high fashion. Each piece – handcrafted by Emma herself – is a one-of-a-kind work of art, and features hand-painted designs, embroidery and ornamental elements reminiscent of tribal and abstract art. From the exterior artistry to the luxury hand-painted interior linings, each handbag is designed to exude style and individuality inside and out. thread em is proud to use genuine Italian leather and high-quality materials to ensure that every piece will stand the test of time, allowing it to be treasured for years to come. Additionally, the company offers an array of hand-painted, colorful silk scarves that pair perfectly with thread em's handbag offerings. Each scarf is unique, featuring patterns that were designed to draw attention to the wearer and to tell a story.
$65.00-$330.00  Buy Now!!
WATERMELON PRINT WOMEN'S ESPADRILLES

With their colorful watermelon print, these Alpargatas add a little pop to any outfit. This Classic Alpargata is built with a molded insole for ultimate comfort.
$59.00  Buy Now!!
Eyegasmic Swimwear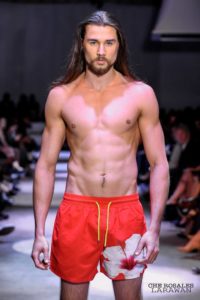 Eyegasmic Brand is a premium swimwear brand exclusively designed to be worn by the world's sexiest men. The brand's mission is to define and capture all aspects of sexy. It believes that sexy is more than just a cute smile or chiseled body, but being able to confidently stand in your own skin and embrace exactly who you are. Eyegasmic Brand refuses to leave it up to the masses to shape their imagery of what sexy is, so it is here to define it! For more information.
$57.00  Buy Now!!
Best Beach Hats for Short Hair
If you are a woman with short hair, you probably know that finding a good hat, especially a beach hat, can be a little difficult. Sure, there are lots of hats on the market, but you don't want just another hat, you want the right hat! You want something that looks good, is breathable and light, and helps shield you from the sun. Today we are here to help you find the best beach hats for short hair. Let's take a look at some of the options.
$15.98-49.00  Buy Now!!
BBO – Boardshort Bottle Opener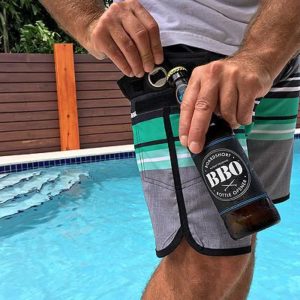 Boardshort Bottle Opener – the name says it all! Island Daze, a surfer owned and operated leading manufacturer of premium quality surfing apparel along with Pancho Sullivan, a World Champion pro-surfer, have launched a new and unique brand of boardshort designed with a built-in bottle opener that is attached to the pocket flap of the shorts.
The bottle opener attachment is extremely lightweight and does not affect your surfing, SUP or any other type of activities. Taking you from the boat to the beach to the BBQ. It's a fresh and innovative product that is sure to be a conversation starter!  BBO Shorts are available in size 30 – 38
$48.00 Buy Now!!
Wallaroo Hats
Whether it's spending a day at beach, lounging by the pool or just exploring a sunny locale topping off your outfit-or bathing suit-with a Wallaroo hat will give you innovative protection from the sun without cramping your style!  With a Wallaroo hat you can get long lasting protection thanks to their UPF 50+ rating—meaning their hats block out 97.5% of the sun's rays!  
Wallaroo hats come in a variety of styles-for men and women- (equipped with adjustable straps inside) that give them the versatility to accompany you for any occasion —yet always provide long-lasting protection and a perfect fit!  Wallaroo hats are the perfect companion for fun in the sun because most styles are "crushable" and can be folded many times and stuffed into a purse, beach bag or suitcase without losing their shape!
$48.00  Buy Now!!
Red Dolly Swimwear
Summer is coming, and you know what that means – swim season! Channeling a li'l old-Hollywood glamour never hurt a girl, especially with the radiant, retro pieces from Red Dolly Swimwear. This beach season, bring back the classic look when it comes to suiting up! From high-waisted bikinis to the return of the one-piece, make like Marilyn this summer with the vibrant, vintage styles from Red Dolly Swimwear.
$48.00  Buy Now!!
DryFins
Don't let chafing ruin your beach fun. DryFins trunks (for men and boys) come with a smooth, silky liner that keep you pain-free and comfortable, in and out of the water. DryFins is anti-chaffing swimwear that will keep you pain-free and comfortable so you can enjoy your water adventures worry-free! Plus, DryFins are great to wear for strolling around town — go smoothly from the water to the land! Designed for guys by guys, DryFins is an adventure apparel brand for active men and boys who love to swim, boat, fish and hike.
$47.00  Buy Now!!
Cabana Life
Cabana Life sun wear protects skin from the sun while staying stylish. From swimsuits, to cover-ups, to dresses, the fashionable wear is perfect for vacations or local outdoor fun!
$46.00  Buy Now!!
Jill Yoga
Whether you are playing in the park, or doing yoga on the beach, Jill Yoga is an adorable and affordable women's and girl's apparel line that will make you feel active, confident, and comfortable. Made from the highest quality of activewear textiles that conform and stretch with every movement, Jill Yoga outfits are at an accessible price which makes sweating in style easier on the family budget. Jill Yoga's mission is to promote confidence and healthy active living — Be Active, Be Bold, Be You. No matter what their own unique shape, girls and women will feel comfortable and confident with Jill Yoga activewear, making it a wardrobe staple everyday and everywhere.
$45.00  Buy Now!!
Isioma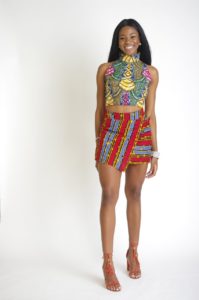 This is a must have skirt! The Isioma skirt is about to become a staple in the closet. It will prove to be a versatile piece as it transitions through the seasons while the silver buckle adds an element of edge. Matched perfectly with a pair of legs and heels for a fun event. Or match it with a t-shirt or tank with some sandals for a day look. Isioma: Igbo for "one who is fortunate and blessed." Check out the website for more one of a kind pieces from the collection!
$35.00  Buy Now!!
Where my Beaches at?!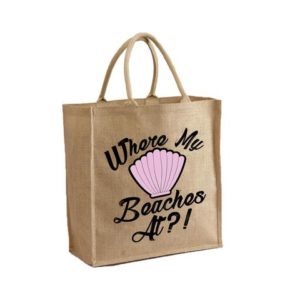 If the beach is your happy place, all you really need is the perfect tote for that surf and sand! Roomy enough to store all your essentials, this big bag pulls its own weight in the style department. The perfect addition to any summer bachelorette party, enjoy the sun, sand and drink in your hand with this essential for the beach!
$35.00  Buy Now!!
KraftyChix
Golden sun rays, cold drinks and amazing music blaring through the speakers! Add a beautifully monogrammed tote and bag from KraftyChix this spring season. Personalize any of the pretty pieces from KraftyChix! Whether you rock a crossbody purse or a weekender tote, get your initials stylishly sewn into the high-quality fabric for a bright, colorful accessory. Created by a former accountant and rocket scientist as a way to raise money for a trip to the Outback, KraftyChix was born from a love of scrapbooking. What began as selling craft items at local fairs with friends and family blossomed into an online shop that collaborates with individuals all over the country to make and sell handmade craft creations.
$35.99  Buy Now!!

ATN Compression Socks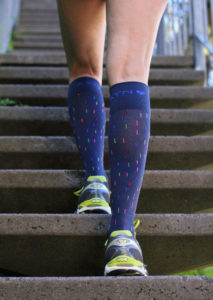 Nervous to keep up with your workout routine this summer? Don't sweat it! Whether you live in Arizona or California and head out for a run at peak heat in the middle of summer, ATN Compression Socks keeps your calves from cramping up as the rest of your body feels the sun beating down. Whether you're a healthcare professional, chef, bartender, teacher, expecting mom, or athlete, ATN has the right compression socks for you!
Developed by a vascular nurse for people on their feet all day, ATN Compression Socks launched in the U.S. in 2016 and is constantly expanding their product ranges and introducing new products and color combinations. Trusted and worn by over 200,000 healthcare professional daily, these soothing socks will help you take care of yourself while you crush that daily grind at the gym.
$34.95   Buy Now!!
Sand Castle Charm Bangle | SOS Children's Villages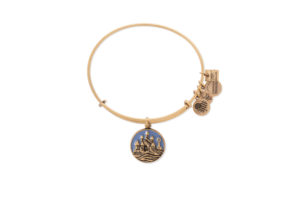 The Sand Castle Charm, which is a part of the ALEX AND ANI CHARITY BY DESIGN collection, was designed to capture what childhood truly means: innocence, imagination and the potential of big dreams. The bangle is available in Rafaelian silver and Rafaelian gold.
Between May 2017 and December 2017 ALEX AND ANI will donate 20% of the purchase price* from each bangle sold to SOS Children's Villages whose mission is to build families for children in need, helping to shape their futures and share in the development of their communities.  Visit the SOS Children's Villages website for more information!
$34.00  Buy Now!!
Friday + Saturday
Everyone loves a good logo tee and baseball cap. Support your local girl gang with a bold new brand that promotes girl power and is constantly encouraging women to support each other and celebrate each other's victories. Whether you're feeling' trendy in a cute tee, or looking to break in that must-have hat, Friday + Saturday has all the empowering vibes you need for your weekend style. Plus these items make the BEST gifts!
$34.00  Buy Now!!
Ahhsoles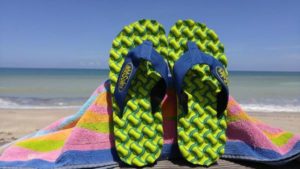 Whether you've spent the day working on your golf game or hitting the books, slide into these soft (massage like) sandals and instantly feel like you're bounding barefoot on cool, fresh cut grass or roll up your pants to stand in the rippled sand of an outgoing tide. Carefully crafted from the inspiration behind the rejuvenating textured rubber in the shower, your feet will be greeted with the tingling sensation similar to a brand new bathmat! And how great is the brand name?!
$30.00  Buy Now!!
Groove Life Rings
Whether you're an athlete, adventurer, "hands on" professional, or love to venture the great outdoors, Groove Life Rings are the active, silicone ring designed just for you. The world's first breathable active ring that is not only comfortable, but functional, Groove raises the bar on traditional silicone rings with its flexible material, patent pending inner breathable design, and bold colors. For those who work hard with their hands, traditional precious metal bands just aren't practical. They can snag on tools or clothing when working, damage sensitive materials, or even get lost when removed for safekeeping. Say goodbye to bothersome blisters from wedding rings with the innovative design of Groove Life Rings!
$29.95  Buy Now!!
STS Blue
It's official: summertime is in full swing. Adventures abound, spirits are high, and so are the season's sexiest waistlines. As temperatures soar and the days grow longer, high-rise bottoms are the steamiest trend everyone is dying to try, and STS Blue is the one-stop shop for this chic look.
The STS Blue denim line is inspired by the casual LA and Southern California vibe. They live, breathe and love denim! STS Blue styles are true to size, and are made in a variety of fabrics to execute perfectly authentic washes while maintaining a flattering fit. They offer cotton, polyester, spandex and rayon blends for that comfortable, laid back, and effortlessly chic SoCal look. STS Blue is sold at Nordstrom, Macy's, Dillard's, and Von Maur, as well as online at STSblue.com. Styles include skinny jeans, boyfriend jeans, denim shorts, and more; all with a friendly price point, averaging $50.
$29-$58  Buy Now!!
ModerneChild Fawn Ruffled One Piece Bathing Suit
Super girly and cute! Get chic with this two-tone piece! Wear it on or off the shoulder ! Get on trend today . Mommy piece coming soon to match!
$29.00  Buy Now!!
Friday + Saturday
Everyone loves a good logo tee and ball cap. Support your local girl gang with a bold new brand that promotes girl power and is constantly encouraging women to support each other and celebrate each other's victories. Whether you're feeling' trendy in a cute tee, or looking to break in that must-have hat, Friday + Saturday has all the empowering vibes you need for your weekend style. Plus these items make the BEST gifts!
$28.00-$40.00  Buy Now!!
SUPERNOVA EAR JACKET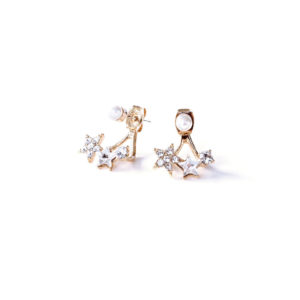 – 0.6″ across
– sterling silver earring posts
– glass pearls
– swarovski crystals
– gold-plated base
$25.70 Buy Now!!
ThinOPTICS Universal Pod + Glasses
ThinOPTICS – the state-of-the-art stemless reading glasses – are the perfect accessory to make sure you have clear line of sight at any given moment! The incredibly thin, shatterproof glasses conveniently stick to the back of tablets and phones so they are always with you, as well as come in a variety of stylish designs to suit everyone's taste! ThinOPTICS recently partnered with world-renowned Jazz musician Quincy Jones to develop a unique collection of musically-inspired designs that were hand-picked by Quincy himself. They also recently launched their Camouflage Collection, featuring designs from popular outdoor brand Mossy Oak.
$24.95- 29.95  Buy Now!!
The Original Worm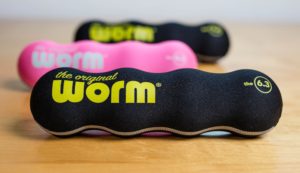 Tired of slow post-workout recoveries and lingering aches and pains? It may be time to invest in a foam roller. Perfectly portable, The Original Worm combines the benefits of therapy balls with a foam roller and provides you a therapeutic session whenever and wherever you wish. It's like having your own personal massage therapist right in your bag! Get relief from your neck to your feet and almost everything in between with the features of this portable tool.
$24.00  Buy Now!!
Harts & Pearls
Harts & Pearls adds a cool-girl vibe to any outfit with its bohemian chic head wraps. Elevate your summer style with handmade, fashion-forward designs that add versatility to the modern woman's closet. Harts & Pearls headbands made of an organic bamboo knit blend, each band is moisture wicking and perfect for a night out, the yoga studio, or the busy mom looking for a quick and easy hairstyle. Designer Desiree Burgess began her passion at the birth of her daughter to follow her dreams of being a successful, creative stay at home mom. Harts & Pearl accessories are perfect to compliment your attire for a special occasion or just a simple everyday outfit
$22.00  Buy Now!!
Violet Love

A fun summer accessory, Violet Love features over 100 headband options. The durable fabric is colorfast, absorbent, and washable, and the no-slip design means long-lasting wear! Flirty bandeaus are also available for beating the summer heat.
$17.00 Buy Now!!
iPops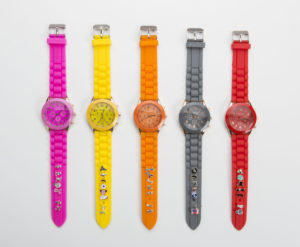 With spring and summer here to stay, take your style to the next level with the accessories from iPops! Black can be so boring, mix and match those spring styles with cute charms for your Apple Watch, Fitbit, Garmin, and other silicone watch-like brands. Find the perfect iPop for you from over 130 designs guaranteed to help you count every step and keep chic! Wear it on the weekend, to work and to go out – these adorable accessories are the perfect combination of function and fashion.
$14.99  Buy Now!!
Pieces to Peaces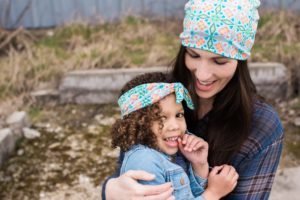 Blending passion & peace into one brand, Pieces To Peaces creates stylish and functional fashion accessories.Every item is handcrafted in Olympia, WA by a small team of local women led by Danielle Hale.  We offer options for the whole family by providing a wide range of sizing, fabric choices, and styles. We believe that what you wear should be stylish yet comfortable and design all of our accessories with that in mind.
$11.99-$13.99 Buy Now!!

Ever-Pretty


Ever-Pretty, the online destination for affordable, high quality dresses that you will wear for years to come, is the solution to all your dress shopping woes. You can browse through thousands of styles with custom search filters (i.e. by color or occasion) and style guides. Ever-Pretty makes finding that "perfect dress" seamlessly easy.
$10 – $100  Buy Now!!
All images are used with permission from the various companies.