By Kathy Carpenter
In the dog days of summer we need a cool escapism more than ever. Lambs Players gives us the perfect choice. The Explorers Club is pure delight. Fresh Entertainment at it's best. Go to the beach, have dinner, and let Lambs be your dessert. The topper of your night.
Playing in downtown Coronado, a short walk from the Hotel Del st the intimate Lambs Players Theatre. The Explorers Club, by Nell Benjamin, directed by Robert Smyth. The tale takes place 1879, London England at the Explorers Club. The plays reviews were so positive the show was extended before it even opened. Can you say epic hit?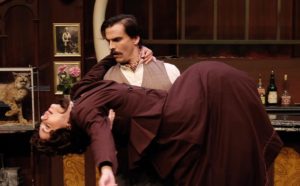 The Explorers Club, like most clubs in those days is an all men's club. However, acting president Lucius, has become smitten with a certain female scientist, one Phyllida Spotte Hume. He invites her to speak at the club on her discovery of a new race. The first woman to speak at the club. Her speech goes over well and he proposes membership, which is met with conflict. What makes this romp special is the rich characters. Brought to life by an incredible cast.
Mine and I suspect the audiences favorite character is Luigi, played by John Rosen. He is the person Phyllida brings with her to the lecture as her tribal find. He does not really speak, but his antics are quite spectacular. He's also blue. The was another colorful character, Beebe, played by Charles Evans Jr., his costume was orange. His role short but sweet. Lucius was played by Fran Gercke – the shy gentleman of the group. Nicely mastered. Ross Hellwig plays the rogue Percy. the charmer. Brian Mackey and Omar Schein. play professor Cope and Walling, the Fwlix and Oscar of the bunch, Paul Eggington plays Professor Sloane, the serious one. Jessica John, the lone female of the cast actually had two roles, Phyllida, and her twin sister Countess Glamorgan. Brian salmon rounds out the cast, Each bringing a special magic to make the show sparkle.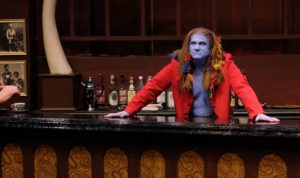 As the story unfolds Luigi, the tribal man. is forced to go into hiding as the bartender. What a fabulous scene. He does not really understand and shoots the drink down the bar. The other men must catch them. He does this several times, six drinks in a row. Quite a spectacle, and magical moment for the audience.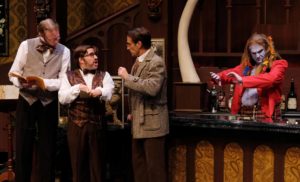 If you enjoy theatre from another era every now and then this is the play to see. This is the San Diego Premiere, so chances are you haven't seen this one yet. Take a night off and enjoy this late summer play before you wind down and settle back into everyday life.
In the Fall Lambs Players will present Smoke On The Mountain, Oct. 6 – Nov. 19, 2017. An unforgettable, hilarious, Bluegrass Gospel Celebration.
The Explorers Club
August & September, 2017
Lambs Players Theatre
1142 Orange Ave, Coronado, CA 92118

(619) 437-6000
www.lambplayers.org