\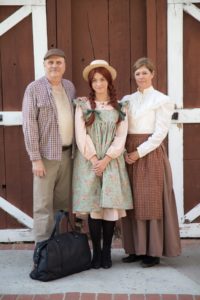 By Kathy Carpenter
Theater and Tea, Anne of Green Gables is a unique theatre experience. The Grand Tea Room in Escondido and The 413 Project has teamed up once again for a sumptuous event. The Tea and food, is tasteful, and plentiful. The play is, wondrous, youthful vibe, the cast committed in this unique venue
Anne of Green Gables is based on the book by Canadian Lucy Maud Montgomery. The children's novel was written in 1908 and has been translated into at least 36 languages. This beloved classic Bis the story of orphan Anne Shirley. Fiery, talkative, imaginative, and overly dramatic. Mathew and Marilla Cuthbert, brother and sister in their fifties and sixties wanted to adopt a boy to help Matthew with his farm work, When Matthew goes to the station to pick him up, he finds Anne, It late so he takes her home. On t he long carriage ride back to the farm talkative Anne wins him over. Marilla isn't as easy. But after a trip back to the orphanage Marilla is sold. Neither regret for a moment taking in eleven year old Anne. Although Marilla finds her trying at times, The play  takes us through Anne teens and into college.
Two different girl's are portraying Anne during the run. Anna Bahen, played the role in the show I attended. What a dynamite. We sat across from her family, and apparently the role has been quite a trial, and acting within this environment made her nervous. But she was a trooper and you could not ask for a better Anne. Her dramatic rendition of  The Our Father prayer, showcasing her talent. Renee Cuthbert. played austere Marilla. Not a fun role, but one she handled with grace. Jim Clevenger, played the lovable big old softie Matthew.
Milchael Grewth plays Gilbert, the boy that teases Anne about her red hair and  freckles. A particularly sensitive area to Anne. He's adorable. All Anne's friends have crushes and so too the audience. Of course, Anne eventually changes her mind about Gilbert. Heidi Bridges plays trouble maker , the haughty Rachel, to a tee. My favorite friend of Anne's or shall I say frienenemy is Sydney Olsen, as the spunky Josie. Moira Hall played her Anne's Bosom Friend, the sweet and always kind, Diana, Rounding out the cast, Paige Townsend as alternate Anne, Brandon Brixley, Chase Anichini, Keeri Hill, Phebe Bridges, Vanessa Olsen, and Leslie Chase.
If this Tea and Theatre experience sounds like something you would like act fast only a few performances are left. Call 760-233-9500 for reservations. These events do sell out fast go the website and sign up for newsletter to find out when the next Tea/theater event will be. The Tea shop hosts other fun events, perhaps you would like to join one of these. Or just stop by for a delicious afternoon Tea.
The 413 Project will be doing Snoopy The Musical sometime in the Fall.
Check out their website
https://www.the413project.org/
Anne of Green Gables
September 7 – 24, 2017
145  W, Grand,
Escondido, CA 92025
760.233.9500
www,thegrandtearoom.com