If you ever wanted to see Elvis, Johnny Cash, Jerry Lee Lewis and Carl Perkins in their heyday, you need to head down to the Paramount in Aurora, IL for their new production of Million Dollar Quartet.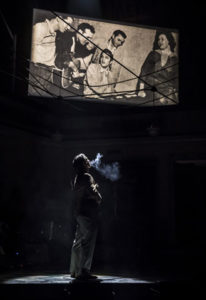 It's a fantasy reenactment of an actual impromptu recorded jam session that happened at Sun Studios on December 4, 1956, when Elvis crashed a Carl Perkins recording session that happened to also be attended by Johnny Cash and featured new find Jerry Lee Lewis on piano.  It sounds too incredible to be true.  But it is true and after watching the actors perform songs from the session, a portion of the original audio is played and a photo taken on that day is displayed prominently on stage to authenticate it.  It's one of the many things that is authentic.
The name of the show, Million Dollar Quartet, is even vintage.  It was the headline in the local Memphis paper the day after the miracle session, because Sun Studios owner Sam Phillips had sent for a reporter.  But much of the show is also fantasy, and it might be better for it as the real recording session is the fragmented stream-of-consciousness of a bunch of brilliant musicians having fun together in a studio and the show is a much more polished affair.
Like everything else I've seen thus far at the Paramount, this is an exceptional production, put on with the same attention to detail and quality as anything on the main stages downtown.   No detail has been overlooked.  The period costumes, amplifiers, recording gear, microphones, everything has been crafted with an eye to vintage detail.  You feel like you've been transported to Sun Studios on December 4, 1956 in reality.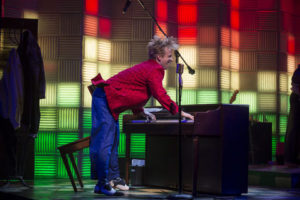 No less so in the performances.  The Quartet of actors chosen for these roles really is worth a million bucks starting with Gavin Rohrer as Jerry Lee Lewis.  The show is written in such a way as to allow the actor playing Lewis – Sun's newest star – to walk away with it, and Rohrer does so here with incredible charm and a hyperactive energy that very much compares to the original.  Lewis existed to steal focus and Rohrer leans in – thieving every scene despite the absolutely amazing performances by the other actors.  And his piano playing is equally star quality, he even throws in a few licks from Rhapsody in Blue in one section as a musical joke.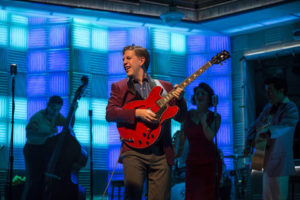 Next up is Adam Wesley Brown as the father of Rock-a-billy, Carl Perkins.  Perkins was the unsung hero of Sun records, the massive talent who was outshone by all of the other massive talent surrounding him, but was never forgotten by real musicians like Elvis, Cash, Lewis, the Beatles, Tom Petty, Bob Dylan and every other musician's musician.  And while that is played a little bit for laughs in the show, Brown's musicianship is always on display, making his guitar playing Perkins utterly believable because he's actually doing it live.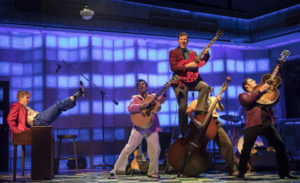 Whenever there is a live band on stage during a play, awesome things are likely to happen, and they do here.  Brown as Perkins is backed by the astonishing Zach Lentino on stand-up bass as a fictionalized and mostly non-speaking version of Perkins' brother Jay (who was a guitar player – brother Clayton Perkins was the bass player) and the talented Scott Simon as Perkins' friend Fluke on Drums.  These three make one hell of a band all on their own, power trioing up a storm.  I AM a bass player and I have seldom seen anybody play as well and with as much flair as Lentino.  He's got a band called The Lovers and I'm going to have to look them up.  Simon lost his stick during his drum solo and STILL finished it better than most drummers.  These guys are just exceptional.  Not often you go to a show and walk away wowed by the band, but you do here.  And I'm only half done.
The story of the play is really the Sun Studios story, or rather, the story of how Sam Phillips, ably played here by Nicholas Harazin, had a dream and an eye for talent and was able to discover some of the greatest acts ever to come out of the South. People who are legends even today.  That was Sam's strength, knowing talent when he saw it and having the vision to nurture it and give it a chance as he happily tells you here as the story's narrator.  He describes driving from radio station to radio station across the South, paying them to play the records, and thus were legends born, beginning with Elvis, Sam's first big discovery when the truck driver was first signed to Sun and had hits with black blues man Arthur Crudup's "That's All Right" widely regarded as the "first rock 'n' roll record" and an up-tempo version of "Blue Moon of Kentucky" he'd heard performed live in Jackson, TN by Carl Perkins and his brothers.
Hurting for cash in 1955, Phillips sold Presley's contract to RCA Victor for the unprecedented sum of $40,000, saving Sun Studios and allowing him to find and sign more artists – this is all outlined in the play, though the timeline is rather muddled.  His next big find was the most popular band in Jackson, TN, the Perkins Brothers, led by Carl Perkins, the ultimate King of Rock-a-billy.  Paul McCartney has said of his influence that "if there were no Carl Perkins, there would be no Beatles," that's how important Perkins was among musicians. Carl's original song "Let Me Take You to the Movie, Magg" got him his own recording contract from Sam Phillips and Sun in 1954.
Carl had hits with "Movie Magg" and "Turn Around" in 1954, touring the South with Elvis.  Soon, Johnny Cash was added to the lineup.
But that's history when the play begins.  Perkins has arrived for his recording session, trying to find the hit that will follow up "Blue Suede Shoes" now that Elvis has essentially stolen it from him.  Perkins forces him to add Lewis on piano, trying to shake up the Rock-a-billy sound when Elvis (Kavan Hashemian) arrives with his girlfriend Dyanne  (Courtney Mack) to try to persuade Phillips to join him at RCA as a producer.  He feels the big money men in Hollywood don't really understand him and Phillips will keep his interests at heart.  What he doesn't know is that Phillips intends to stay at Sun and sign Johnny Cash (Bill Scott Sheets) to a new three-year contract extension.
Lord knows, the show takes liberties with history, but it doesn't downplay the songs written by Perkins (Blue Suede Shoes, Matchbox) and Cash (I Walk the Line, Folsom Prison Blues).  It includes mentions of Perkins' horrible car accident and the controversy over Elvis' performance of "Blue Suede Shoes" on Ed Sullivan.  It does transport a lot of these songs a few years earlier in history in order to fit them into a fantasy show based on a real life event, but you won't mind.  It does emphasize the friendship of these artists, particularly Perkins and Cash, who remained friends and sometime collaborators until Perkins' death in 1998. You can hear Perkins' lead guitar on some of Cash's most famous recordings, and Perkins wrote Cash's hit "Daddy Sang Bass".
Elvis is almost a cypher in this show until Hashemian starts singing and dancing and then he gets it absolutely right.  But despite him being the most famous, and feeling exploited by Hollywood, you just don't care about Elvis.  Your sympathies are firmly with the overlooked and ripped-off Perkins and Cash, who is just about to drop the bombshell that he's signed with Columbia, who will allow him to make a gospel record, and with Lewis, whose palpable ambition and bratty charisma is too fun to ignore.
I can't say enough here about Sheets as Cash. From the bottoming-out on the low notes, to the depth of tone to the accent he is the best Johnny Cash I've ever seen.  If I'd shut my eyes I wouldn't have known it wasn't the original.  His guitar playing is dodgy in some sections as he strums up the neck of the guitar, but the chord forms seemed right to me.  I don't know how much he was playing, same for Hashemian in a number of places, but you just don't care because of the superb quality of his voice and the effort he makes to BE a dignified and thoroughly decent Cash.
While a lot of songs in the show are not the ones that were recorded at the actual session, a few like " By the Riverside" and "Peace in the Valley" make it onto the stage.  And it's an excerpt of the men harmonizing on one of these sacred melodies that is the authentic recording played in the show.  And it gives you goose bumps when you hear it, even though everything you've already seen has been superb.  It's amazing because it's real, despite the scratchiness of the recording.
The end of the show is a concert of some of the Quartet's greatest hits. The most fantasy of the fantasy portions.  But when you look around the audience, you see them reacting to the actors as if they were really seeing Perkins, Cash, Lewis and Presley live on stage.  And the actors go with it in perfect character, interacting with the audience and delivering the songs as if they really had written them.  This is tremendous fun, and the improved audience interactions were great, including Brown beginning Perkins' "See You Later Alligator" and the audience starting lamely.  So he goaded us and began again and everyone joined in.  It's moments like this that make this show transcend from a show into a live concert, you leave feeling as if you've really been to one.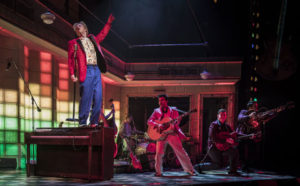 But even though you're watching a story about some of the most amazing originators of a genre – the real deal – any student of rock knows that it's only half the story – the white half.  These white Southern boys were genuine talents, but they were drawing on a tradition originated by a bunch of black Southern boys who couldn't get played on the radio.
Sam Phillips wasn't the inventor of Rock 'n' Roll, he was one of the greatest of the early cultural appropriators, but even that makes it into the play. There's a speech where he admits he chose Elvis for his ability to take what the black acts were doing and make it palatable for white audiences. And there's a huge shout-out to Chuck Berry in there, which really happened at the session, and which did my heart good to hear. Chuck's song, "Brown Eyed Handsome Man", is included in the play even though he is not. We can't forget that these four were just a small part of a larger movement, much of which was being suppressed.
But as a night of theatre goes, Million Dollar Quartet does not disappoint.  You should head out to Aurora and see it immediately.  It runs through October 29th.  Tickets available here.
Save