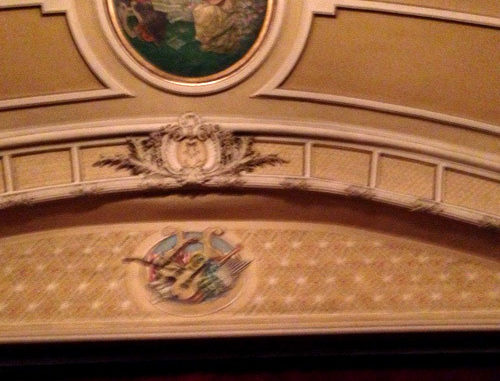 Every now and then I hear the Stephanie Miller Show on the radio, and hearing the advertisements for this year's "Sexy Liberal Resistance Tour", I was curious to see what all the fuss was about.  Stephanie Miller has honed an approach to politics that is creative and original. After experience as a stand-up comedian and an actress, Miller began her radio career after her father's death in 1983. Her father was U.S. Representative William E. Miller, who was Barry Goldwater's running mate.
Since the first show on April 23, 2011 in Madison, Wisconsin, Miller's live Sexy Liberal Comedy Tour has periodically toured the country to sold out houses and very high acclaim. This night was no exception.  The house was filled, despite terrible weather. In addition to Stephanie Miller there was John Fugelsang, Frangela (Frances and Angela), and special guest United States Representative Jan Schakowsky. Braving the rain and wind, my guest and I headed to the Athenaeum Theatre, 2936 N. Southport Ave. on Saturday, Oct. 14. Struggling to park my car and walking through the rain in the dark, I thought, "this show better be good".  It was!
Two straight hours of laughter felt like medicine, and a welcome relief to the constant barrage of horrible news. The show is not for everyone, apparently. As I was leaving, I overheard a woman quite annoyed, saying, "That was disgusting".  I don't think the audience agreed.  The atmosphere was admittedly, rather bawdy.  Lots of clapping, cheering and standing to show approval.
It is a political show and it has sexual reference and the audience loved it. This tour is moving its way toward California.  Stephanie Miller lived in Chicago and Frances Callier was born in Chicago and grew up on the West Side.  The Chicago show had the bonus of Congresswoman, Jan Schakowsky, who was charming and inspiring.
The individual styles created an embellished total. There was Stephanie Miller's physicality- sometimes on the floor, moving into the crowd and very funny. John Fugelsang's style of rapid jokes peppered with surprising facts was captivating, and the Frangala contribution was very earthy.
About:
Stephanie Miller is a national television and talk radio star who is a wildly popular performer with a huge and fervently devoted audience. Her morning drive radio's "The Stephanie Miller Show" is heard nationally, reaching more than three million-plus listeners weekly. She is ranked #12 on influential industry publication Talkers Magazine's "Heavy Hundred" list.
Her e-book "Sexy Liberal! Of Me I Sing" immediately became #1 on Amazon in political, humor and memoirs, and has just been issued in paperback by popular demand. Miller's three comedy albums all entered the Billboard Comedy charts in the top positions, as well as chart topping on Amazon, ITunes and Googleplay.
John Fugelsang hosts "Tell Me Everything" weekdays on SiriusXM Insight #121 and PAGE SIX TV for the FOX network. He once got George Harrison to give his last live performance on VH1 and, in the quip heard round the world, got Mitt Romney's advisor to call Mitt an 'etch a sketch' on CNN. He's been murdered on "CSI," hosted "America's Funniest Home Videos" and Bill Maher called him "one of my favorite comedians." He's been a regular on CNN, MSNBC, FOX News and has performed for US troops, including the humanitarian mission in Haiti. His new film "Dream On," a road trip in search of the American Dream, was named "Best Documentary" at the NY Independent Film Festival and recently premiered on PBS.
Frangela is Frances Callier and Angela V. Shelton, real life best friends and America's BFF's. As avowed Afro-SaxonsTM and lovers of all things political and pop culture, they have been featured contributors on VH1's "Best Week Ever," NBC's "The Today Show," "Dateline," "Showbiz Tonight," "Access Hollywood," CNN's "Headline News," AXS TV's "Mockpocalypse," NPR and "AM Joy" on MSNBC. They hosted their own radio show, "The Week According To Frangela" and are regular chair-dancing guests of "The Stephanie Miller Show." They were featured on "The Oprah Show" in the "Best Standups in America" episode and have enjoyed touring colleges doing their brand of pop-cultural infused standup. Frances and Angela also brought hilarity to the big screen in the hit film "He's Just Not That Into You" and most recently "Slow Learners." They play Margaret and Betty on the hilarious Hulu show "Quickdraw."
Jan Schakowsky is the U.S. Representative for Illinois' 9th congressional district, and, in fact, my representative.  She is always responsive to phone calls and letters. Representative Schakowsky has been a lifelong consumer advocate and a champion for, what she sees as, the disappearing middle class. From her days as a young housewife who led the campaign to put expiration dates on food products to the 2008 passage of legislation she helped write making children's products and toys safe, Jan has worked to make life better for working and middle-class Americans. Schakowsky was elected to represent Illinois' 9th Congressional District in 1998, after serving for eight years in the Illinois General Assembly.
She is in her tenth term, serving in the House Democratic Leadership as Chief Deputy Whip and member of the House Democratic Steering and Policy Committee. She is a member of the House Budget Committee, as well as the House Energy and Commerce Committee, where she serves as Ranking Member of the Digital Commerce and Consumer Protection Subcommittee, and as a member of the Health and Oversight & Investigations Subcommittees.
For more information about the tour see:The Sexy Liberal Resistance Tour website
The Athenaeum Theatre website for coming events
Photos:  Courtesy of the "Sexy Liberal Resistance Tour" unless otherwise specified.
The Sexy Liberal Resistance Tour website
The Athenaeum Theatre website for coming events