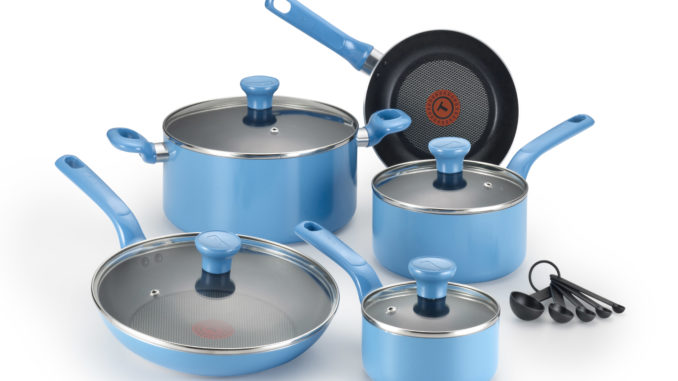 When it comes to cooking, the pans can be just as important as the ingredients that you put in them. T-Fal has created a set of cookware that allows you to worry about what you should be thinking about when you are cooking, ingredients and flavor. The cookware should be an afterthought and with T-Fal it is, you create the meal and let T-Fal cook it to perfection.
The T-Fal collection begins with the 8-inch fry pan. It can be used for so many things, but what truly defines this piece has to be how it cooks an egg. This pan gives a flawless egg and it all starts with the unique heat indicator and then combine that the non-stick interior and you have a pan that an egg will glide right onto your plate. T-Fal is about as simple as it gets, put it on the burner, wait for the heat indicator to tell you it is ready to cook, toss in your ingredients and you are on your way to a fabulous meal! Unlike so many non-stick pans that find their way into the trash after a few uses, T-Fal is extremely durable and if you treat it properly, you can count on having it around for quite some time.
Beyond just being great for any type of cooking, T-fal ceramic cookware is PFOA-free and if you are looking to match the design of your kitchen, T-Fal also offers sets in an assortment of vibrant colors. T-Fal also has bread makers, rice cookers, fryers and more.
As Thanksgiving and numerous holidays approach, you will most definitely want to make sure your kitchen is prepared for cooking. T-Fal has a lineup that caters from one person to an entire family plus the in-laws. If you want to make sure all of your dishes come out of the oven cooked to perfection and there is no sticking, there is still plenty of time to make T-Fal the pan of choice in your kitchen.
For more information, visit: T-Fal