REGRESAR/REVISIT
THE CHICAGO SINFONIETTA
A DÍA DE LOS MUERTOS CELEBRATION
Saturday, November 4, 2017
8:00pm Wentz Concert Hall
North Central College 171 E. Chicago Ave, Naperville, IL 60540
Monday, November 6, 2017
7:30pm Symphony Center 220 S Michigan Ave., Chicago, IL 60604
As the spirits return during the tradition of Día de los Muertos, the Chicago Sinfonietta celebrates its past in this annual concert dedicated to the holiday. Join them as they recreate some of their audience's favorite memories from past Día de los Muertos concerts and build brand new memories. This concert features some of Mexico and Latin America's most celebrated composers, evoking and highlighting the music of their regions, alongside an entrancing and chilling performance of Mozart's Requiem, performed with a 70-voice choir and a Sinfonietta twist (as always)!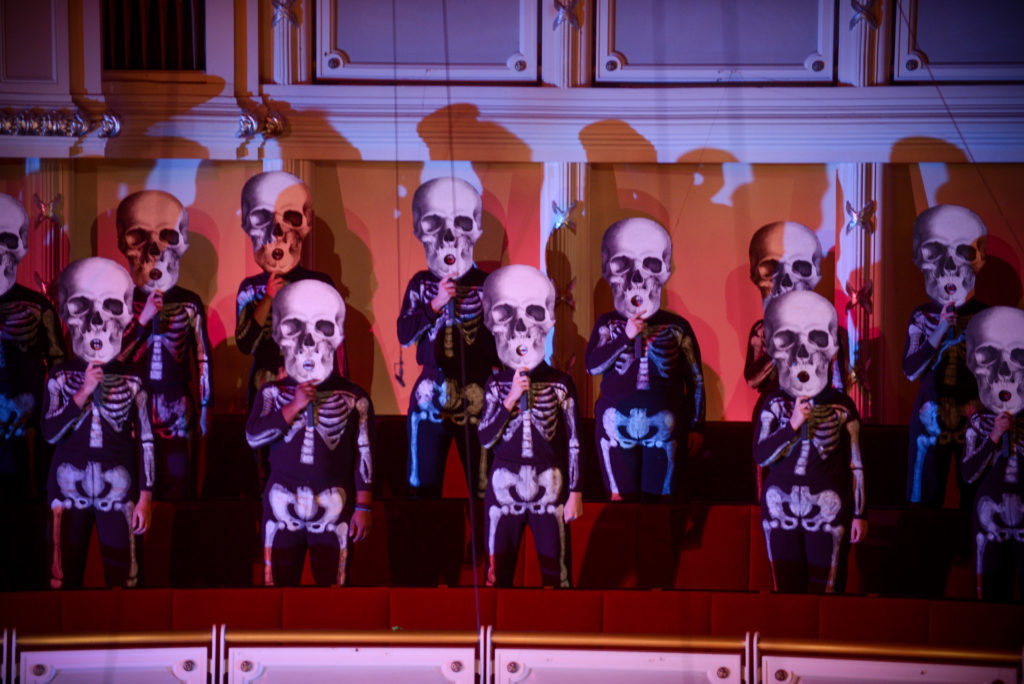 GUEST CONDUCTOR:
Maestro Hector Guzman
GUEST ARTISTS:
NewMoon Chicago
Roosevelt University Conservatory Choirs
Cuerdas Clásicas
PROGRAM:
Piazzolla/ arr. Eugenio Castillo Libertango
Revueltas Redes
Part I: The Fisherman, The Child's Funeral, Setting Out to Fish
Part II: The Fight, The Return of the Fishermen with Their Dead Friend
Mozart Requiem
Dies Irae
Rex Tremendae
Confutatis/Lacrymosa
Hostias
Sanctus
Lux Aeterna/Cum Sanctis
Grieg Aase's Death, Peer Gynt Suite No. 1
Cortés Marila
Un Cielo Para Ti
Jalisco de Mis AmoresMoncayo Huapango
 INTERVIEW WITH MAESTRO HECTOR GUZMAN:
This reviewer had the opportunity to speak with the distinguished and much-decorated conductor about 2 of his many honors as well as the upcoming concert. His eloquent, enthusiastic and informative remarks are paraphrased below:
Guzman, the recipient of numerous awards, including the 2012 "For the Love of Art" Lifetime Achievement Award, said "That award is given in the North Texas area to individuals or organizations that have made contributions to the arts over a long period of time". He received it for his efforts as Music Director at the Plano Symphony for 35 years. He is also Conductor of the Irving Symphony and the San Angelo Symphony, both located in Texas.
We discussed the inclusion of Mozart's Requiem in the program with the Sinfonietta. I noted that Guzman received the Mozart Medal in 2008, the highest musical honor in Mexico, awarded by the Embassy of Austria and the Mozart Academy in Mexico City. Guzman agreed he has "a special relationship with Mozart and the Requiem. The first piece I ever conducted, as a young organist of 17, was this great work; that event continues to be a landmark in my career. The opportunity arose to conduct the Orchestra and Choir; I had very little conducting experience. I thought I would feel like a fish out of water, but when I was actually conducting, I felt comfortable and secure. I knew this would be my life's calling".
In preparing for this unique and iconic concert, Guzman recalls, "I spoke with the Chicago Sinfonietta Executive Director Jim Hirsch and we worked on the program together. We didn't want to repeat prior Día de los Muertos programs, although the Requiem had been done a few years past. We worked on timing and orchestration".
About the other choices from other composers on the program, Guzman commented, "Of course, Mexican composer Silvestre Revueltas is one of the greatest composers of all time, and Argentinian Astor Piazzolla is a 20th Century iconic tango composer. Redes by Revueltas and Jose Moncayo's Huapango, (the unofficial second national anthem of Mexico) together fulfill the goal of the program".
As to the special significance of Día de los Muertos to Guzman himself, as a native of Mexico, he explained, "In addition to being about the souls of our ancestors, this is a festive holiday. It's not morbid or spooky. It's an experience that is very meaningful to most people in Mexico. We celebrate the loved ones who have gone, but not in a mournful way. Families will go together to the cemetery and share meals; it becomes a feast! This is not seen as disrespectful in the Mexican culture, which can laugh in the face of Death itself. Regresar, the title of the concert, means 'to return, to, remember, to give back'".
For information and tickets to Regresar and all the great programming of the Chicago Sinfonietta, go to the chicagosinfonietta website