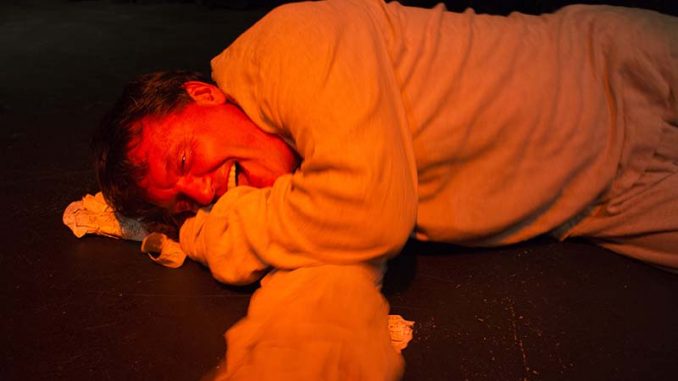 By Charles E. Gerber
"DIARY OF A MADMAN", directed by Mr. Lazarev and performed by Mr. Volok is currently playing at the ATA BECKMANN THEATER, 314 W. 54TH ST., through November 12th.
ILYA VOLOK
The influence of Nicolai Gogol (1809-1852) on Russian, Ukrainian, and even Yiddish and World Literature as a whole, is perhaps beyond measure.  Considered by his contemporaries to be a preeminent figure of the natural school of Russian literary realism, he's been reevaluated through the years for works of displaying large dollops of romantic sensibility, as well as surreal, even grotesque plots, images and merciless observations of humanity. "The Nose", "Viy", "The Overcoat" (perhaps his most famous of short stories), as well as his plays," The Government Inspector", and "Marriage", are appreciated and frequently revived as satirical farces, the latter being recently presented here in New York just months ago. The novels, "Taras Bulba" and "Dead Souls", add to his best known and highly influential works that have inspired disparate talents from Sholem Aleichem to Vladimir Nabakov.  That Gogol died at the age of 42, basically from self- imposed starvation and isolation, is a telling fact that perhaps connects to the subject of the short story, "Diary of a Madman", the stage adaptation of which, by two gentlemen from Mother Russia, is the subject of this review.
ILYA VOLOK, is a graduate of the Moscow Art Theatre School, as well as a Lifetime Member of The Actors Studio.  He's been based is Los Angeles for a number of years, has decidedly perfected his English so that merely the most charming trace of his native tongue, Russian language, can be detected. What is far more prevalent in this one-man presentation is his unmistakably Russian SOUL, which is not "Dead" in the least, but in the guise of the character and narrator of this piece, Poprishin, terribly damaged, and his sanity, is, at best not deceased, but on life support.
Volok's commitment to his character is unimpeachable. Every glance, movement, sound, word, laugh and cry of his severely troubled tale is rendered with palpable pain as well as the innocence of truth. Directed by his co-adaptor, Eugene Lazarev, an earlier graduate of the esteemed Moscow conservatory, with a predilection for the most famous aria from Donizetti's "L' Elisir D'Amore ", to be played during the narrative perhaps once too often, the two adaptors still faithfully bring to life a demented creature, desperately engaged in searching for some discernible logic in a mind, due to some profound unbalance, is yet ever eluded to our collective chagrin, if not profound pity.
As, Volok himself stated,"his story is timeless and Universal- it deals with love, desire, obsession, rejection, hope and broken dreams….to feel compassion for Poprishin- it would be the best reward from me as an Actor".  For those of you who can attend this last week of performances through this Sunday on 54th St, such a reward for this actor and audience in the 70 minutes you meet, may well be shared.  EXTENDED to  November 26th, 2017.
"DIARY OF A MADMAN", from the Short Story of NICOLAI GOGOL , adapted for the stage by Eugene Lazarev and Ilia Volok. Directed by Mr. Lazarev and performed by Mr. Volok at the ATA BECKMANN THEATER, 314 W. 54TH ST., NYC. Oct. 24th-Nov. 26th. Tues.,Wed., Thurs.,[email protected]:00 P.M. Sat. @ 3:00& 8:00 P.M. Sunday @ 3:00.
Photos by Rochelle Perry