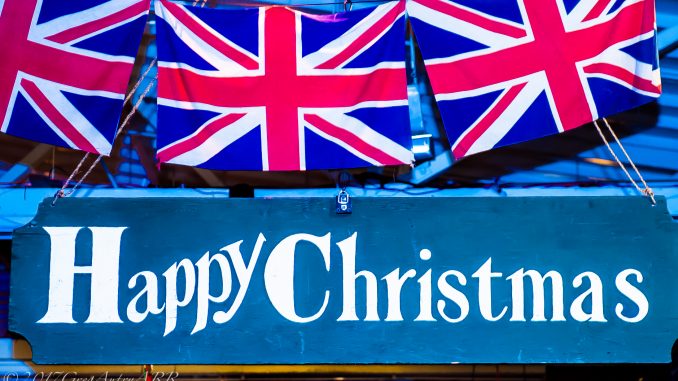 Photography by Greg Autry*
"Come Ye One-and-All, bring forth the children, there be merry making for the holidays and a grand tradition which has brought happiness to all who attend for 35 years. The Great Dickens Christmas Fair, or as it is known here-bouts, `The Dickens Fair,' is your not-so-typical Fair for the holidays.
The Great Dickens Christmas Fair & Victorian Holiday Party returns for five weekends amid the theatrically-lit halls of the historic Cow Palace, South of San Francisco (2600 Geneva Ave., Daly City, CA) on Saturdays and Sundays (as well as the Friday after Thanksgiving) from November 18 through December 17, 2017, to offer visitors a delightfully immersive holiday experience unlike any other.
The Great Dickens Christmas Fair is a one-of-a-kind holiday adventure set back in tyme, in Victorian London – an elaborate party with hundreds of costumed players performing and interacting with patrons in theatrically-lit music halls, pubs, dance floors, and Christmas shops. It's a twilight evening in Charles Dickens' London Town – a city of winding lanes filled with colorful characters from both literature and history. Enticing aromas of roasted chestnuts, which I tried for my first time this year, and hearty foods fill the air. Cries of street vendors hawking their wares ring out above the bustling crowd. Dozens of lamplit shops are filled to overflowing with Christmas gifts. The Dickens Christmas Fair is a treasured Bay Area tradition since 1970 and a splendid way to celebrate the holidays.
The Dickens Fair is presented annually by Red Barn Productions and the Patterson family. Kevin Patterson was on hand opening weekend and I enjoyed our time having Tea with Mr. Dickens himself, and her Royal Highness, Queen Victoria and Prince Albert, at the Tavistock House. The Patterson family does an amazing job of seeing to it that the detail and authenticity of the venue as well as the costumes of vendors and all the participants remains on par. This is a tradition I believe which goes to the heart of why The Dickens Fair such a special event and hearkens back to the days of the Original Renaissance Pleasure Faire's, which was begun by Ron and Phyllis Patterson, in 1970.
Whether you are going to shop for the Holidays and buy unique one-of –a-kind items you can find nowhere else, or you simply want to enjoy the Holiday Spirit, partaking of the entertainment and enjoying the food, there is far too much to do in only one day. That's why people have been returning weekend after weekend, year after year.
There are seven stages offering entertainment. From the Royal Opera Gala, or if you want something more salty, amble over to Mad Sal's Music Hall Review and take in the scandalous `Le Cancan Bijou.' I'll tell you a secret, just between you and me: get there early enough and stop by the Telegraph Office immediately. Just tell the Telegraph Mistress that Greg sent you and you want a couple of free tickets to the Naughty French Postcard Tableaux Review. Oh, and you'll need to get in line early at the Victoria and Albert Bijou Music Hall.
Never fear, the children will be joyfully occupied during your time here in Olde London Town. There is the Tinsley Green Children area, the Father Christmas Stage, along with an Adventure Carousel, puppet shows, and one of the favorite places for the kids (and some adults too), is the Painting Garden. Children and adults alike go to the painting garden year after year, to hand paint their own ceramic creations as gifts and keepsakes to share for years to come.
As you wander the streets of Old London, you will invariably run into many characters, so well known, from the books of Charles Dickens; Bob Cratchit, Tiny Tim, David Copperfield, Nicholas Nickelby, Oliver Twist and many more. There are I'm told, over 800 costumed players to entertain you. Father Christmas is about, as well as the devilish Mr. Scrooge. You may run into Mr. Dickens on the streets, or you can listen to him regale his followers with his Tales while lounging at the Dickens Family Parlour.
There are more than 100 beautifully appointed shops and carts offering fine artesian crafts, fanciful clothing and accessories, jewelry, toys and ornaments' for the holidays, and special things you would never imagine, until you see it. Some of my and my Frau's favorites include; Rebecca Love's ceramics including the sculptural face and body cast Rebecca will custom make for you. I also love Stephen Joynes' Fiddle Shop. Stephen does restorations and repairs, as operates his booth out of love for the instruments. He's called, The Fiddle Guy.
For clothes, ladies you must try the shop of Steven Overstreet Designs at The Dickens Fair, and yes, you can also find him at the Renaissance Faire's as well. Steven's cloths are designed and made with color and texture that enable a woman to celebrate her inner and outer beauty. Other great shops include Madame Louise's for hats, purses and special accessories, Velvet Bedlam for gowns and skirts and perhaps some saucy lingerie (to wear after the Fair, of course!)
The Windows of the Dark Garden offer glimpses of beautifully corseted men and women, to be viewed live, through alternating window displays throughout the days of the Fair. The corsets are exquisite and made of only the finest fabrics and craftsmanship right here in San Francisco, and may be purchased at The Dark Garden atelier and boutique, located at 321 Linden Street, in the Hayes Valley neighborhood of San Francisco.
Be sure to look for the `A.I.R. ~ Artist In Residence' symbol at the different vendors, noting merchants who host and handcraft their wares themselves. I encourage everyone to support Artists in all genres and mediums.
Throughout the London Shire, you will find Pubs , but none better than the Bohemian Absinthe Bar. It is located on Fagan's Alley, caddie-corner from Mad Sal's Dockside Alehouse, and right across from Ale House Alley. You will find a fine selection of drink, with Bar Men and Wenches happy to serve you. Be sure to say hello to Mad Sal herself, and tell her that Greg sent you!
There are crafts, games, and endless amusements throughout all the neighborhoods. Food is bountiful and of every imaginable sort including decadents deserts. For some places you will need a reservation. Don't forget to check out The Prince Edward Pub as well as the Mermaid Inn. I had the Fish N Chips. It was so good I can't wait to go back.
One thing I most enjoy is watching the town's guest's who dress up in their favorite costume. People return year after year, many come several weekends each year. Those who sew, and those who don't, are inspired to create historical costumes of the era. And it's a chance for some old –tyme holiday cheer, celebrating time when it was the right thing to do, to dress-up properly, and to go shopping for the holidays.
There are a thousand more things I want to tell you about, but alas, you must go and see it for yourself. If you're looking for a good excuse, to dress up, to go shopping, to see some entertainment, or to have a drink and grab a bite to eat, come to the Cow Palace and enjoy The Great Dickens Christmas Fair.
Be sure to check the Dickens Fair website for more information about the fair, tickets and season passes, and specials. Don't forget that parking at the Cow Palace will cost $ 12.00 this season. Be sure to grab The Newspaper at the Entrance, for a map to the myriad of festive holiday delights.
Connect with me, Greg Autry, on Facebook Facebook.com/GregAutryPhoto, Twitter @CGAGreg, and Instagram gregautry.cga . There are always more pictures !
*All Images ©2017GregAutry ALL RIGHTS RESERVED