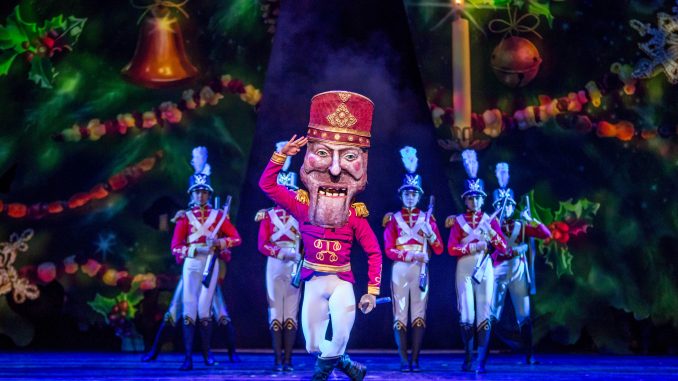 The Joffrey Ballet is again offering a glorious two hours of dancing and holiday cheer with Christopher Wheeldon's production of The Nutcracker, now playing at the venerable Auditorium Theatre, through December 30th.  The dancing, sets, lighting and reimagined storyline are a swirling and whirling treat for the senses that everyone should experience, even those who have already seen this timeless classic many times over.
In Wheeldon's vision, The Nutcracker opens in Chicago on Christmas Eve, 1892, five months before the opening of the World's Columbian Exposition of 1893.  Marie, at this performance played by Amanda Assuecena and her younger brother Franz, played by Dylan Sengpiel, arrive at home to their shack, where their immigrant mother, a sculptress of modest means played by Victoria Jaiani, is sculpting the golden statue that will preside over the Fair. Friends arrive to celebrate the holiday only to be interrupted by the Great Impresario and creator of the World's Fair, played by Miguel Angel Blanco. He entertains the party with theatrics and gifts, including a nutcracker for Marie. Later that evening, Marie is woken up by an epic battle between toy soldiers and rats led by The Rat King and the now life-size Nutcracker, played by Alonso Tepetzi. Marie saves the day, as The Great Impresario and the Nutcracker, now transformed into a Prince, set sail on a magical journey into the night.
The second act begins as the trio arrives on the shores of the fairgrounds, greeted by the Queen of the Fair, also played by Victoria Jaiani, who grants them a dream-like visit among the sprawling attractions. They move from pavilion to pavilion, represented by countries from around the world. As the dream ends, the Fair explodes with light and Marie suddenly awakens back at home to find it is Christmas Day.
The Chicago Philharmonic, led by Joffrey Music Director Scott Speck, provides live accompaniment of the classic score by Peter Ilyich Tchaikovsky for every performance. The full Joffrey company is also joined onstage by over ninety young dancers from the Chicagoland area and young vocalists from four different local children's choirs.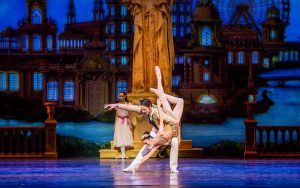 The dancing in this production was sublime.  Amanda Assucena's legs and feet are lithe and perfectly balanced, and she conveyed the youthful joy of the her character beautifully. Victoria Jaiani, as both Marie's Mother and the Queen of the Fair, was light as a feather and clearly a crowd favorite.  Other standouts were Christine Rocas and Fabrice Calmels as the Arabian Dancers.  One of the lifts in their duet prompted an audible gasp of delight from the audience.  Dylan Gutierrez as Buffalo Bill was a hill of fun and Chinese Dancer Hansol Jeong performed pirouettes that looked like he was floating on the stage.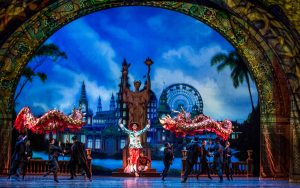 As for the Wheeldon production, I was delighted by the reimagining being set in Chicago.  Mayor Richard M. Daley was in attendance that evening and I smiled when the rats invaded the stage, an issue that continues to plague Chicago's alleys.  I found Wheeldon's choreography quite brilliant, for the most part.  There were moments that seemed over choreographed, mostly in large company scenes and others that struck me as under choreographed, primarily in the World's Fair Pavilion sections.  Other than that, the show was tight and kept its audience, many of whom were young children, rapt for the duration.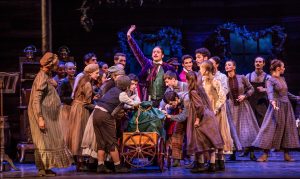 The Nutcracker features design by an award-winning creative team, including Tony Award®-nominated set and costume designer Julian Crouch (Hedwig and the Angry Inch, Shockheaded Peter), Caldecott Medal Award-winning author and illustrator Brian Selznick, Obie and Drama Desk award-winning puppeteer and MacArthur Fellowship recipient Basil Twist, six-time Tony Award®-winning lighting designer Natasha Katz and Tony Award®-winning projection designer Ben Pearcy.
Schedule
The Joffrey Ballet performs The Nutcracker through Saturday, December 30, 2017. The full schedule is as follows:  Thursday, Dec. 7 at 7:00pm, Friday, Dec. 8 at 7:00pm, Saturday, Dec. 9 at 2:00pm and 7:00pm, Sunday, Dec. 10 at 2:00pm and 7:00pm, Thursday, Dec. 14 at 7:00pm, Friday, Dec. 15 at 7:00pm, Saturday, Dec. 16 at 2:00pm and 7:00pm, Sunday, Dec. 17 at 2:00pm and 7:00pm, Wednesday, Dec. 20 at 7:00pm, Thursday, Dec. 21 at 2:00pm and 7:00pm, Friday, Dec. 22 at 2:00pm and 7:00pm, Saturday, Dec. 23 at 2:00pm and 7:00pm, Sunday, Dec. 24 at 2:00pm, Tuesday, Dec. 26 at 2:00pm and 7:00pm, Wednesday, Dec. 27 at 2:00pm, Thursday, Dec. 28 at 2:00pm and 7:00pm, Friday, Dec. 29 at 2:00pm and 7:00pm, Saturday, Dec 30 at 2:00pm.
Single tickets, which range from $35 – $165, are available for purchase at The Joffrey Ballet's official Box Office located in the lobby of Joffrey Tower, 10 E. Randolph Street, as well as the Auditorium Theatre of Roosevelt University Box Office, by telephone at 312.386.8905, or online at the Joffrey website