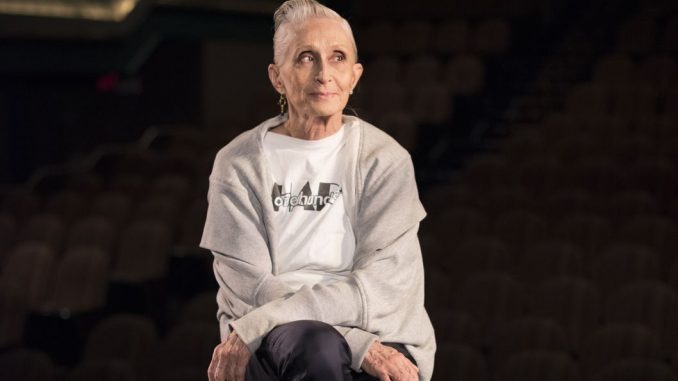 Twyla Tharp had me at "hello". In "Minimalism and Me," a world premiere program created for the Museum of Contemporary Art, the legendary choreographer takes the mic — and the dance floor — to describe how she created her seminal works of the 1960s and 1970s. Tharp's animated conversation with the audience, vibrantly illustrated by her dancers, reveals a creative process that is at once playful and methodical, ordered and free-flowing. I can't think of a more exciting way to explore what dance is about.
Tharp is prolific, having choreographed 129 dances, 12 TV specials, 5 Hollywood movies, 4 full-length ballets and 4 Broadway shows, including "Movin' Out" and "Come Fly Away." Understanding Tharp's minimalist roots yields a deeper understanding of all that would come.
In her crisp diction, Tharp tells the story of living in a rundown apartment in Lower Manhattan, launching her career with works that explored movement by stripping dance to the basics. Her first example, "Tank Dive" (1965), consists of a dancer forming a double V — arms reaching upward diagonally, legs in second position relevée — and holding that position for 3-1/2 minutes, the length of Petula Clark's pop hit, "Downtown."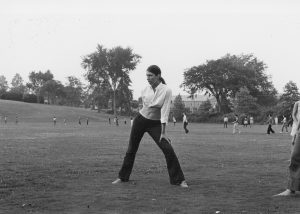 As simple as the piece looks, it's a challenging position to hold and like all of Tharp's works requires rigorous training in modern and balletic technique. To execute excerpts from 20 works, Tharp relies on her team of accomplished dancers: John Selya, Matthew Dibble, Reed Tanksersley, Kara Chan and Kellie Drobnick, supplemented with 11 local dancers, not all of them professional dancers, an embodiment of Tharp's inclusive approach to dance.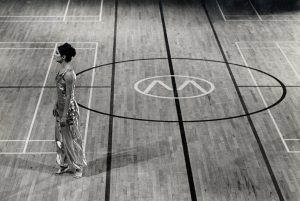 Standing on tiptoe for 3-1/2 minutes might seem as minimalist as a choreographer can get, but "Tank Dive" gets pep from pop music. Most of Tharp's other early works were danced in silence, a tricky test for an ensemble of dancers. During a Q & A with the audience, Tharp was asked why she didn't use music. "I always used music," she replied. "I just never played it for the audience." Her silent approach ended in 1970 with "The Fugue."
Tharp's narration and the dance demonstrations are layered with projections of the original works as well as the drawings Tharp created to map her choreography "like a conductor's score."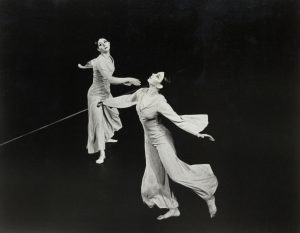 At one point Tharp engages Selya and Dibble in a makeshift rehearsal, putting them through their paces as if she has wound them up, nodding emphatically and speaking a patois of classical dance terms, descriptive phrases ("circle knees"), sounds ("ha ha") and inventions like "man dance," spurring the dancers to link elbows in a do-si-do. At 76, Tharp is no spring chicken, but she moves like one, showing her dancers exactly what she wants.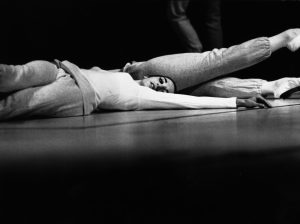 After inviting audience volunteers on stage to work on moves with her dancers, she opens the floor to questions from the audience. On opening night, her answers were swift and illuminating.
How do you choose dancers? "They chose me."
Why was your first dance team [Tharp referred to them as "The Broads"] all female? "We couldn't afford men."
Most revealing was when Tharp shared her vision for what dance can be: eclectic, diverse and inclusive. "All of these things can coexist."
Twyla Tharp: Minimalism and Me
Museum of Contemporary Art Chicago, 22 E. Chicago Ave., Chicago
Through December 10, 2017
Running time: 75 minutes
Tickets $45 (discount for MCA members) at (312) 397-4010 or MCA Chicago