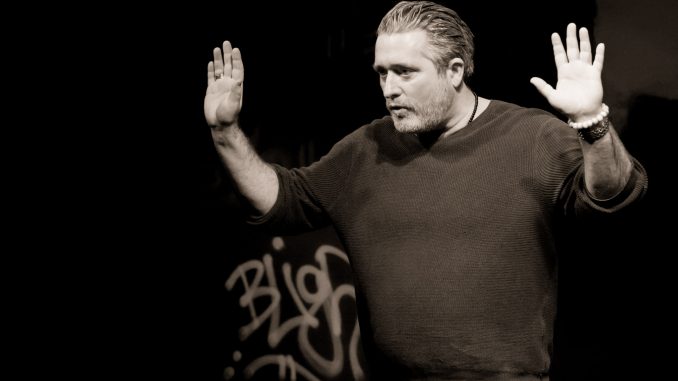 A journey down memory lane, MY FATHER'S A COP chronicles the life of Jerry Dean, the son of a New York Police Department officer. Co-written by Jerry Dean and Kurt Brungardt, directed by Kurt Brungardt, and produced by Derik Howard and Kurt Brungardt, MY FATHER'S A COP is a raw, honest tale about Jerry's odyssey through life, beginning as a juvenile delinquent and evolving into a drug-addicted con man. Despite his father's tireless efforts, Jerry early becomes destined to flaunt society's rules and march to his own drummer through the years.
The play is described as "a true story that traces the tumultuous relationship of Jerry Dean, a charismatic local Greenwich Village legend, and his father, a decorated NYPD detective, as their paths crisscross in the worlds of crime, drug addition, prisons, and mental hospitals." The play covers a lot of ground, geographically and psychologically, in describing Jerry's turbulent life.
MY FATHER'S A COP is at turns vicious, truthful, funny, painful, and pitiable, studded with obscenities reflecting Jerry's situation and surroundings. For Jerry's milieu is populated for people trying to get by without much concern for others, an environment rich in humor but also in pain. This "New Yawkah" holds nothing back as he recounts pop's hopes for him and his nefarious plans for himself. In fact, being a New Yorker certainly would help understand where Jerry is coming from as he trots from jails on the East Coast to show business on the West. AUDIENCE ALERT: Back when Jerry was a youngster, he'd probably have been chided for being a "potty-mouth." This is definitely an adults only production marked by harsh language and bleak content.
The unadorned stage makes good use of carefully planned lighting to project Jerry's thoughts. Unfortunately, on opening night, the lighting was sometimes out of sync with Jerry's movements, leaving a few awkward moments. Jerry's dad is memorialized through video clips, an important part of the story. However, for a play reportedly focused on a disjointed father-son relationship, there was a bland quality conveyed by depending on video snippets rather than powerful human interactions. This noir piece fully exploits Jerry's feelings, warts and all. Interesting though it might be for a student of human behavior, wading through his flaws and faults leaves something to be desired. One is left with the feeling that Jerry hasn't truly caught on to the lessons life threw his way and may still tend to romanticize some very black events in his past. Signs of redemption seem short-changed.
MY FATHER'S A COP runs through January 28, 2018, with performances at 8 p.m. on Fridays and Saturdays and at 7 p.m. on Sundays. The Lounge Theatre is located at 6201 Santa Monica Blvd., Los Angeles, CA 90038. For information and reservations, go online.