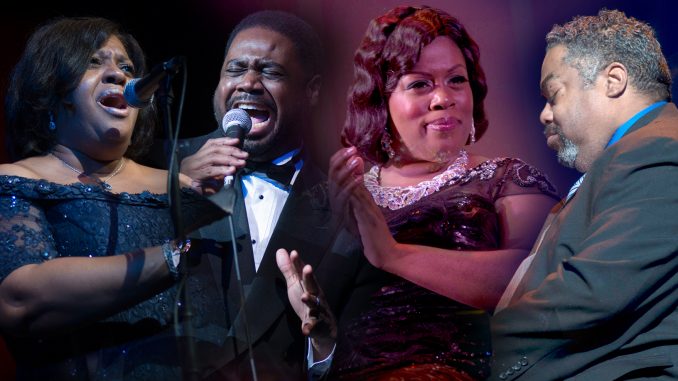 The Auditorium Theatre of Roosevelt University, 50 E. Congress, Chicago, played host to the 13th anniversary program "Too Hot to Handel: The Jazz-Gospel Messiah", presented in honor of the life and legacy of legendary civil rights leader and cultural hero Dr. Martin Luther King, Jr. on January 13th and 14h, 2018. The rousing concert was a brilliant mix of jazz, gospel, scat, blues, swing and classical presented by a terrific symphony orchestra, a hot jazz band, superb opera/gospel singers and a spectacular choir. It has been described as "your grandmother's choral classic sliced, diced, spiced, swirled, swung, amplified, and totally reinvented."
Conceived by Marin Alsop, arranged by Bob Christianson and Gary Anderson, the show featured Suzanne Mallare Acton, Artistic and Musical Director of Detroit's Rackham Symphony Choir and Choral Master for the Michigan Opera Theatre conducting the 50-piece "Too Hot" symphony orchestra and 6 piece "Too Hot" jazz band, with Bill Fraher, Old St. Patrick's Director of Concert Choirs directing the 100-member "Too Hot" choir. This mesmerizing performance particularly showcased pianist Alvin Waddles who thrilled the audience with his wonderful command of the ivories.
The evening opened with the recitation by Anmarie Jones from Galileo Scholastic Academy of her prize-winning original poem, "These are the Sounds of My Neighborhood", a stark and meaningful tell-it-like-it-is work of art.
Vocalist stars Rodrick Dixon, tenor, his wife, Alfreda Burke, soprano, and Karen Marie Richardson, alto, sang their hearts out at the top of their respective ranges, seeming to overwhelm even their own sensibilities. The musicians and singers performed 26 stirring pieces of music adapted from the original score in a thoroughly modern yet timeless expansion of the original baroque oratorio. The joyous noise made unto the Lord could be seen in high-definition video as Acton deftly conducted the expert orchestra and band, the soloist musicians riffed, and the choir belted it out in swinging virtuoso fashion.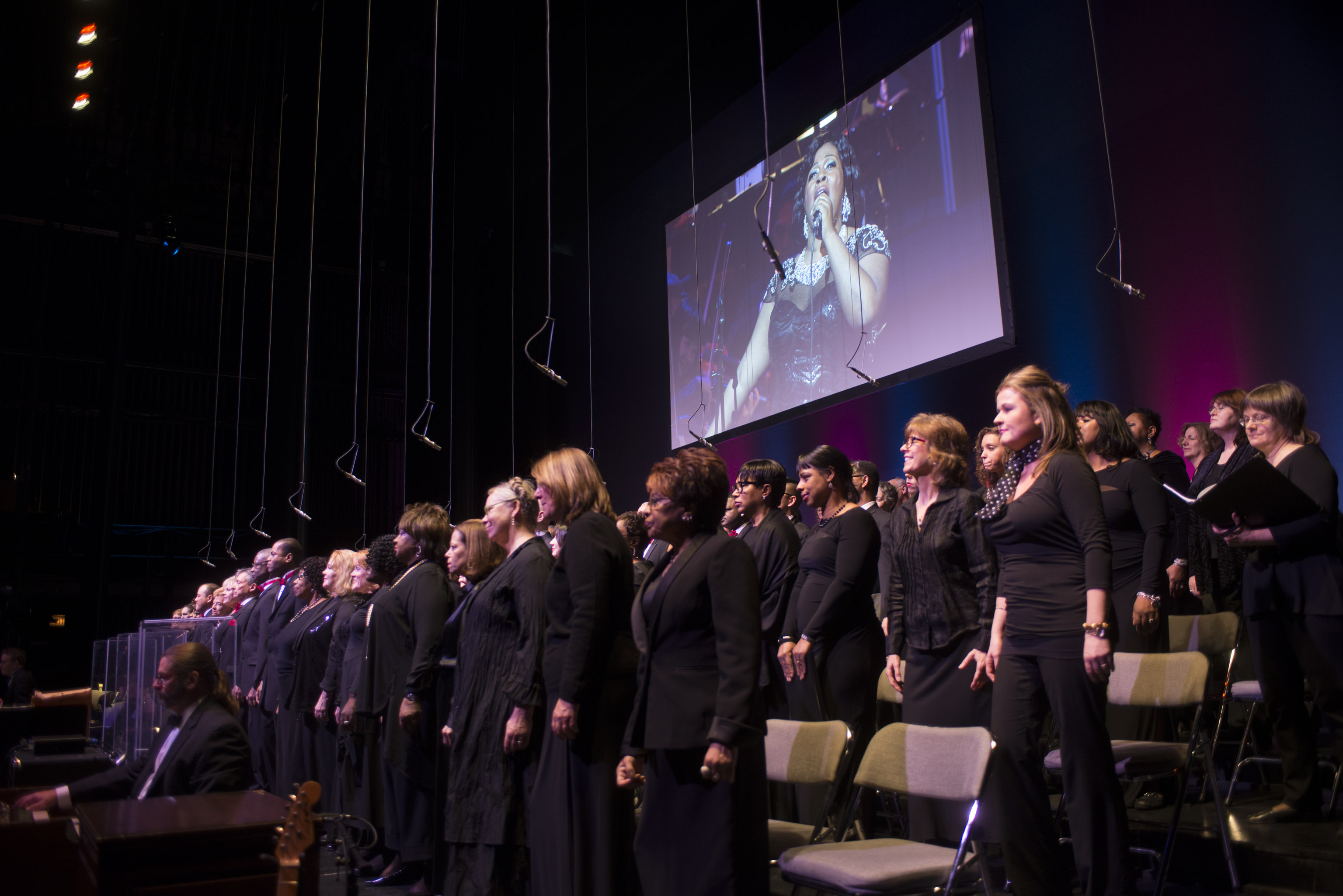 "The Messiah" was composed in 1741 by George Frederic Handel, with a scriptural text compiled by Charles Jennens from the King James Bible and using the version of the Psalms taken from The Book Of Common Prayer. Although it has a structure similar to that of opera, it differs in that it is not presented in dramatic form, there is no direct speech, and there are no typically operatic characters. The lyrics are definitely strongly religious in flavor: it has been succinctly called "an extended reflection on Christ as Messiah". The text begins with Prophecies, moves through the Annunciation to the shepherds, dwells on the Passion, covers the Resurrection of the dead and ends with Christ's Ascension to glory. Eventually the piece became one of the most frequently performed choral works in Western music, frequently adapted for performance on a much grander scale than Handel intended.
It is now generally agreed by scholars that there is not one definitive version of the masterpiece. Certainly the version-and vision- given at The Auditorium is an extremely successful and spirited example of grafting an entirely new concept of liturgical expression onto an existing form.
When interviewed in 2016 about their favorite part of the "Too Hot "experience, Dixon and Burke tellingly responded with similar points. Dixon spoke of the relationship between the choir and the audience, a connection that "Is created from the very beginning, and you won't see anywhere else". Burke also mentioned watching the audience "Rejoice, sing, clap, dance and even weep".
It is that connection, a bond with the community beyond just the audience that is fostered by the Auditorium, which is committed to presenting the finest in international, cultural, community and educational programming in Chicago. Indeed, in conjunction with the "Too Hot To Handel" performances, the Auditorium's Department of Creative Engagement sponsored many programs that engaged Chicago students and community organizations in the celebration of Martin Luther King, Jr. Day and further celebrated the power of music to inspire.
In addition to the weekend performances of Too Hot, the Auditorium Theatre offered an hour-long Student Matinee performance on Friday, January 12 at 11AM for students in grades K-12. On January 9th, Too Hot stars Rodrick Dixon and Alfreda Burke hosted a free lecture-demonstration at the Auditorium Theatre's Katten-Landau Studio (425 S Wabash, 4th Floor), presented in partnership with Northwestern University's Osher Lifelong Learning Institute. Dixon and Burke discussed Dr. King's concept of "beloved community" from an artistic and musical perspective.  On January 10, Too Hot star Karen Marie Richardson visited Neal Math & Science Academy in North Chicago at 10AM for a Master Class to discuss her Too Hot experiences over the years, share her own artistic practices with the school's aspiring vocal performers, and answer questions from students.
Finally, as a piece of community outreach toward persons who truly couldn't be present, in a generous sharing gesture that Dr. King, the great community leader, would certainly have applauded, Sunday's performance was live-streamed to various correctional facilities in Illinois, Wisconsin and Louisiana, working with Elmhurst Christian Reformed Church.
For information about and tickets to all the wonderful performances at The Auditorium Theatre of Roosevelt University, go to www.auditoriumtheatre.org
All photos by Paul Natkin