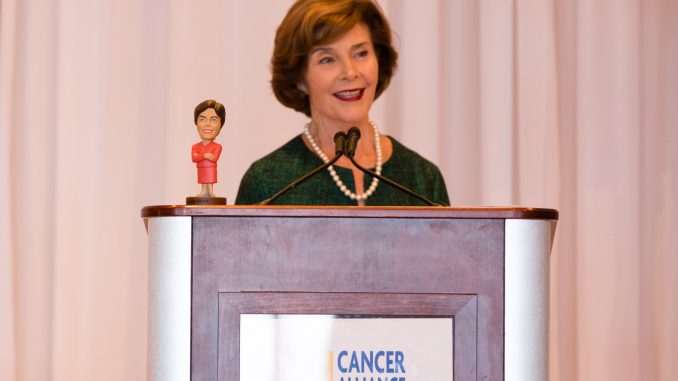 Palm Beach- Cancer Alliance of Help and Hope Inc., held a spectacular and successful 2018 Shop The Day Away Luncheon™ on Wednesday, February 21st, at 10 a.m., at The Breakers, Palm Beach. The event welcomed former First Lady Laura Bush, as Keynote Speaker.  Former First Lady Laura Bush inspired the audience with her knowledge, humor and messages of caring.
Mrs. Bush stepped-in or her daughter, Jenna Bush Hager, who was originally scheduled to speak at the event, but due to a scheduling conflict caused by the Olympic coverage on NBC, was unable to attend.
Returning to helm the leadership of the signature event was Chairwomen Melissa Parker and Patty Myura, both of whom were instrumental in the success of last year's event, which raised $600,000. for local cancer patients.
Mrs. Laura Bush, former First Lady of the United States, is an advocate for literacy, education and women's rights. After leaving the White House, President Bush and Mrs. Bush founded the George W. Bush Presidential Center in Dallas, Texas. As Chair of the Bush Institute's Women's Initiative, Mrs. Bush promotes access to education, healthcare, and economic opportunity for women and girls around the world. The Women's Initiative programs are preparing and empowering the next generation of women leaders, working to ensure the expansion and protection of women's rights, and engaging and supporting First Ladies from around the world to effectively use their unique platforms to advance issues for women and girls in their countries. Mrs. Bush is a leading voice for spreading freedom and promoting human rights across the globe. As First Lady of Texas, Mrs. Bush implemented many initiatives focused on health, education and literacy. Polled by the Gallup Organization, Mrs. Bush was one of the most popular First Ladies and remains so today.
Mrs. Bush is the author of the bestselling memoir, Spoken From the Heart, and bestselling children's book, Our Great Big Backyard. She holds a Bachelor of Science degree in education from Southern Methodist University and a master's degree in library science from the University of Texas. She taught in public schools in Houston and Austin and worked as a public-school librarian. President and Mrs. Bush are the proud parents of twin daughters Barbara and Jenna, son-in law Henry Hager, and happy grandparents to Margaret Laura "Mila" & Poppy Louise Hager. Mrs. Bush let it be known, under no uncertain circumstances, that she would climb the highest mountain and swim the largest sea, just to see her precious grandchildren. That remark gave Mrs. Bush a standing ovation.
The Chairwomen are supported by the Cancer Alliance Chairwomen's Leadership Group, a distinguished group of accomplished women who have joined forces to support the mission of CAHH in supporting local cancer patients in their time of need. The efforts of Grand Benefactor Chair: Gloria H. Herman; Honorary Chairs: Judi Richards and Barbara Zand, International Chair: Janet Cafaro; Vice Chairs: Ansley DiLeo, Virginia Sheerin Gildea, Jacqui Michel, Terri Schottenstein and Cindy Sites; Auction Chair: Blanche Napoleon-McCoun; Junior Chairs: Abby Beebe, Lindsay Connor and Nicole Dicocco ; Ambassador Chair : Herme de Wyman Miro: and Ambassadors: Ann Bloys, Elizabeth Bowden, Shelia Buchbinder, Chris Cox, Rebecca Doane, Arlette Gordon, Adriana Luchechko, Linda Mennen, Shelly O'Neill and Kitty Silverstein, have contributed greatly to the success of the event and mission.
The 2018 Shop The Day Away Shop Luncheon™ featured Palm Beach's most fabulous silent auction featuring more than 700 new luxury designer items from the world's finest designers and luxury brands, including an amazing selection of new handbags, accessories, jewelry, evening, home, cashmere, beauty, shoes, men's, furry friends and baby items, experiences and a lot more "must have surprises", all curated for the Palm Beach luxury lifestyle. Designers and luxury brands from the world's fashion capitals have joined forces with local Palm Beach area fashion, beauty and service businesses to give back and support Cancer Alliance in their efforts to support local Cancer patients during their time of need.
Every item that was featured throughout the spectacular ballroom of the world-renowned Breakers Hotel and Spa, were donated by individual stores, companies and individuals, including, but not limited to, Minolo Blahnik shoes, which literally 'flew out the door' by generous contributors. I have a close friend with Pancreatic cancer and have lost friends from cancer, and, I purchased a handbag to help support this wonderful cause.
All proceeds from the Shop the Day Away Luncheon™ support CAHH's mission of assisting the children, adults and families affected by cancer, and the subsequent bills they acquire during the treatment and recovery process.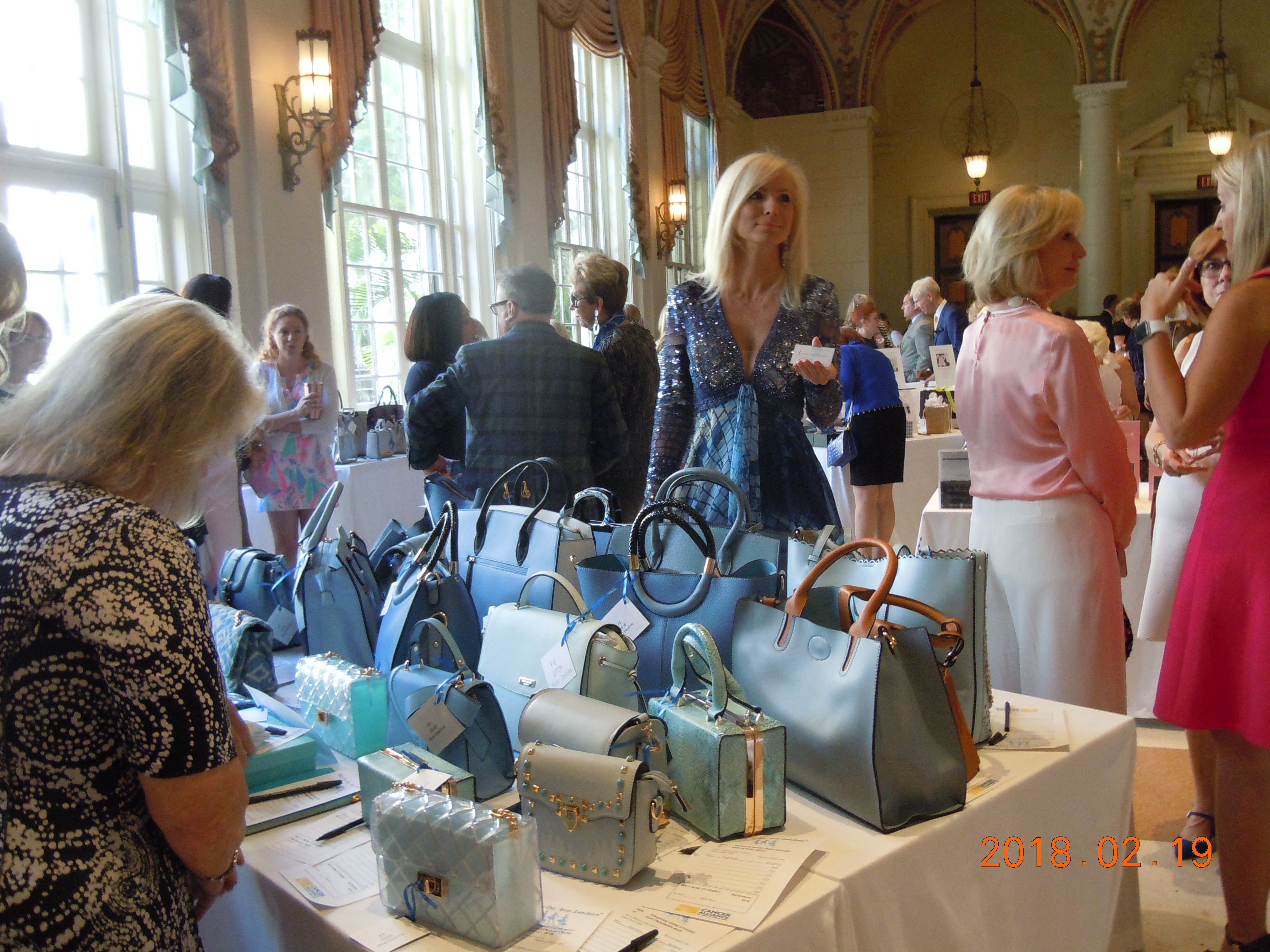 Cancer Alliance of Help and Hope eases the burden for qualified women, children and men with emergency circumstances residing in Palm Beach County during their treatment period by helping to support them financially during their cancer treatment period. Due to the high costs of cancer treatment, and the severity of the side effects of chemotherapy and radiation treatments, many cancer patients suffer severe financial setbacks and difficulties resulting in their inability to continue their medical insurance, which pays for their ongoing treatments; maintain transportation to go to treatment, or pay for their housing or living expenses, leaving families without a place to live. CAHH provides information, guidance and resources to those in need.
About the Cancer Alliance of Help & Hope, Inc.

The Cancer Alliance of Help & Hope, Inc., based in Palm Beach, Florida is a charitable organization dedicated to improving the quality of life of local children, women and men and their families, who are touched by cancer, by providing need-based financial assistance, information resources and access to services and support groups in our community. CAHH seeks to provide respite to those receiving a devastating cancer diagnosis. As a 501(C)(3) formed in 2003, the organization has helped over 2,500 cancer patients and their families who live and/or receive treatment in Palm Beach County and dispersed over $2.5 million. Cancer Alliance of Help & Hope focuses on assisting patients with their ordinary living expenses such as rent and mortgage, utilities, auto and health insurance, car payments, food and other basic necessities. For more information, please visit cahh.org or call 561-748-7227.  There is never a minimum amount of money you can contribute to this wonderful cause.  We all have been touched by this insidious disease and every penny will go to help struggling individuals and their families.
Photo Credits:  Laura Bush – CAPEHART
All other photo credits:  Ellen Eichelbaum, Splash Magazines Worldwide