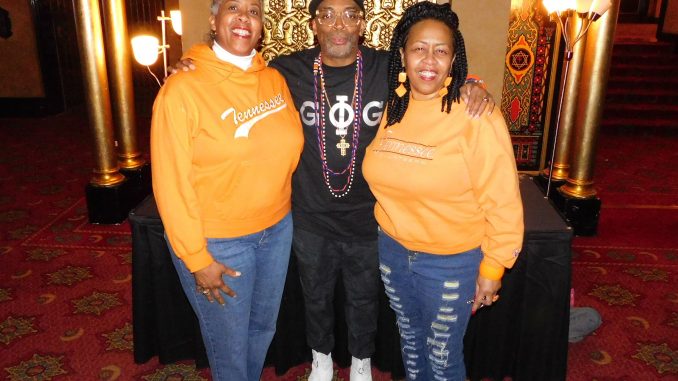 Academy Award Nominee Spike Lee, film director, producer, writer, actor and professor has been entertaining, enlightening and motivating us for over 40 years. Beginning with his college days, he has brought his life as well as millions of students' lives to the big screen in February 1988 with School Daze, an urban musical comedy drama film displaying college life on campus.
Since then, School Daze has become a Black Classic that many have seen, talked about or quoted. I used to laugh at people quoting those funny lines but I didn't fully understand, because I was ashamed. I felt "out of it" because I had never seen the movie.
My friends couldn't believe I hadn't seen this classic movie so they joked, "We are taking away your Black Membership Card. Everybody has seen this movie four or five times, we cannot believe you have not seen it." But, honestly, I just didn't get a chance because I was traveling with the military.
"Fast Forward" to February 2018—I am listening to Spike Lee being interviewed on FM Jazz Station Radio 91.9 WCLK by Ray Cornelius on "UPFRONT" that aires every Saturday 9:00 a.m. – 9:30 a.m. I was so excited listening to him and was so proud of all that he has accomplished during and after graduating from Atlanta's Morehouse College in 1979.
Over the airwaves, he extended the invitation, "Be at the Fabulous Fox Theatre on President Day, February 19, here in Atlanta for the 30th Anniversary Screening of School Daze. Make sure you wear your college, fraternity and sorority attire and I guarantee there will be those quoting the movie verbatim".
I was so excited when Monday, February 19 came that I purchased two tickets earlier that morning. When my sister and I arrived at the Fox Theatre that evening, the line was all the way down the street. All I could see was college attire, people of all ages, etc.
Everyone was so excited trying to get to their seats and save seats for their friends. It was so beautiful to see and feel all that excitement and to be part of this. It was estimated that 3,300 fans were present to see Spike and the movie.
Our newly elected Atlanta mayor, Keisha Lance Bottoms honored Mr. Lee with a Proclamation.
He spoke and everyone was screaming for him. Then he put me on guard, when he said, "If there is anybody out there, that has never seen this movie, well, you are SH** out of luck". I had to laugh because I knew what he meant. He told the movie goers, "If you want to sing along, quote the lines or get up and dance, then just do it."
I laughed throughout this hilarious movie but it still had its serious moments. I gave it a 5-star rating. It was so funny listening to people talking to the screen, saying the lines with the actors and singing along with the songs "Straight and Nappy" and "Be Alone Tonight".
The highlight musical number was the band, E.U. (Experience Unlimited) performing their previous Top Billboard Hit "Da Butt". The great beat came on and the people, including me jumped up and started dancing. Most of us were dancing and snapping photos all at the same time—that was fun!!!
School Daze, premiered 30 years ago which started and broaden the career of many of the actors in the movie including my hometown friend, Cylk Cozart from Knoxville, Tennessee. I had forgotten that he was in this movie so when I saw him I got excited, took a picture of the movie screen and texted it to him.
It blew him away that 30 years ago he was on the big screen in that college movie which was part of his long career of over 30 films (White Men Can't Jump), 20 TV shows and numerous awards. A few days later after the 30th Anniversary celebration of the college movie he starred in, Mr. Cozart received The Diversity Award from The University of Tennessee. Cylk Cozart, a filmmaker, humanitarian, speaker, etc continues to have a successful career and gives back to various communities.
After the movie, Spike signed School Daze, Crooklyn and Malcomb X's memorabilia.
He was amazed at the long line of fans waiting to take photos with him. I asked him how he was feeling tonight and he gave me two thumbs up and smiled like he was so grateful. I enjoyed watching everyone interacting with him and Spike looking very comfortable. Also, he was so impressive listening to many of his fans' quick stories.
When I walked away, I was so happy and proud to say "Now, I am part of this Black Classic Film School Daze. I will be watching it over and over, just like the world and my friends have done over this 30 year span".
Thank you, Mr. Spike Lee for sharing your many gifts, talents and abilities, for you have truly inspired us. Please, continue to motivate us and encourage us to "Wake Up".