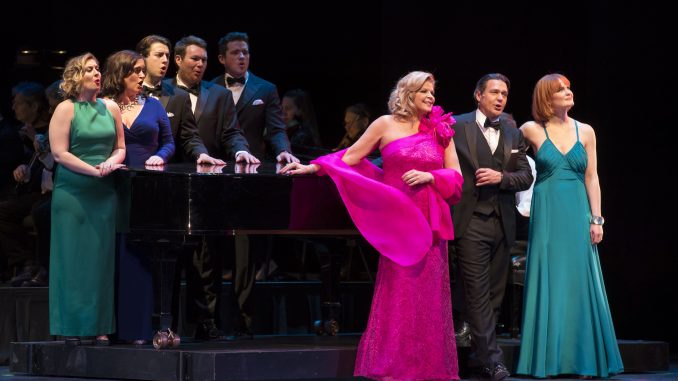 Would that we truly could celebrate 100 years of the inventive music of the late, great Leonard Bernstein, but that's mathematically impossible. Bernstein was born in 1918, in Lawrence, Mass., the son of Ukrainian Jewish parents, and although he demonstrated an early interest in music, it's unlikely he began composing in the cradle. Given that he died in 1990, his compositions probably spanned about 55 years, calculating from 1935, when he entered Harvard to study music and aesthetics. What is guaranteed is that his music will continue to captivate listeners and influence composers for at least 100 years. Thus, mathematic impossibility notwithstanding, it's more than fitting that the celebration should begin now, with programs and concerts across the country: see Leonard Bernstein at 100 for events as well as the opportunity to participate in the Leonard Bernstein Memory Project.
Chicagoans were fortunate that a fittingly nuanced Bernstein program came to the Lyric Opera House on March 10. With David Chase leading the Lyric Opera Orchestra and contributing thoughtful commentary, stars of opera and musical theater sang selections from some of the composer's most thought-provoking works. Sure, it would have been a guaranteed audience pleaser to go with favorites from the composer's 1957 Broadway hit West Side Story — and the Lyric program did include the haunting ballads "I Have a Love" and "Somewhere" — but the agenda didn't shy away from lesser known work like "Take Care of This House," written for Bernstein's pointedly political A White House Cantata, which closed after only seven performances on Broadway in 1976.
The Lyric devoted the first half of its program to one of those lesser known works, Bernstein's 1952 one-act opera Trouble in Tahiti. Niftily executed with mini-sets popping up from beneath the stage and materializing from the wings, the 45-minute opera had the feel of a fully staged work, with a superlative cast: mezzo-soprano Susan Graham and baritone Nathan Gunn as Dinah and Sam, a disaffected couple in 1950s suburbia, perfectly matched in their mutual misery. Interjecting sardonic comments in a jazzy Greek chorus were soprano Diana Newman, tenor Josh Lovell and baritone Emmett O'Hanlon.
Bernstein wrote the tart libretto as well as the moody music, making Trouble in Tahiti a full embodiment of his artistry. Trouble in Tahiti is at once resonant and dissonant — resonant in its themes and dissonant in its music — creating a dramatic tension that powers the work. The opera takes its meta-title from a movie that Dinah sees in an act of sheer escapism and then ridicules as inane fantasy. The irony is that the lush Tahitian setting she mocks sounds very much like the idyllic garden Dinah has described to her analyst from a dream.
That search for utopia became a thread that united many of the songs in the Lyric program, with the second portion including selections from more accessible works like West Side Story and Wonderful Town, with its lilting "A Little Bit in Love." For these the Tahiti singers were joined by the sparkling Kate Baldwin, currently on Broadway, and Ryan Opera Center singers Emmett O'Hanlon, Ann Toomey and Alan Higgs. All chimed in winningly, bringing depth to "The Best of All Possible Worlds" from Candide and selections from Bernstein's 1954 very grownup version of Peter Pan.
Between songs, conductor Chase weighed in with charming stories and astute observations about the breadth of Bernstein's musical knowledge and the passion that informed his work. Regardless of the exact number of years Bernstein created music, that music is certainly worth celebrating.
Celebrating 100 Years of Bernstein
March 10, 2018
Photos: Todd Rosenberg