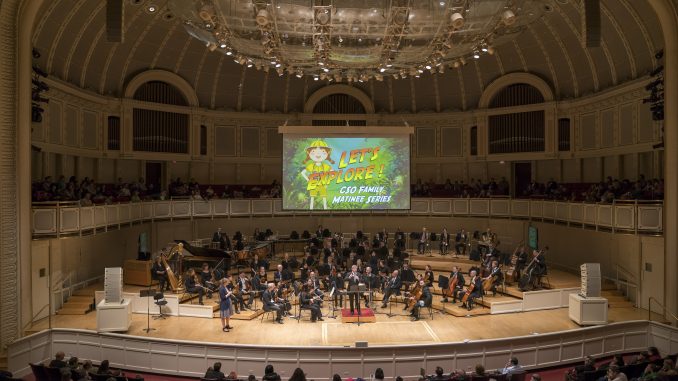 One of the best lessons you can teach a child is to share.  Well, that's just what the Chicago Symphony Orchestra did over the weekend when it "shared" the stage with Chicago's Field Museum for two family concerts
"I think it's very special in Chicago how these large institutions — the ballet, opera and museums — all kind of inter-connect and work together," Conductor Edwin Outwater said. "It's kind of unique in a large city to the extent that it happens here."
The children's matinee concert was entitled "Let's Explore!" with the full symphony on stage, conducted by Outwater, the orchestra teamed up with Emily Graslie, Chief Curiosity Correspondent for Chicago's Field Museum. The dual program examined similarities between an orchestra and an ecosystem and other parallels between the musical and natural worlds.
For instance, after a discussion about how cells are small pieces that connect to each other to form bigger life forms, Outwater described how a small line of music can be used over and over again within a larger composition.  Then the orchestra played Beethoven's Fifth Symphony and the crowd was asked to count how many times the familiar "da-da-da-daaaaaa" was repeated.  Most of the children (and the adults) in the crowd lost count, but the lesson was learned.  As an aside, if you have never witnessed the Chicago Symphony Orchestra play Beethoven's Fifth Symphony, put it on your bucket list.
Graslie then told the story of the beautiful Kankakee Mallow flower on nearby Langham Island, the only place the flower is known to grow in the wild.  The flower was endangered by invasive weeds, but through the hard work of nature-loving volunteers, they flower was revitalized and is not endangered any longer.  The accompanying music reflected the way the water flows (calm, running and turbulent) much like the water that runs near Langham Island.  The children were not only told the story about the nature around them, they were musically transported to the island by the orchestra.
Discussing science or classical music sounds like the recipe to bore a young child, but putting them together makes it more dynamic for the children (and their parents).  The collaboration between the living world of the Field Museum and the classical music of the Chicago Symphony was very cohesive.  It was a perfect way for children to learn about both science and music in a fun and stimulating setting.
Speaking of fun, there were pre-concert activities where the children could get up close to the instruments used on stage and learn more about the environment around us.
"Let's Explore" allowed the children (and the adults) in the audience to enjoy the best of what Chicago has to offer.  One can tell that sharing is a lesson that the Chicago Symphony and the Field Museum learned long ago.
For more information on the Chicago Symphony Matinees, click here.
Photos by Todd Rosenberg Photography and K. Joseph Fotos.