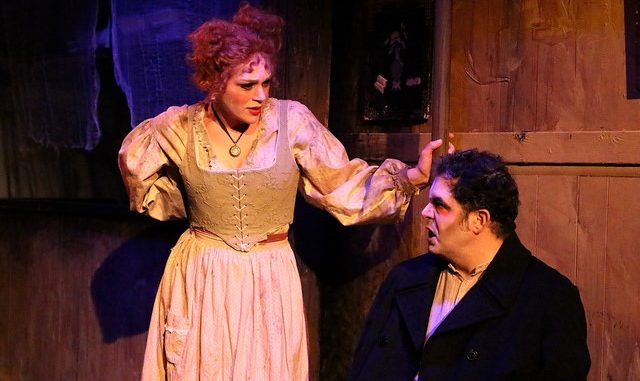 I am sure that many a theater lover felt mixed emotions when Theo Ubique announced last November that they were moving out of their current performance space (the very snug No Exit Cafe) and into their very own facility in Evanston. While Theo Ubique is certainly deserving of a new venue, it is sad to think that their unapologetically big, full throated productions will no longer be housed in a space that can feel as intimate as a living room. A case in point is Theo Ubique's most recent offering; Sweeney Todd.
With music and lyrics by Stephen Sondheim, Sweeney Todd tells a unique tale of business synergy. You see, Mrs. Lovett has a struggling pie shop which is quite afflicted by the rising cost of meat. So she leases a spot above her store to a down and out barber (who, quite frankly, is more interested in seeking bloody vengeance than in cutting hair). Soon the victims come tumbling down and Mrs. Lovett, who now has all the meat she can handle, is the most popular eatery in town. The plot also involves the barber's estranged daughter falling for a man only to find herself imprisoned in an insane asylum.
However insane the plot may sound, the production more than makes up for it with the operatic/crescendo like music which nicely fills in the gaping plot holes. Adding to the fun is Director Fred Anzevino's decision to skip the stage altogether. The material instead is staged in the aisles, the rafters, everywhere it seems but directly in front of the audience. Handled by a lesser cast this might run the risk of being more campy than entertaining. But here it is downright transformative.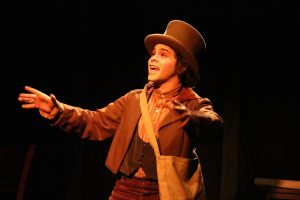 There are also simply too many stand out performances in this production to give every actor their due. Jacquelyne Jones (as Mrs. Lovett) and Frankie Leo Bennett (the rather simple and haunting boy who by the end is one seductive step ahead of the action) however deserve a special shout out. So too does Philip Torre whose Sweeney Todd is chilling in execution. If this is the final curtain call for the partnership between Theo Ubique and No Exit Café it is more than deserving of a standing ovation. I cannot wait to see what they can do on a bigger stage.
Sweeney Todd: The Demon Barber of Fleet Street is Highly Recommended and is playing at No Exit Café (6970 North Glenwood). Performances are at 7:30 PM (Thursday through Saturday) and, on Sunday, at 7:00 PM. Tickets can be purchased here for $44 or by calling 1-800-595-4849. For more information go to theo-u.com.