By Edward Lozzi
After meeting with Tommy Wiseau in April of 2003, I went ahead with a PR campaign for him, thinking this was going to be a quick gothic type SNL'Sprockets' euro/German love story (especially with his Dracula accent).  Tommy loved Brando and Tennessee Williams with a dash of James Dean(ergo " Your Tearing Me Apart Lisa").  He was thrilled when I fixed him up with Stanley Kramer's daughter and wife to take to my fateful premiere of The Room. (Of course Oscar winning Stanley Kramer, my former client, directed Brando, Wiseau's idol). Wiseau also liked the promo phrases I came up with for the film advertising " If you like Tennessee Williams you will love The Room", " All the Passion of Tennessee Williams",and others similar like "..an electrifying drama about love and passion, betrayal and lies."  So how could I do such a thing?? Tommy paid us very very well. Too well. I took the money, went to work and asked to see the film –of course to see what we would be promoting. " No one sees my film til the premiere". Said Wiseau.   Yikes.  But then I said to myself,  'so what—you have been paid very well..How bad could the film be'???  The rest is history… lol.—but not quite.
Celebs at the premiere??    I consulted with James Franco about the night of my premiere in June 2003 which he recreated in part for The Disaster Artist.  Since this is a film only about the making of the (The Room), it doesn't get much into the months afterward and our PR crisis campaign to save it (and my reputation). Greg Sestero put me in his book, The Disaster Artist, and that was great, but only a mention that we handled the premiere and the PR.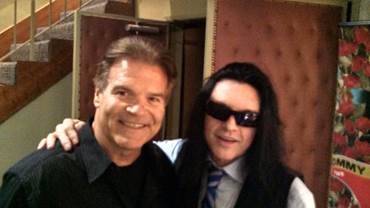 Let's just say that the humiliating and embarrassing situation the night of the premiere in front of these celebrities, my peers, my staff, friends, associate publicists and my Press contacts, was very painful and at that time- damaging (I thought).  I got hate mail-even from friends.. …Helping to turn the film into a cult classic, a campy wink and a wink aka- 'So Bad it's good' hype, and convincing Tommy that he simply must do this to save his picture from the trash bin and his career in Hollywood from obscurity (not to mention my long time career), was all exhausting. But this has worked well and turned into a huge PLUS.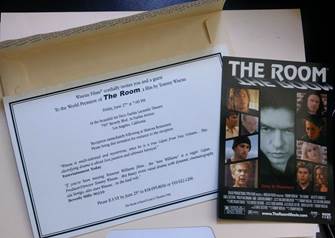 James Franco found it humorous when I told him I had Oscar winners and nominees, Emmy winners and nominees at the premiere. They were the first to get up and leave.  More like 'stampede' out. To this day, when I see many of them at our other events or out socially, most often there is a ball-busting remark about that painful evening in June 2003. At our Annual Night of 100 Stars Oscar Party at The Hilton  February2017, my friend the late Martin Landau (who was at the premiere) did just that. Other stars attending (at my invitation included, Shirley Jones, Marty Ingels, Maria Conchita Alonso, Chuck McCann, Lou Ferrigno, and Ed Lauter.  I was sp pleased to  tell them what had happened and the story was being told in a new comedy from James Franco & Seth Rogan and that they would be VOTING on it !!! VINDICATION? Yes !!
Because of the success of The Room over the years, we have had many many producers come to us with their horrendous films and good films as well, to help make sense of it and promote it….. This new Franco film The Disaster Artist, coupled with the years of midnight showings of The Room worldwide for 15 years, has now given us—well, let's just say- TOTAL VINDICATION!!
Remember this…This really bad film The Room, did not become a cult classic via UCLA-USC student driven, spoon throwing, badge wearing sold-out midnight showings movie –ALL by itself !!  Waiting for the right time to discuss it (NOW) and with James Franco consulting with me on The Disaster Artist for the premiere scene, motivated me to write this story.
Tommy Wiseau had a tough time giving in to the reality of what had to be done (turning the film into camp-a-drama, a comedy of errors-so bad it's good); but he had the brilliance to finally get the gist, and I give him tremendous credit for the strength to make it go this different way. Yes, he knew that he was going to be made fun of!!! But still to this day, he's not quite sure WHY !?! It was not easy for him, or me (he fired me the night of the premiere and hired me back a few days later) which makes the whole reason to make The Disaster Artist work.  Tommy fired me once again during the 2nd month of screenings in LA when he asked me to book him on The Tonight Show with Jay Leno. After explaining to him how the network talk show bookings work and how it was "too soon to happen", he fired me once again for being a "defeatist".  Again he hired me back a week later after he found out on his own he wouldn't be doing the Tonight Show. Now he is being asked to appear on these shows along with kJames Franco and half of Hollywood who now star in The Disaster Artist.  Seeing Wiseau in the limelight, or any client, no matter the reason, gives me a real sense of satisfaction. And YES,  Tommy made The Room his way as an "electrifying drama about love and passion and in the shadow of Tennessee Williams" and it has become the fluke success of the century, playing non-stop for 15 years in theaters worldwide kicking  Rocky Horror Picture Show off its pedestal years ago. I predicted to Tommy that The Room would beat out Rocky Horror… Tommy said " Whaaat izt Rocky Har picture Show?? Then he fired me once again !
Wiseau had the brilliance to retain us to roll out his film, premiere it, promote it, then keep us on to salvage this disaster. I spent many hours, days, weeks, months ,with my team doing what we do best–Crisis Management-…. from a "sows ear to a silk purse". Yes indeed. My staff from that time, and some new folks taking some of their places, are amazed about what happened since that dreadful night and multiple nights afterward. James Franco has pulled off a stunning mimic of Wiseau and by most reviews had put himself into the Oscar nomination race. It won awards for Franco and Wiseau including The Golden Globe, LA Film Critics Best Actor, Nominated Screen Actors Guild Award, nominated for Best Screenplay Oscar and many many more.
Trailer 2017 for The Disaster Artist
Photos:  Lozzi Media Services©
About the Author:
Edward Lozzi is Founder of Edward Lozzi & Associates PR., publicist to Tommy Wiseau and The Room (2003-2004), and recent consultant to James Franco for The Disaster Artist film from A24. He is an American publicist, political consultant, former White House Press Advance staffer, and writer. He is an occasional contributor to The Huffington Post and on-air commentator for Fox News and CNN. He is often consulted by media outlets seeking the opinion of a seasoned public relations expert on matters relating to celebrities, high profile legal cases, political campaigns, book promotion, motion picture/Television publicity, and crisis management.