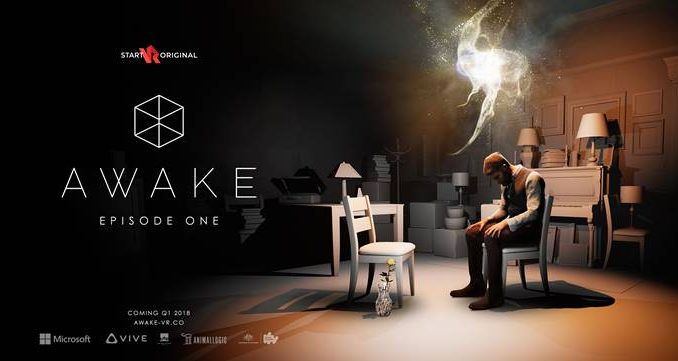 Start VR  premiered their original project VR film series "Awake" at South by Southwest. AWAKE VR is a character-driven interactive cinematic VR series that blurs the line between dream and reality, as you are drawn into the perplexities surrounding space, time, and the human psyche in its most vulnerable state.
This interactive cinematic VR experience demonstrated Start VR 's fusion of Hollywood cinema with emerging virtual reality technologies. "Awake" stars Jake McDorman and Analeigh Tipton. In episode one, Jake McDorman is Harry, a prisoner in his own house, who is misjudged, isolated, and haunted by memories of his beloved wife Rose (Analeigh Tipton). He is obsessed with discovering the truth behind a recurring dream of his long-lost wife Rose and a strange pattern that contains a cryptic message.
Through spatial narrative, object interaction, and exploration of realms beyond the physical, audiences uncover the mystery surrounding Harry's past.
http://https://www.youtube.com/watch?v=Js4GE9TW42k&feature=youtu.be
Harry's obsession is to dream often as a way to relive a better past, unearthing the mysteries that haunt him and to correct a mistake that has cost him everything. But who is pulling the strings? An ominous voice on the phone warns Harry of his mistakes and propels him to act.
And now there is a new presence in Harry's world. You. Your arrival signals a life-changing event that is capable of saving Harry from his darkness and unlocking the true potential of humanity's future.
The series was developed over several years by Start VR Chief Content Officer Martin Taylor. "Awake" VR narrative is emotionally transformative and compelling in a way that has never before been achieved in VR. Created with financial partners Screen Australia and HTC Vive, "Awake" is a thought-provoking and character-driven series that takes audiences on a journey through space, time, and existence. This unique cinematic story was co-produced by animation and VFX studio Animal Logic and features creative collaboration with Microsoft Mixed Reality Capture Studios, Mike Jones, and Christian Cantamessa.
The inclusion of the Virtual Cinema in the SXSW program highlights the growing focus on new technologies and their capacity to revolutionize entertainment and shape our experience of the world.
Splash Magazines had an exclusive interview with Start VR Chief Content Officer "Martin Taylor" during SXSW 2018.
Yenis Monterrey.- I really would love to know more about the process of creating "Awake" since I'm a big fan of VR and sci-fi stories. How many episodes are they and when are they expected to be released?
Martin Taylor.- We have at SXSW the first of eight episodes and basically, it is the story of a guy who has a special ability, he can dream things into reality. When you enter into the "Virtual Reality" story you can find him in his present situation where he is inside his room, but you really enter into his story in his dreams. What we brought to SXSW VR was a festival cut which is the first half of episode one.
We used a lot of pretty new technology with the "Awake" VR experience and we were very interested in working with a very talented cast and bringing real human performance into the VR but give you the ability to walk around and experience the story with a kind of free will in a screen based film. It's a new medium and we are giving tools to explore what the new medium is and trying to define what's the language and that kind of stuff.
We have the 8th episodes plan more like a "Black Mirror" type series where each story is self-contained where we will have a different main character in each episode. The stories follow the path of how we perceive reality, how the world is constructed, how things are different from your inner experience, and how you think about time and space. In the series, there are big subjects involved and it is grounded in a character-driven story with strong characters. The VR experience is expected to be released very soon in 2018.
Follow Splash Magazines on Twitter @SplashMagWW  Instagram @Splashmags       Facebook
Follow Yenis Monterrey (Writer) Twitter @Foxactress Instagram @YenisMonterrey
Follow "Awake" from Star VR on FACEBOOK Twitter @Start_VR Instagram @start_vr