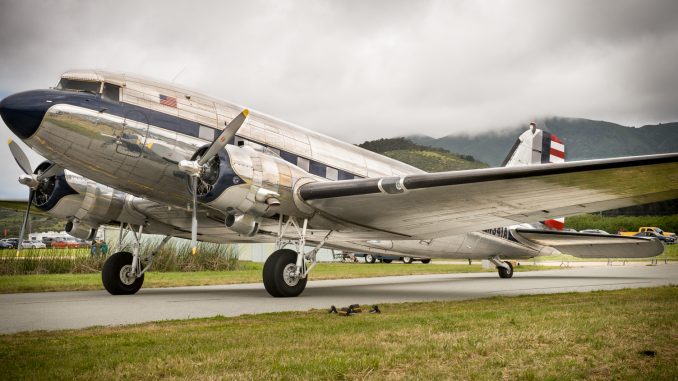 Photography by Greg Autry*
Half Moon Bay, about thirty miles South of San Francisco, host the Pacific Coast Dream Machines Show .  For 28 years, the show benefits the functionally disabled members of the community as a fundraiser for Coastside Adult Day Health Center. Vendors, Spectators, and the whole town has a blast.
It's not only a `Show,' but an immersive experience, with nostalgic throwback machines and lots of history. There were mesmerizing displays of Cool Cars, Trucks, Motorcycles, and my favorites, the Airplanes of yore, along with tractors and engines of bygone eras.
Best of all, you didn't have to stand behind ropes and `gawk,' you could get right up to the planes and cars and bikes. You could Fly, that's rights, take off in an amazing DC-3, a Bi-Plane, or a Helicopter and fly up high into the sky, for real! Do your kids love Monster Trucks, well then, hop right aboard and mash around in one big-ole Monster of a truck as it spins, and bellows, throwing dirt everywhere.
There was almost too much to do. There was Bungee Jumping, a Rock Climbing Wall, a 22' Obstacle Course. For the 'Little-Ones' there was Face Painting, Body Art and Glitter Tattoos,  and Kids Amusements everywhere you turned.
Held at the Half-Moon Bay Airport, the Pacific Coast Dream Machines Show was expansive. It was a challenge getting in to park but with patience it was well worth it. When you attend next year be prepared to walk, a lot!
Of course there was food and music, kicking off the day with the Michael Ahern Band. Next up was a very danceable hip blend of reggae and Latin,  by Extra Large. The afternoon headliner was East Bay Mudd, in the tradition of Chicago and Earth, Wind and Fire, but the catalyst for the event was simply the Machines.
Around Ten am ear plugs were in order as the mass firing of the engines was a fan favorite in honor of Bob Senz, Show Founder and Chairman Emeritus. The `Cacklefest' is a cacophony of noise and part of what makes Dream Machines such a uniquely iconic and beloved event.
Watching so many old historic planes take people up, and those historic military aircraft with their mighty prop engines was just something very special. The Mulisha FMX Team did an electrifying 4 rider motocross Stunt Show which had the crowd up close and personal and gasping with every move.
I also especially loved seeing all the old Engines taken from early Mines and Lumber Yards, from way back in the day, these old machines give us a glimpse into what was, and remind us to remember those who came before us, and how we got to this high-tech world we live in today.
As I drove home in the afternoon, I stopped along Highway One to look out over the pastoral lands and the ocean. Then high above the drone of an engine, looking up, to see a mighty old warbird flying solo, silver skin glinting against a bright blue sky. I thought what it might have been like to sit in a field in France in 1944, and how I might have felt seeing that amazing machine cruise so gloriously in the skies above.
Be sure to check out the website for the Pacific Coast Dream Machines so that you can get your tickets for next year.
Connect with me, Greg Autry,  on Facebook  Facebook.com/GregAutryPhoto,  Twitter  @CGAGreg,  and Instagram   gregautry.cga . There are always more pictures !
*Photos ©2018GregAutry ALLRIGHTS RESERVED