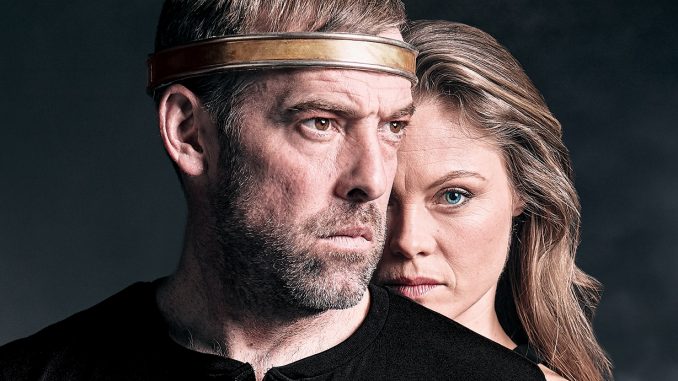 If an extra-large audience flocks to Macbeth at Chicago Shakespeare Theater because of the fame of co-adapter/director Teller, "the quieter half" of Penn & Teller, that's not a bad thing. Although Teller's magic tricks are fewer than in the smash hit The Tempest staged at Chicago Shakes in 2015, they are just as appropriate, enhancing but never upstaging the Bard's text. But Teller does not deserve all the credit in this team effort.
Just as Teller's name and fame are linked to Penn's in magic, Teller's inseparable partner in Shakespeare is co-adapter/director Aaron Posner. The pair presented a first version of this Macbeth at the Folger Shakespeare Theatre in Washington in 2008. With 10 years to incubate, the production has found a grownup home at The Yard, Chicago Shakespeare's new flexible space. Macbeth is the first large-scale show to be staged in the venue, and the team takes advantage of its full height, setting "Hell's Attic" above the stage.
Daniel Conway's scenic design keeps things simple to focus on the action, with slashes of red doorways that portend the blood-drenched drama to follow as well as the crimson gowns (costume design by Mara Blumenfeld) that telegraph the ballooning guilt of Lady Macbeth (the adept Chaon Cross).
Because as Johnny Thomson's magic designs tell us, this play is all about guilt, pre- and post-action. Guilty people project their guilt, try as they might to hide it: "Stars, hide your fires; let not light see my black and deep desires." When Macbeth (Ian Merrill Peakes envisions slaying Duncan, the Scottish King (Christopher Donahue) in order to usurp the throne, a dagger appears out of thin air. Deeper into the play, after Macbeth has ordered more deaths to cover up his murder of the king, the audience shares his hallucinations in the bubbling cauldron of the Weird Sisters, eerily portrayed by actor-singers McKinley Carter, Theo Germaine and Emily Ann Nichelson.
One of those tricks hit a snag on opening night, when the ghost of Banquo (Andrew White) disappeared, only to have part of his costume snared by a trap door. So heavily was the audience invested in the illusion that a collective gasp could be heard. No matter: it's not about the tricks working every time; it's more important that the audience feel invested, and it does.
Much of the credit for that goes to the directors and actors, all at the tops of their games. Timothy D. Stickney is specially affecting in the role of Macduff, and Adam Wesley Brown hits just the right note as King Duncan's son Malcolm.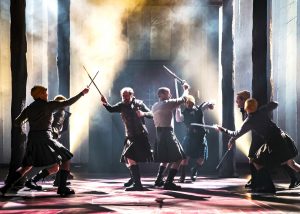 In the final scene, Matt Hawkins' fight choreography turns slaughter into dramatic ballet. That transformation, like the illusions that thread the production, is what Shakespeare is all about: turning our innermost thoughts, no matter how ugly, into art.
Macbeth
Through June 24, 2018
The Yard at Chicago Shakespeare Theater on Navy Pier
Running time: 2 hours, 20 minutes, with one intermission
Tickets: $48–$88 at (312) 595-5600 or Chicago Shakes
Photos: Liz Lauren