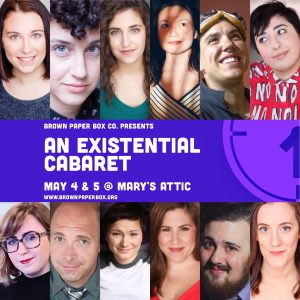 I've attended one of Brown Paper Box Co.'s cabarets before and found it utterly delightful, so I was all too eager to attend An Existential Cabaret this past weekend in the charmingly intimate Mary's Attic. Inspired by the company's upcoming fall production of Everybody, a contemporary take on medieval morality plays, each performer was assigned an abstract concept—death, love, friendship, etc.—and asked to perform something based on that theme. The result was a loosely connected set of songs (plus two stand-up performances) that sunk their teeth into some heady issues while still glowing with an engaging forward energy that made for a wonderful evening.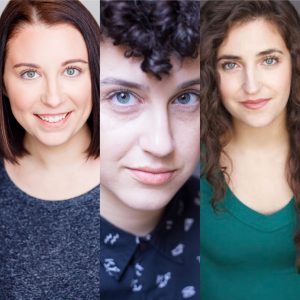 Brown Paper Box Co. artistic director Kristi Szczepanek hosted the show, following through on the threat that if performers did not send her a bio, she would simply Google them and read whatever came up. Her sunny disposition and genuine enthusiasm for the performers, chosen by producing director Erin Shea Brady, made it impossible not to look forward to whomever she was introducing. The show opened with an original song by Emilie Modaff, who proved to be the most multitalented performer of the night, lending their significant piano and vocal talents to a number of acts throughout the show.
A charming performance of a selection from her one-woman show Boombox by Hannah Starr, fresh off playing Medium Allison in Victory Gardens' Chicago premiere of Fun Home, turned me instantly into a diehard Starr fan. A duet between Szczepanek and Anna Schutz was another powerhouse number, and Nire Nah sang a sweet original song about recovery from addiction and depression that had me tearing up a bit.
But my favorite act was that of Rachel Relman, who performed a raunchy, deadpan standup routine about lesbian love and romance that I haven't stopped thinking about for days. Their energy was much more laid-back than that of Greg Mills, the evening's other stand-up comedic, whose set was a bit too frenetic for my taste.
The show ended with Alex Madda singing "The Wizard and I" from Wicked, a song every alto with a solid belt longs to sing and every vocal coach urges her not to sing for fear of its over-doneness. But Madda did not let this anti-Wicked attitude stop her from absolutely killing it on this tune, with a strong set of vocal pipes and some winks and nods to the audience that acknowledged the cliché of the song choice with just the right amount of tongue-in-cheek.
Brown Paper Box Co. continues to produce delightful musical theatre, and I look forward to reviewing more of their work in the future.
To learn more about Brown Paper Box Co. and their upcoming production of Everybody, please visit their website.
Bias warning: Erin Shea Brady and I participated in Goodman Theatre's Critics Bootcamp together this past fall.
Photos provided by Brown Paper Box Co.