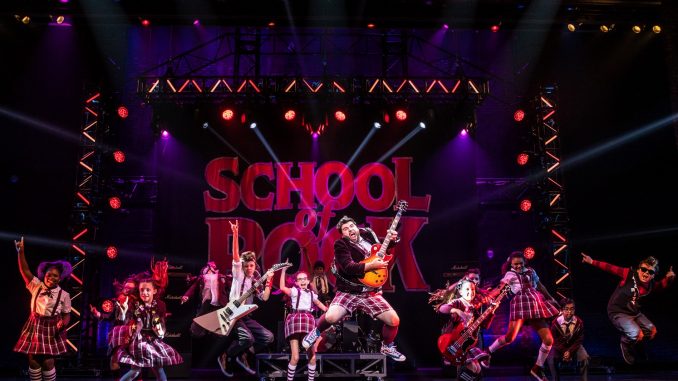 Two lifelong buddies, both former band members now have different lives, but are they really all that different? One became a school teacher and got married. The other has basically just pretty much given up on life. But then one day something very unexpected happens when the unemployed man takes a phone call intended for the school teacher man. Seems a local school wants to hire the teacher to be a substitute for a few weeks at a pay rate that dazzles the unemployed man so he accepts the job. Now keep in mind that the job offer was not for the unemployed man yet that is the man who accepts the offer. That is the beginning but where it goes is how the word "amazing" is defined.
"School of Rock – the Musical" is based on the 2003 Golden Globe nominated movie "School of Rock" starring Jack Black, Mike White and Joan Cussack. "School of Rock – the Musical" has an original score by Andrew Lloyd Webber, lyrics by Glenn Slater and book by Julian Fellowes. At the Pantages the cast features Bob Colletti as Dewey the unemployed band member now temporary teacher and dozens of clearly extremely talented young performers most in their early teens or even younger.
Once Dewey arrives at a very rigidly run private school to teach he does begin to teach but it ain't readin', writin' and rithmatic he is teaching. Oh no Dewey falls back on what he loves most – music in general and rock and roll in particular. How this all develops and how it ultimately all ends up is clearly the core of the show which will, I promise, grab and hold you to the very end. But much of the magic comes from the very young actors who are nothing short of spectacular. Yes I do keep mentioning this because it is that powerful.
When the rather stuffy school principal, Rosalie [Lexie Dorsett Sharp] finally discovers what her substitute teacher Dewey is doing disaster is avoided by Dewey playing the Stevie Nicks trick. What is that that you ask? Well watch the show and you will see for yourself but it is yet one more way "School of Rock – The musical" entertains in ways most theatrical presentations just don't. I am not saying "School of Rock – The Musical" is better that every other show, only that it is very unique, often extremely funny, filled with great music and some unexpected twists and turns. And I cannot over emphasize the fact that one of the most compelling elements of the show are its many very young and supremely talented performers. Just watching them is well worth the price of admission.
"School of Rock – The Musical" is at the Pantages Theatre, 6233 Hollywood Boulevard, Los Angeles, California now through May 27th 2018. Show times are Tuesday through Friday at 8:00 p.m., Saturdays at 2:00 p.m. and 8:00 p.m. and Sundays at 1:00 p.m. and 6:30 p.m. Recommended for age 8 years and up. Reservations and ticketing online at HollywoodPantages.com or Ticketmaster.com or by calling 800-982-2787.
Photos: Courtesy of "School of Rock – the Musical"
Do also check out: ronirwin website