Producing Hamlet in the year 2018 is a daunting task. Widely considered one of the greatest works of literature in the English language, Shakespeare's masterpiece has been produced countless times in the 415 years since it was written, and it now seems practically impossible to find a new angle or take on a play so famous that even those who've never read or seen a word of the Bard's work are familiar with the opening of the show's most famous soliloquy, "to be or not to be."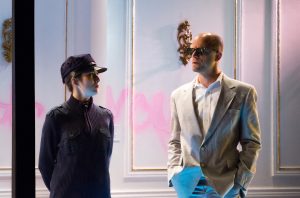 Yet director Monty Cole has managed to find something new under the sun with the production of Hamlet currently running at The Gift Theatre, starring Daniel Kyri in the title role. For one thing, the show's casting moves beyond the tokenism that plagues too much contemporary Shakespeare (I'm looking at you, Chicago Shakes; a few actors of color is better than none but does not a diverse cast make) and genuinely centers actors of color in its casting, making the few white actors stand out as the exception rather than the rule.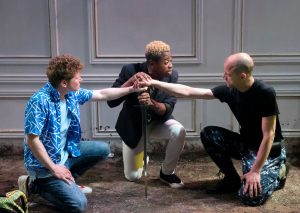 In high school, I remember my teacher presenting us with many possible interpretations of Hamlet: Is Hamlet in his late teens, or is he in his thirties? Does Gertrude see the ghost of Hamlet in her bedroom? Is Hamlet telling Ophelia to go to an actual nunnery or a whorehouse? How mad is Hamlet, really? The myriad choices any given director, actor, or designer has to make to present a functional Hamlet struck me as overwhelming at age sixteen. How could anyone make all those choices and create something comprehensive?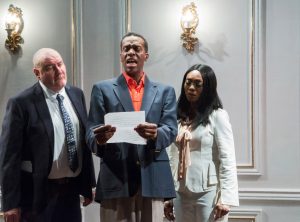 If there's one thing the Gift's production doesn't shy away from, it's making bold choices. To start with, the actors are separated from the audience by thin, saran wrap-like panels that read as glass unless you're touching them (which I may have done at intermission). Immediately the actors and audience are separated from one another, a difficult feat in such an intimate space. Yet the "glass," in addition to creating the effect of a fishbowl, a feeling highlighted most intensely when Hamlet calls Denmark a prison, also creates a strange connection with the audience, too, with characters unafraid to turn and directly address us, even in moments that aren't strictly considered "asides." It's as though the presence of a physical fourth wall makes it unnecessary for the actors to be bound by the fourth wall as a theatrical convention.
These bold choices are around every corner, from the fairly mundane—Ophelia and her brother enjoy Cheetos and videogames while they discuss her relationship with Hamlet, and Horatio and Claudius' "messages" from Hamlet are voicemails on smartphones rather than letters—to the much more extreme—spray paint across the walls, Hamlet bringing a sword to his throat at the end of the "to be or not to be" speech, and the incorporation of The Lion King at a key moment of the story. The design is full of bold choices, too; the characters are in modern dress, with the young characters in carefully selected hipster gear appropriate for Coachella. The lights and sound create bold emphasis on specific moments, with lighting by Claire Chrzan and Michelle Benda not shying away from strong colors and sound by Jeffery Levin creating an eerie emphasis on emotionally intense moments.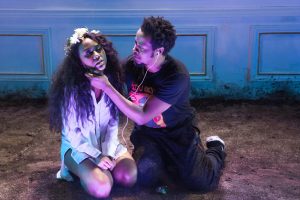 My favorite unconventional choice, though, was definitely the way Ophelia's mad scene was performed. Netta Walker's performance is nuanced and chilling in its intensity, making it nearly impossible to focus on anyone else onstage. Interesting, too, is the updating of the music she sings to a contemporary piece; it makes her descent into madness incredibly haunting and leads to a moment of tenderness between her and Laertes that I've never seen between these siblings before.
And then there's Daniel Kyri's Hamlet. Wow wow wow wow wow. He maintains a level of energy and intensity throughout the three-hour show and insane number of lines his character speaks with mind-boggling skill. His Hamlet is utterly compelling, unapologetically fresh, and unintimidated by the gravity of playing such a famous and oft-performed role. Kyri's is a Hamlet for a modern generation, respectful of the genius of the Bard yet unafraid to take the text in new and surprising directions.
It's easy to see how a person might hate this production; it's so far removed from what we generally know Hamlet to be, and some of the choices are so "out there" that a critic with less respect for the weird and wonderful, those choices that don't have a 1:1 correlation of action and meaning but instead contribute to a greater atmosphere, a larger overarching vision in which every detail need not be understood fully but need only be observed and considered as part of the whole, might disparage it as overly modern nonsense. Me, I'd like to watch it three more times, just to look for all the parts that I missed. Instead, I'll leave the seats open for all of you, that you might watch this unconventional Hamlet and decide for yourself what it means to you.
Note: This article was updated from its original version to more accurately reflect the production.
Ticket Information
Location: The Gift Theatre, 4802 N. Milwaukee Ave., Chicago
Dates: Friday, June 8 – Sunday, July 29, 2018
Curtain Times: Thursdays and Fridays at 7:30 pm; Saturdays at 2 pm & 7:30 pm; Sundays at 2:30 pm.
Tickets: $35 – $40. Single and season subscriptions are currently available by calling the Gift's box office at (773) 283-7071 or visiting The Gift Theatre website.
All photos by Claire Demos.