As we settled into our seats in Steppenwolf's Upstairs Theatre, my seatmate shared her worry that Rajiv Joseph's two-character play Guards at the Taj might turn out to be something like Samuel Beckett's minimalist Waiting for Godot, clearly not a favorite of hers. But when Guards at the Taj drew to a close 80 minutes later, my seatmate was rapt.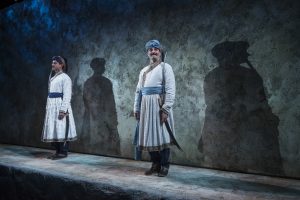 Not that Guards at the Taj is an easy play to watch. Quite the contrary, it is one of the most gruesome pieces of theater I've seen, making Macbeth look PG-rated in comparison. Watch it at your own peril. Or don't watch it at your own peril — because if you miss it, you will be avoiding a difficult but important conversation about what it means to follow orders.
Guards at the Taj premiered in New York City in 2015, where it won an Obie for Best New American Play. Steppenwolf ensemble member Amy Morton directed the play in New York and returns to Steppenwolf for its Chicago premiere, bringing with her the original two-man cast. All in all, a dream team.
Playwright Joseph, a Pulitzer finalist for Bengal Tiger at the Baghdad Zoo, says his inspiration for Guards at the Taj was a childhood trip to India that included a visit to the Taj Mahal, the 17th century mausoleum commissioned by Mughal emperor Shah Jahan as a tribute to his favorite wife, Mumtaz Mahal. Joseph absorbed the legends about the Taj's construction, which occupied 20,000 craftsmen.
"And so all these things combined, these comical, bloody and fascinating, tales, stayed with me as I became a playwright," says Joseph, who initially constructed a much longer and more sweeping play before trashing it to focus on "the only two interesting characters . . . the smallest ones, the two guards." The guards are stationed outside the Taj Mahal as it awaits its unveiling.
The job of a guard is to be alert and silent, and one of the guards, Humayun (Omar Metwally), aspires to that standard. But he is soon engaged in conversation with the irrepressible Babur (Arian Moayed), who spins one wild tale after another like a child trying to avoid bedtime. Both actors excel in their roles, nurtured by Morton's adept direction. Eye-catching costumes by Bobby Frederick Tilley II and striking scenic design by Tim Mackabee enhance the production. David Weiner's lighting design is a revelation, almost a third character.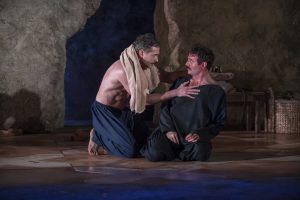 The guards' initial chatter is engaging and witty, but the mood shifts radically after Babur and Humayun defy the universal order not to behold the Taj Mahal as it is revealed. Like Adam and Eve, they have tasted the apple, and the consequences are monumental.
Guards at the Taj
Through July 22
Running time: 1 hour, 20 minutes; no intermission
Upstairs Theatre, Steppenwolf Theatre Co., 1650 N. Halsted St., Chicago
Tickets $20–$94 at (312) 335-1650 or Steppenwolf
Photos: Michael Brosilow