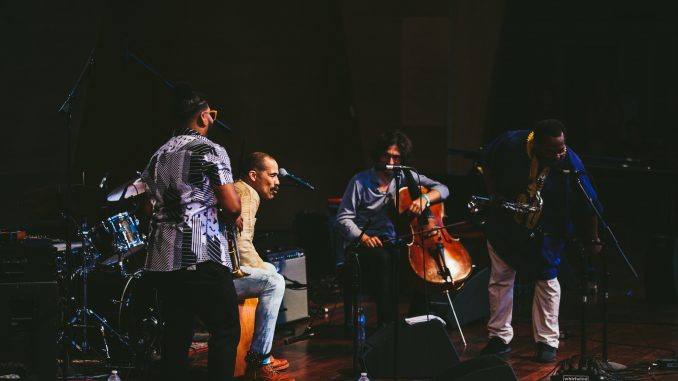 On Monday, June 18, 2018,  renowned Chicago-born percussionist/vocalist Kahil El'Zabar and his 45th Anniversary Ethnic Heritage Ensemble, featuring David Murray, tenor sax extraordinaire; Corey Wilkes, trumpet virtuoso; and Ian Maksin, a classically-trained and intuitively graceful cellist, opened the 2018 Millennium Park Summer Music Series at the Jay Pritzker Pavilion, Chicago.
The program, billed as Improvised Jazz, consisted of 4 very special treatments. The first 2 songs were both composed by El'Zabar, a lifelong teacher and promoter of humanitarian causes; the choices reflected his sensibilities. Pharoah, a tribute to one of his musical collaborators, Pharoah Sanders, is a piece that began like a soft breeze and escalated in intensity, forming a jointure between African percussion and free jazz. The Throwdown, a song challenging mediocrity, was exuberant and exciting, with a mystical sense coupled with a passionate drive. One World Family, a hopeful, danceable yet soulful piece was co-composed/recorded 18 years ago by El'Zabar and Murray. The lyrics of this beautiful song had El'Zabar entreating the audience "We have to take care of the babies". In a week when Americans learned how thousands of migrant children had been brutally separated from their parents at U.S. borders, it was prescient indeed.
Finally, the quartet performed a sensual and simply stunning version of the jazz standard Summertime. "PopWars", reporting on El'Zabar and Murray's rendition of this work at "The Bop Shop" in Rochester, New York on June 6, noted, "It blew us away". Here, with the addition of Wilkes and Maksin, it swept over the audience like a sultry wave.
On this evening the temperature reached 90 degrees before 5 p.m. As storm clouds lowered over the crenellated silver sculpted stage cover, a cool breeze blew onto the seating area where delighted followers of one of Chicago's greatest musicians- and his colleagues- clapped, nodded and undulated in time to the extraordinary music. El'Zabar strode out onto the stage, strapped a set of ankle bells above his right boot, picked up a Kalimba (a thumb piano) and began to bob and sway, his voice and the vibrating tones of the instrument beginning to swell and hum.
The rest of the group joined in for the beginnings of a slow groove that segued into intense sax, smooth trumpet and complex cello riffs. As the too-short hour peaked and crested in musical potency, each performer shone in solos  as well as blended together with the others into a seamlessly vivid wellspring of joyous harmonics.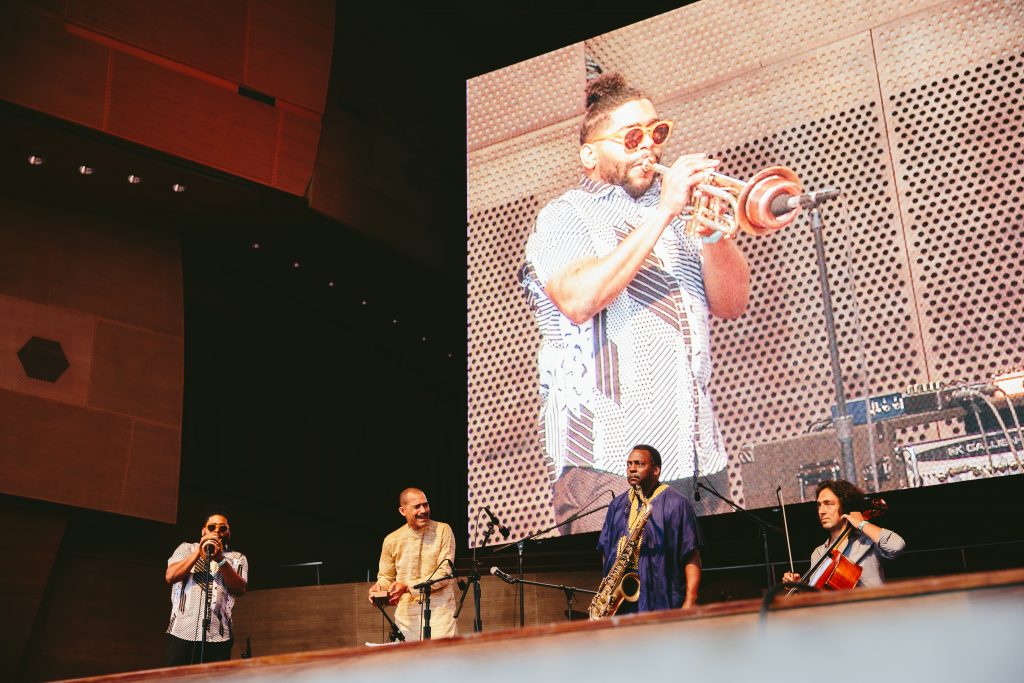 The concert was comprised of a myriad of musical sounds taken from a large wealth of jazz motifs, given a fine classical/new art nuance, and spun with fluency. Murray appeared relaxed and even amused, Wilkes as cool as the evening's burst of rain, and Maksin immersed himself in his instrument with a slight smile on his face. All the while El'Zabar's strong vocalized phrases, chant-like singing and propulsive performance on the Cajón (a Peruvian drum box) and drums reached higher and higher into the Zen-like states of rhythm for which he is known.
El'Zabar and Murray had just come off a multiple-date, multi-city tour; they seemed to goad each other into an intriguing space of bilateral inspiration. El'Zabar has long worked with Wilkes, touring with him regularly for Black History Month, and has more recently worked with Maksin. This was an ultra-smooth 4-way collaboration that had all of these artists sounding- separately and together- like a much larger ensemble. Included in the inspired and sensationally directed improvisation were influences and moods from Latin, Blues, Gospel, Afro-beat, Bop and- of course- traditionally adapted/super-modern jazz.
As the rain pelted down briefly, with Wilkes on percussion or sweet sweet trumpet, with Maksin plucking his cello or bowing like mad, and circular breathing adept Murray "popping" out impossibly long serenades, El'Zabar wailed in his own brand of scat. The beats climbed from simple to extravagant, and the 4 sent a wealth of sound out into the Pavilion.
What exactly does it mean for a musician to produce improvised jazz? What special abilities do musicians like these have that enable them to consistently reach for new combinations, to push back barriers, to establish new frontiers in their medium while simultaneously remaining in thorough control of the instrumentation?
In the case of the players in this particular concert, we start with 3 individuals who have a thorough knowledge of the history of African music and jazz, and, along with the versatile and well-schooled Maksin, have a deep command of  their instruments. El'Zabar is absolutely the bandleader whose inspiration rules the "vibe", yet they all shared the stage easily and elegantly. Add a sensibility of fearlessness with playfulness and the result is free, moving, and splendid music.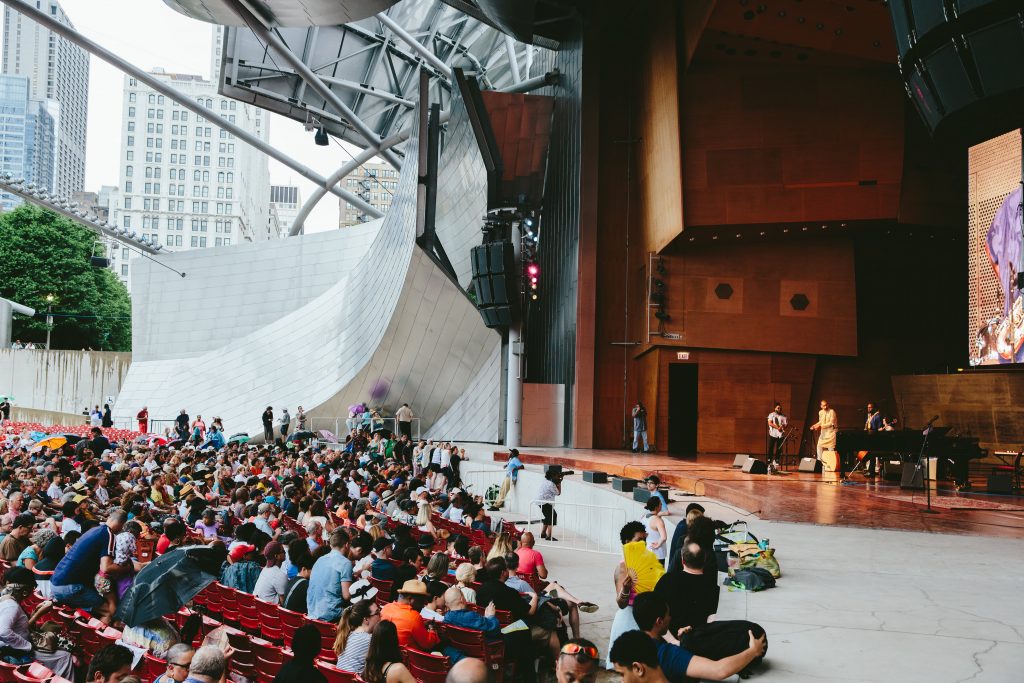 Scientists have begun to study that "jaw-dropping" quality when improv begins and jazz musicians instantly and immediately create a piece of music that has never before been demonstrated, generating in listeners "a sense of surprise". It's been discovered that when musicians improvise, the part of the brain responsible for self-inhibition becomes dormant, while the portions of the brain that allow humans to express ourselves become more active. Obviously, the creative process in jazz improvisation is very different from the process of memorization.
The sky lightened and the rain cleared as this wondrous and utterly unique concert closed to heartfelt enthusiastic ovation; the melodies had run away with us all.
For complete details on the remaining free concerts in the 2018 Millennium Park Summer Music Series, visit millenniumpark website
All photos by david w. Johnson