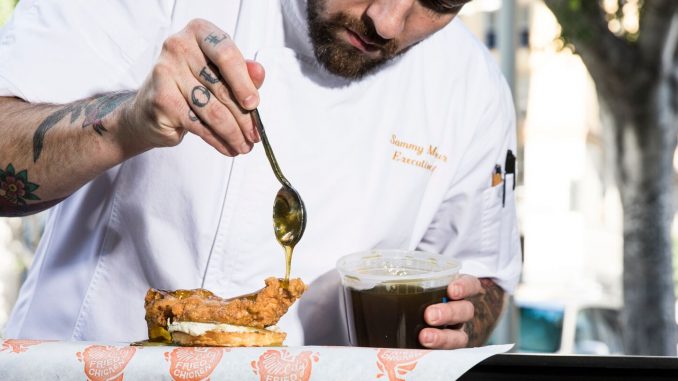 Angelenos geared up their taste buds for a worldwide tour flavors at South City Fried Chicken, where not one, but eight great Southern cities are uniquely represented.
Located inside Corporation Food Hall in Downtown Los Angeles, South City Fried Chicken delivers a down right mouth-watering spread. From their many chicken sandwiches and savory sides to the unique dole-whip and vintage sodas, this restaurant is one you for sure want to add to your list.
Co-Owners Joshua Kopel and Chef Sammy Monsour (creators of Preux & Proper) returned to Los Angeles with the innovation and grit to tackle their second venture together. "South City Fried Chicken is the canvas on which to experience a story that is important to Josh and I," says Monsour. "Our food honors Southern culture, the people we come from, and connects us with our guests."
I'll be completely honest, being a girl from Houston, Texas I love a good fried chicken sandwich and I'll say I have yet to have one that was not only craveable but delivered many layers of flavor. At South City Fried Chicken the challenge was CLEARLY accepted!
We were able to try many of the sandwiches, but by far the top contender was the Louisville. Fried chicken served on a buttermilk biscuit with pepper jelly, bourbon aged green hot poblano butter, this sandwich is far from average. It's a little bit spicy and savory and every factor compliments the biscuit as a whole.
Described by Chef Sammy as "A love letter to the South written in flavor," and I could not agree more – try it for yourself!
South City Fried Chicken
Corporation Food Hall
724 South Spring Street
Los Angeles, CA 90014