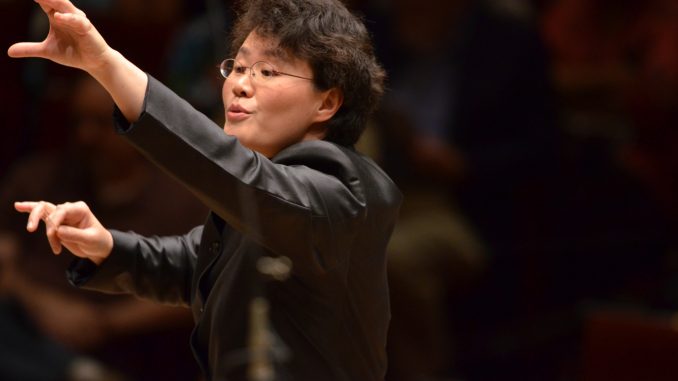 At the culmination of it's 30th year of programming, the Chicago Sinfonietta, one of the most diverse Orchestras in the world, and one of it's most creative in terms of meaningful innovative concerts, presents its 2018-2019 season, "Variations on a Dream".
In 1987, Maestro Paul Freeman founded the Chicago Sinfonietta. Freeman crashed through the glass ceiling of prejudice against black conductors; he eventually led more than 100 orchestras in 30 countries. He held the post with the Sinfonietta for 24 years, passing the baton to Maestra Mei-Ann Chen, whose contract has been extended through 2021.
Through high artistic standards and a cutting-edge mix of guest artists, the Sinfonietta has been carving their own path for 30 years. Music director Mei-Ann Chen leads the initiative to gather diverse talent and sounds from all over the world to redefine what is expected from an orchestra. She is continually pushing the envelope even further, creating completely innovative experiences that can be heard, felt and seen.
 Interview with Chicago Sinfonietta Music Director Mei-Ann Chen
This reviewer had the opportunity to interview much-lauded Conductor and Sinfonietta Music Director Mei-Ann Chen about her legacy, insights and work with the Sinfonietta. Maestra Chen, an inspiration to observe in dynamic, joyous control of the orchestra, is equally intriguing in words:
What has been the continuing impact on you of Paul Freeman and his legacy as a groundbreaking conductor?
Maestro Freeman's passion and commitment to champion for minority musicians is unparalleled – for example the recordings of the Africa-American Heritage Symphonic Series produced by the Cedille Records have brought significant exposure for the composers and are also tremendously valuable resources for the programmers in our industry nationwide. The Cedille Records have continued its commitment to help the Sinfonietta champion for deserving composers of diverse background, this time all women, with a new disc that will be released next year!  The concert when Maestro Freeman passed the baton to me was one that centered around women composers since works by women composers have only occupied about 2% of all the pieces performed by professional orchestras in the country.  Therefore Maestro Freeman legacy continued to inspire us to champion for women composers!
How have you developed the policies of access and inclusion of "the most diverse orchestra in the world"?  The programs are always so thoroughly contextually curated, both theme-wise and in terms of the guest performers! Do you work with a team approach in developing these ideas and making the selections?
I am very blessed to work with one of the most creative teams for orchestra – I have developed such trust with the wonderful staff led by our incredible CEO, Jim Hirsch, that we tried to challenge our own creative boundaries while safeguarding our unique mission to champion for diversity.  For example, we always go through our programming draft and ask ourselves: Is there at least one minority composer on each program, are there enough musicians of color represented?  What repertoire/instruments/performers are considered minority?  What are timely issues that we can address that connects us to the times we live in?  Are there any special themes that seem appealing or rarely tackled with an orchestral concert?  What is considered risk-taking or innovative program for a Symphonic experience?  What do we want our audiences to take away from our concert offerings (we probably have some of the most engaging and entertaining activities during intermission)?  There are too many considerations to list, but one thing is easily detected – when we find the right balance of great content combined with the ideal messages we are trying to convey, we usually know when the "a-ha" moment hits us!
Jim comes from a diverse management background with multiple arts groups in Chicago and have brought a great sense of what attracts audiences in the Chicago market, while I come from a purely symphonic background although having been involved with many creative projects assisting some of the most innovative conductors such as Marin Alsop, Robert Spano, and Donald Runnicles during my earlier years as Assistant Conductor with the Atlanta Symphony & Baltimore Symphony.  At the Sinfonietta, we also welcome wish lists from all of our constituencies – musicians, staff, audience & board members…the biggest challenge is that we have such long wish list full of wonderful ideas for a limited 5-Program season!!!
What can you tell us about how your experience as Music Director has enriched your life/career? 
Growing up in Taiwan being told that becoming an orchestral conductor was just impossible, I have proved that anything is possible given the right amount hard work, perseverance, and passion.  What Maestro Freeman founded in Chicago was thought to be impossible by many. Therefore, it's almost serendipity that Sinfonietta and I crossed paths in such a deeply meaningful way. Never had I imagined that one day I would have the privilege of championing for diversity through the universal language of Symphonic music, but now it is really a dream coming true since it is a unique mission that can possibly create the biggest impact I could ever hope to achieve as an orchestral conductor!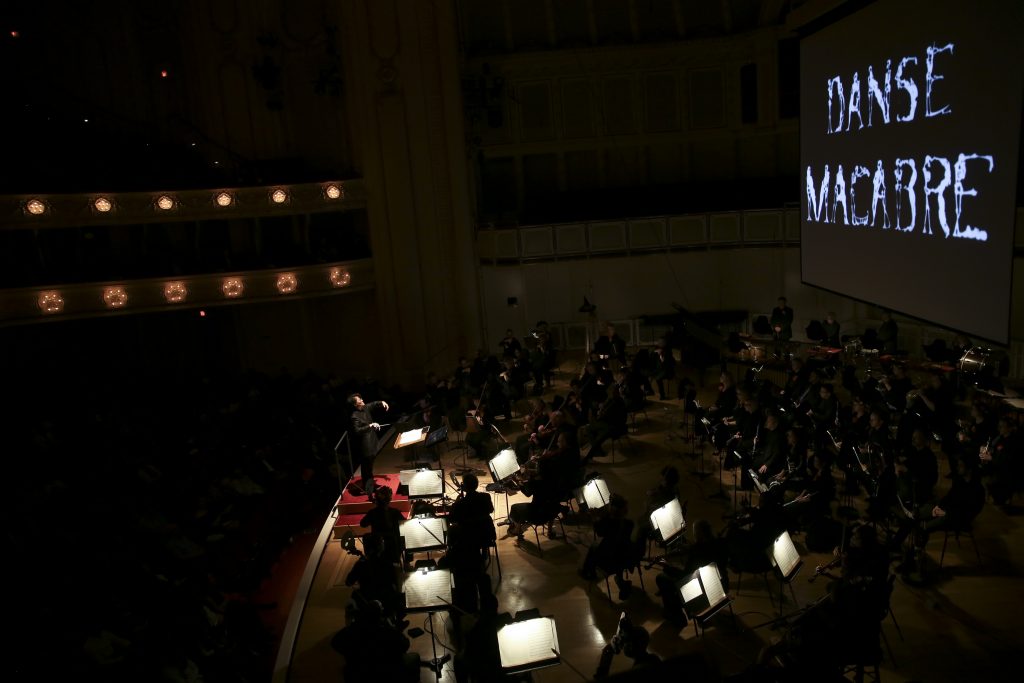 The Chicago Sinfonietta's 2018-2019 season: "Variations on a Dream"
1) Chicago Unites, A Millennium Park Celebration, September 5, 2018
CONDUCTOR
Mei-Ann Chen
GUEST ARTISTS
Waubonsie Valley High School Mosaic Choir
Musicality
PROGRAM
Copland Fanfare for the Common Man
Still Festive Overture
Christy/Moccio Stand in the Light
Kouyoumdjian Become Who I Am
Moncayo Huapango
Dvořák Symphony No. 9 in E minor, "From the New World", Op. 95, B. 178
Lennon/Van Cleave/Isaac Imagine
Join Chicago Sinfonietta at the culmination of its 30th year and Chicago United at the commencement of its 50th for a program inspired by community and cultural unity, including Aaron Copland's Fanfare for the Common Man, Dvorak's Symphony No. 9, and John Lennon's Imagine. Featuring Chicago Sinfonietta's diverse and innovative orchestra alongside guest artists Musicality and the Waubonsie Valley High School Mosaic Choir, these are the sounds of Chicago like you've never heard them before. Stop by our Unity Village before the show and enjoy presentations by talented young artists with the city's most pivotal multicultural movers and shakers.
2) I.D. Images of Diversity, September 22 & 24, 2018
CONDUCTOR
Mei-Ann Chen
GUEST ARTISTS
Steep Theatre Company
PROGRAM
Verdi Overture to Nabucco
Copland Variations on a Shaker Melody
Marquez Danzón No. 2
Johnson Drums for Orchestra
Boyer Ellis Island: The Dream of America
The art, culture, and traditions of those who sought to find that opportunity in this country are the very threads that make the shape its identity today. This concert showcases the immigrant experience through the epic work entitled Ellis Island: The Dream of America that features seven actors, video, and a beautiful score created by Peter Boyer.
3) Sea of Light, Reflections on Diwali, November 10 & 12, 2018
CONDUCTOR
Mei-Ann Chen
GUEST ARTISTS
Reena Esmail, composer
PROGRAM
Esmail Teen Murti
Mazumdar Celebration
Whitacre Lux Aurumque
Debussy La Mer
Tap in to the history, traditions, and above all, the vibrant musical influences that encapsulate the Indian festival of Diwali through a riveting juxtaposition of Indian classical music alongside Debussy's seminal, impressionistic masterpiece La Mer.
4) MLK Tribute Concert, January 20 & 21, 2019
GUEST CONDUCTORS
Kedrick Armstrong
Kellen Gray
GUEST ARTISTS
Kyle Dickson, violin
Kenneth Woods
PROGRAM
Beethoven Egmont Overture, Op.84
Hailstork Epitaph for a Man Who Dreamed
Weston The People Could Fly
Coleridge-Taylor Petite Suite de Concert, Op.77  
Tippet Five Negro Spirituals from 'A child of our time'
Lee III Come Unto Me
Chicago Sinfonietta has presented a concert to celebrate the birth and legacy of Dr. Martin Luther King, Jr. since its inception a testament to our mission of diversity, inclusion, and equity. This season, former Project Inclusion Freeman Conducting Fellows Kellen Gray and Kedrick Armstrong will helm the podium for a breakout performance. Plus, an spoken word performance of Dr. King speeches you won't want to miss!
5) In Darkness We Rise,  A Concert of Remembrance, March 23 & 25, 2019
CONDUCTOR
Mei-Ann Chen
GUEST ARTIST
Twyla Robinson, soprano
FEATURED ARTIST
Paul Zafer, violin
PROGRAM
Debussy Claire de Lune
Vaughn Williams The Lark Ascending
Levinson Sevdah Medley
Gorecki Symphony No. 3, Op. 36
From even the most sorrowful moments of darkness, moments of light are bound to emerge. The Sinfonietta sheds, explores love, loss, and unyielding hope through the musical storytelling of several narrators. From a heartfelt lament about the loss of a grandmother to Gorecki's emotional Symphony of Sorrowful Songs, brace yourself for a moving and sensory musical immersion like never before!
6) SoundSketch, Portraits in Rhythm, Blues & Beyond, May 11 & 13, 2019
CONDUCTOR
Mei-Ann Chen
GUEST ARTIST
Regina Carter, violin
PROGRAM
Montgomery Strum
Schiff 4 Sisters
Elgar Enigma Variations
The Sinfonietta puts its own spin on the concept of "the tribute" with an exceptional program dedicated entirely to musical portraits spanning genres and centuries. From David Schiff's love letter to icons Aretha Franklin, Ella Fitzgerald, Billie Holiday, and Sarah Vaughan to the allusively autobiographical Edward Elgar composition Enigma Variations, this string-centric performance featuring violin virtuoso Regina Carter is a fitting finale to an illustrious season.
All  concerts to be held twice, first at Wentz Concert Hall, 171 E. Chicago Ave, Naperville, then at Symphony Center, 220 S. Michigan Ave, Chicago
For information and tickets to all the great performances of the Chicago Sinfonietta, go to the chicagosinfonietta website
All photos by Chris Ocken unless otherwise noted