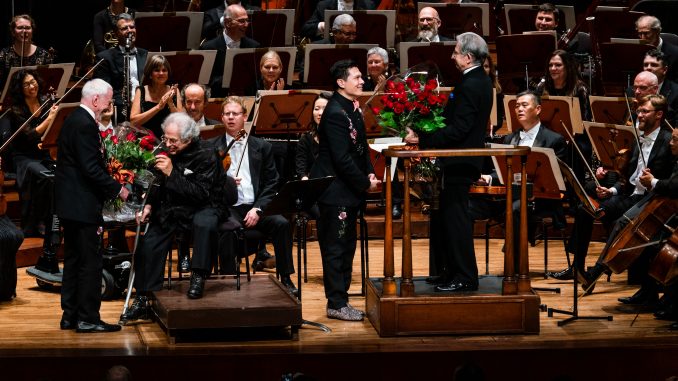 Reviewed by Marsha Felton
On Sept. 5, 2018, one of San Francisco's most glamorous affairs was held. It was an extravagant evening of incomparable music and high fashion, with world-class musical legends and performances. The San Francisco Symphony Orchestra's sold-out 107th opening was performed to an enthralled audience in the elegant 2,700 seat Davies Symphony Hall.
Above the stage there is a "cloud" of movable acrylic reflecting panels and adjustable fabric banners which acoustically enriched listening to divine music.
"Artistry in movement" was reflected in the decorations composed of classic black, white, gold, and rose tones. The dramatic motif was interwoven throughout, in a harmonic medley of  imagery, woven into a contemporary tapestry with impressions of City Hall and Davies Symphony Hall.
To be in the Presence of Greatness: Michael Tilson Thomas & Itzhak Perlman
Michael Tilson Thomas (MTT), consummate Conductor and Musical Director (24th season) welcomed his "long-time colleague and friend," legendary violinist Itzhak Perlman. They obviously share mutual respect and admiration. This is MTT's penultimate season with the San Francisco Symphony (SFS). This unique evening program epitomized their brilliant interpretations and innovative, distinctive styles.
After Maestro MTT and the SFS performed the first of three orchestra showpieces, Franz Liszt's Mephisto Waltz No. 1 for Orchestra, they were joined by Itzhak Perlman and six violinists from the prestigious Perlman Music Program for an exquisite performance of Johann Sebastian Bach's Concerto No. 3 in D minor for Two Violins, Strings, and Continuo, BWV 1043. In an example of superlative musicality, Perlman played a solo part: next, his six brilliant, young adult students performed one after the other, through the remaining three movements in a perfect continuation.  MTT said there were "quite a lineup of fiddle players"…Indeed!
Electrifying encore surprise-before-intermission: Perlman quipped "there is a limited repertoire of works composed for 7 violins." Truly awesome to watch and listen to Perlman and his six violinists' amazing arrangement of Bela Bartók's 44 Duos for 2 violins: No. 35: Ruthenian Kolomejka.
This was my first time to have the privilege of seeing the extraordinary Itzhak Perlman perform in person. I was spellbound…his genius, profound mastery, palpable joy, charisma, and inspiring courage. I 101% recommend watching Itzhak, the Documentary about his life. It will be shown on PBS on Oct. 14, and is available on many digital media sources.
After intermission, MTT and SFS led off with Gershwin's sizzling Cuban Overture,  then Perlman joined them to perform scores from beloved classic Hollywood films, including John Williams' Theme from Schindler's List (Perlman played on the original soundtrack), and Ennio & Andrea Morricone's Love Theme from Cinema Paradiso. Others performed listed below and for special visual enhancement, 3 clips to appreciate:
Carlos Gardel – Tango from Scent of a Woman
Al Pacino blind man teaching tango: youtube video
John Barry – Main Title from Out of Africa
Soundtrack Highlight: youtube Sound Out of Africa
The exuberant closing was George Gershwin's 'An American in Paris.'
George Gershwin – An American in Paris  Gene Kelly & Leslie Caron clip:
There were huge bouquets of flowers and standing ovations as this memorable concert ended from diverse, broad-age demographic SFS-aficionados and 'Opening Night Gala' supporters.
Glittering, glamorous offstage action followed the Gala.  Attendees were welcomed to a high-energy indoor-outdoor After-Party, in a stunning Tent Pavilion and on Grove Street's carpeted block. Dancing to DJ outside or live 'soulful' group inside. As I left, I reflected on what an inspiration Itzhak Perlman is; he once said: "I can actually see the sound in my head. I can actually see it…but each sound is different so this one has that sparkle…there is a sparkle to the sound."  This was a sparkling night!
Proceeds from the 'Opening Night Gala' benefit the San Francisco Symphony's myriad artistic, education, and community programs, which serve nearly 100,000 children, students, educators, and families in the Bay Area each year.
Check out the 2018-2019 San Francisco Symphony season, 220 concerts, 'Film with Live Orchestra,' and more: sfsymphony website
Photos: Drew Altzier Photography