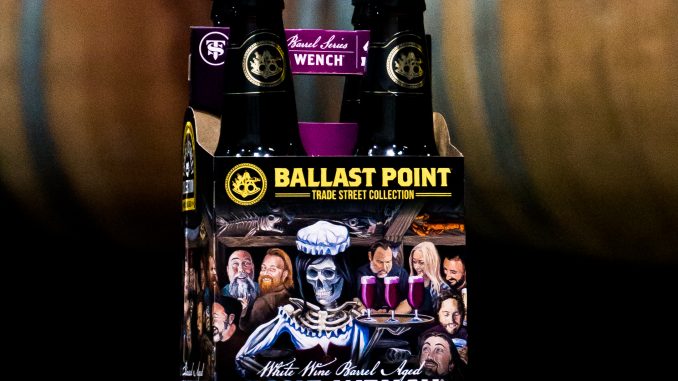 If you were looking for an introduction in the world of sour beers, Ballast Point Brewing Company has released the perfect beer just for that occasion with their White Wine Barrel-Aged Sour Wench.
You don't have to enjoy sour beers or even have tried one before to enjoy the Sour Wench, in fact it is a great way to in a more subtle way get the experience of what a sour a beer is. Don't expect ever sour beer to be anything like the Sour Wench, as this version is truly one-of-a-kind. The seven percent-ABV ale with blackberries is aged in chardonnay and sauvignon blanc barrels for more than six months. What you get is a not overly sour and tart beer that allows you to enjoy a multi-layered beer that really gives you the best of both the beer and wine worlds in every sip. The sour and blackberry flavor is balanced beautifully with the oak wood flavor, while drinking like a dry wine as the sauvignon barrel makes its way into the flavor of the beer.
"With barrel aging, we're giving tribute to three different attributes – the oak barrels, the wine that was in them before and the base beer," said Ballast Point Director of Barrel Aging Steve Anderson. "The blend that's in the White Wine Barrel Aged Sour Wench bottles is a really nice layering of both the beer and the wine barrels, making it more complex and an amazing end product."
The White Wine Barrel-Aged Sour Wench is just one of those beers you want to drink slowly and allow each and every flavor that has helped create this wonderful beer hit your palate. The White Wine Barrel-Aged Sour Wench can currently be purchased in 12 oz four-pack bottles.
White Wine Barrel-Aged Sour Wench marks the first release from Ballast Point's Trade Street Collection. Named after the brewery's barrel-aging cellar, the 80,000-square-foot Trade Street facility, the collection will feature quarterly releases and celebrates the deep and distinctive flavors of barrel-aged beers.
Additional Trade Street Collection releases will include Rye Barrel Aged Piper Down (limited release), which ages the brewery's award-winning Scottish Ale in charred American oak High West rye barrels. This November, the brewery is bringing back the fan favorite High West Barrel Aged Victory at Sea and introducing Bourbon Barrel Aged Tongue Buckler (limited release), both to be released nationally.
For more information, visit: Ballast Point