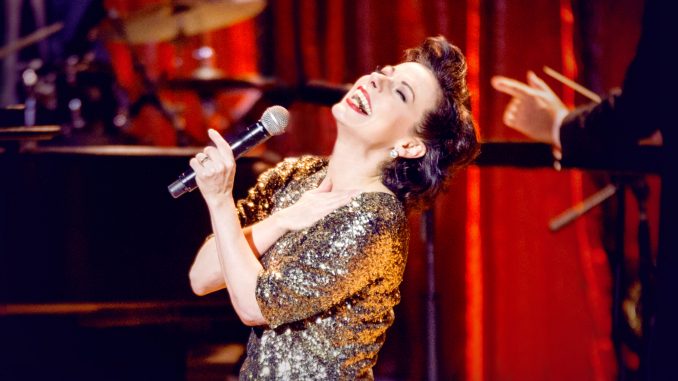 While there was a torrential rainstorm outside the theater Friday night there was no "Stormy Weather" in Angela Ingersoll's powerful and rich rendition of Judy Garland's hit song. Ingersoll, the heiress apparent to the Garland legacy, and a midwestern native from Indianapolis starred in Music Theater Works "Judy Garland: Come Rain or Come Shine" at Evanston's intimate and historic Nichols Concert Hall on Friday, October 5, 2018. This show, which runs through October 14, is produced by Angela's husband, Michael Ingersoll, and presented in association with ARTISTS LOUNGE LIVE.
Angela Ingersoll sets the stage literally and figuratively, she does not impersonate Judy Garland, rather she interprets with a bias toward the positive, setting this particular rendition of the Garland story apart and allowing us to revel in Judy Garland's wonderful music and the glory of Ingersoll's voice, remarkable in its sparkle, depth, and power. Petite in stature like her idol, only a few inches taller than the 4-foot 11-inch Garland, Ingersoll packs a mighty punch in a small package.
Ingersoll's narrative throughout the evening is both the backstory of Garland's life, her career and music and also what led Ingersoll to pursue with singular devotion a retelling of the Garland saga. We learn about Garland's start in vaudeville, her packaging by Hollywood, her love of Al Jolson and her support of John F. Kennedy. Ingersoll is joined by a terrific 6-piece band ably led by Jeremy Kahn from his Steinway, Patrick Mulcahey on Bass, John Moore, Jr. on trumpet, Timothy Coffman on Trombone and Alex Beltran doubling on sax and flute. A highlight is Beltran, who finishes the evening with his flute in a haunting accompaniment of Ingersoll in "Rainbow".
With all of the energy and less of the darkness, Ingersoll sings her way through Garland's life starting with vaudeville and the songs of the 1920's. Ingersoll performs beautiful renditions of classics from the Garland playbook, also sharing the story of Garlands respect and admiration for Al Jolson with rollicking versions of his classic "Swanee" and "Dixie Melody". Ingersoll frames Garland's life in the momentous period in American history spanning the Great Depression, WWII and Kennedy's Camelot. Ingersoll's stirring presentation of the "Battle Hymn of the Republic" is prefaced with a telling of the star's early support and friendship with President John F. Kennedy. While Marilyn may have seductively crooned Happy Birthday to JFK, it was Garland that campaigned for him at the request of her co-star in Easter Parade, Kennedy's brother in law Peter Lawford. Thereafter Garland sang "Rainbow" for Kennedy at his request and relied on his advocacy and support to win arguments with TV networks and film companies.
Garland was an American Icon and her family guard her memory, but Ingersoll's talent and voice have justifiably won their support giving her the right to sing "Rainbow" and to perform alongside Garland's son Joe Luft. Often the retelling of the Garland story focuses on her early death from a combination of drugs and alcohol. Ingersoll's running narrative throughout the show gives us the ups and downs of the Garland story, but her vocalization is without the frailty, pathos, and anguish that powered Garland's later life. Ingersoll's Garland is a healthy, strong and powerful virtuoso performance.
Angela Ingersoll is the recipient of a Jeff Award, 3 Jeff Award Nominations, a Broadway World Award, "Top Performances" honors from Chicago Tribune and Chicago Sun-Times, four Ostrander Awards, and two Ostrander Award Nominations.
Photos: Courtesy of Music Theater Works
For tickets and more information go to the Music Theater Works website