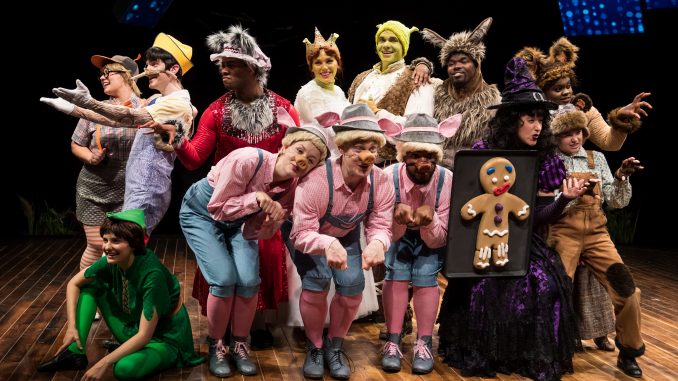 The popular Oscar-winning animated film, SHREK, is the perfect adventure for the young and young at heart now playing at The Marriott Theatre for Young Audiences through December 30, 2018.
Audiences will discover their favorite fairytale characters in an all-new production with SHREK the giant ogre in the lead. Friendship, loyalty and "love's first kiss" are all tested and triumphant in this hour-long production. Children will love seeing all of their favorite fairytale characters like the Three Little Pigs, the Gingerbread Man and the Witch on stage. It's an ideal way to introduce children to their first experience of live musical theatre. At the end of the show, the actors come out and answer the children's questions.
Musically adapted to the stage by Jeanine Tesori and David Lindsay Abaire, the show is funny and clever. Children will laugh at the cute physical antics and adults will appreciate the humorous lines. This fun and adventure-filled production is directed by Scott Weinstein, with choreography by William Carlos Angulo and musical direction by Matt Deitchman.
When all the fairy tale characters are banned from Dulac to the swamp, Shrek is not happy and demands his swamp back for himself. Lord Farquaad agrees to the deal if Shrek can rescue a princess from a castle, guarded by a fire-breathing dragon. Together, he and his sidekick friend, Donkey, go on a life-changing journey to rescue the princess and bring her back to wed Lord Farquaad. Throw in a short-tempered bad guy, a royal wedding, and an evil curse and you've got the kind of mess only true love's kiss can fix!
Starring in SHREK THE MUSICAL is a cast of Chicagoland all-stars, including Shea Coffman as Shrek, Jacquelyne Jones as Fiona, Steven Strafford as Lord Farquaad, and Jonathan Butler-Duplessis as Donkey.
Making the swamp come alive is set and properties designer, Kristen Martino, lighting design by Jesse Klug, costume design by Theresa Ham, sound design by Robert E. Gilmartin, and video design by Anthony Churchill. The dragon is created as an ingenious large puppet, carried by two actors, so it doesn't frighten the young children.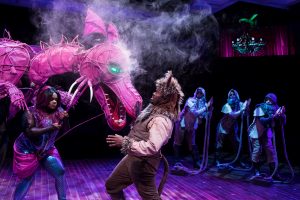 SHREK THE MUSICAL runs on most Wednesdays through Sundays at 10 a.m. with certain performances at 12:30 p.m. Visit MarriottTheatre.com or call 847.634.0200 for exact schedule, as show times and dates may vary. Single ticket prices are $18.23 per person. Groups of 20 or more receive a discount by calling 847.634.5909. Free parking is available at all shows. To reserve tickets, call the Marriott Theatre Box Office at 847.634.0200 or visit MarriottTheatre website.
Photos: Courtesy of the Marriott Theatre