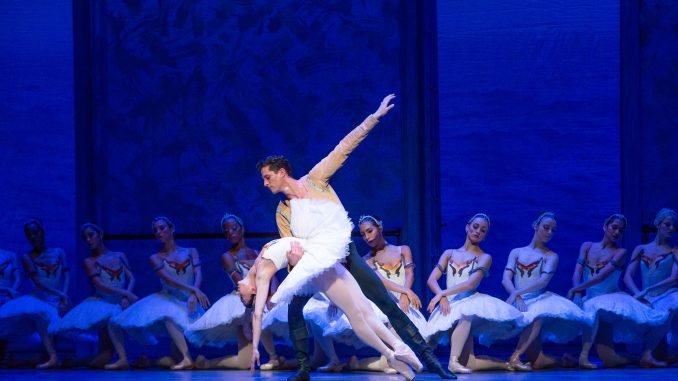 I thought I knew Swan Lake. Tchaikovsky's evocative score is on my brain's playlist. As a young ballet student, I learned some of the steps from the iconic 1895 revival, choreographed by Maurius Petipa and Lev Ivanov (the original ballet premiered in Moscow in 1877). I viewed versions of the ballet on stage and screen multiple times. But seeing Joffrey Ballet Chicago perform choreographer Christopher Wheeldon's take on Swan Lake under the artistic direction of Ashley Wheater on the stage of Chicago's historic Auditorium Theatre resonated like nothing before.
Much of this production's magic comes from the power of its storytelling. With a ballet as technically demanding as Swan Lake, too many versions focus on technique, losing sight of the story. This version harnesses technique — Wheeldon preserves the best parts of the Petipa/Ivanov choreography — to communicate the nuances of its story.
Swan Lake is a framework tale, a story within a story. The first of four acts opens in a ballet studio, where dancers rehearse a story ballet about Prince Siegfried's coming of age. His mother, the Queen, nudges her son to find a suitable bride now that he is an adult. The prince's aging sot of a tutor provides comic relief. During rehearsal breaks the real world intrudes, with a visiting Patron pawing at the ballerinas, foreshadowing the gender politics that will follow. After the rehearsal, the dancer who plays Siegfried returns to the studio and dances himself into a mental fugue, where reality morphs into the imagined story. From there on, it's back and forth between studio/reality and a story world where the evil sorcerer Von Rothbart has transformed maidens into white swans. Siegfried falls deeply in love with Odette, queen of the swan maidens, but later is tricked into mistaking Odette's black swan alter ego, Odile, for his true love, dooming the couple's future. Wheeldon's version tinkers with the traditional ending to let the trapped swan maidens in on the Me Too movement.
The technical demands are such that the Joffrey rotates between three pairs of principal dancers to play Odette/Odile and Prince Siegfried: Victoria Jaiani and Dylan Gutierrez; April Daly and Miguel Angel Blanco; Amanda Assucena and Alberto Velazquez. I saw the Daly/Blanco pairing and was wowed — Daly articulates her arms into swan wings as beautifully as she extends her legs — and before the performance I attended a "Meet the Artists" talk by Assucena, Velazquez and Wheater. Assucena described wearing out a new pair of toe shoes in every act to meet the challenges of Swan Lake. The towering Fabrice Calmels dances the roles of Patron/Von Rothbart with menacing seduction.
Enhancing the production is a first-rate orchestra conducted by Scott Speck and subtly effective scenic design by Adrianne Lobel. Jean-Marc Puissant's ombre costumes move with the dancers — a major improvement over the usual starched tutus — and delight the eye, with nary a feather in sight.
Joffrey Ballet Chicago's Swan Lake
Through Oct. 28, 2018
Auditorium Theatre, 50 W. Ida B. Wells Drive (formerly Congress Parkway)
Running time: 2 hours, 50 minutes
Tickets $35–$195 at (312) 386-8905 or Joffrey
Photos: Cheryl Mann