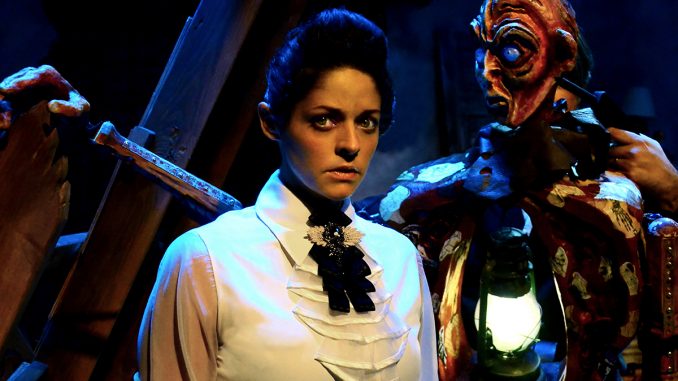 Lifeline Theatre presents Frankenstein, adapted by Lifeline Theatre ensemble member Robert Kauzlaric and directed by Lifeline Theatre ensemble member Paul S. Holmquist. In celebration of the 200th anniversary of the publication of Frankenstein, you are invited to enter a world of psychological suspense.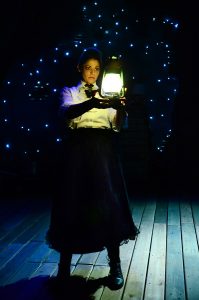 After an unexpected death shatters her family, Victoria retreats into the darkest recesses of her psyche in search of a way forward. To find meaning in an impossible loss, she brings a terrible creation to life – one whose existence threatens all hopes for the future. Haunted and hunted at every turn, Victoria must endure a nightmare journey of the soul in a quest for survival. Just in time for the Halloween season, come and grapple with the demons of grief and denial in this world premiere adaptation of the 1818 thriller by Mary Wollstonecraft Shelley!
Lifeline Theater's world premiere adaptation of Frankenstein is brilliant in its simplistic, yet ingenious utilization of the small, intimate staging. When my friend and I arrived and took our seats with the rest of the audience, Ann Sonneville, who plays the role of Victoria Frankenstein, is already in character, lying on her stomach on the stage floor and sketching in a large notebook. I thought this was a nice, subtle approach to getting the story started for the audience and setting the mood.
The set design is consistent throughout the production: an old, wooden and creaky attic room, complete with old, nostalgic items collected over time and stored by Victoria. In the middle of the stage floor was a trap door, that provided quite a variety of purposes during the show, such as a grave during funerals of the deceased among other creative uses. (I do not want to spoil the fun!) Kudos also to the production's masterminds for tech, music, sound, and special effects, which all successfully added to the plays' emotional, ominous and suspenseful thematics.
Another clever and interesting detail of this adaptation of Frankenstein was the monster's creator, which is usually a man (Victor), who was portrayed by a woman named Victoria (Ann Sonneville's character). It was refreshing to see Mary Shelley 's original story feature a strong, feminist take on the famous tale of creation and trying to play God. Bonneville is the female version of Dr. Frankenstein, whose beautifully haunting performance guides the audience through her grieving process, as she fights an internal struggle with immortality, morality and, and giving into her grotesque, frightening creation: a reincarnated monster that is supposed to be her recently dearly departed father (Alphonse Hainsworth).
The creature itself is a lifelike rod puppet, designed by the talented Cynthia Van Orthal, which was interpreted (and performed also by Hainsworth).
The supporting cast also gave a strong and impressively diverse performance(gender, age, ethnicity). Actors included Risha Tanae as Caroline (Victoria's grief stricken mother), Rasika Ranganathan is Victoria's loyal friend, Helena (Henry in the novel), Ty Carter as Victoria's lover, Erich, Emily Eyre (the unfortunately doomed sister), and Trent Davis as Victoria's innocent younger brother, William.
Each of the performers also portrays the demon spirits haunting Victoria, as she first seeks to build the creature, and then refuses to acknowledge or accept it, while finally seeking to escape and destroy it.
I believe the best part of the play was the connection that Victoria had with her monster. The creature was meant to be her father brought back to life, yet it was reserrected as a disfigured, monstrous demon. It was also her son, a symbol of grief, that only feels lonely and wants acceptance for its creator. When Victoria refuses, the creature does whatever it takes to become "one" with Victoria, by whatever means necessary.
This newly adapted stage version of Frankenstein also delves deeply into various metaphors and themes of Shelley's original novel. The script, adapted by Lifeline ensemble member, Robert Kauzlaric, interpreted Frankenstein's monster as a "walking, talking personification of Grief, and how it haunts our lives…and it demands more from us than it feels like we can give…I imagined it growing in strength and power…as it consumed more and more of its creator's psyche…an emotional journey rather than a literal one."
Overall, the production of Lifeline Theater's Frankenstein is a spoof, mesmerizing Halloween that will make you look and think twice about Mary Shelley's original novel. Celebrate the story's continuing intrigue and influence on our inner psyche, just in time for its bicentennial anniversary! Ms. Shelley would be proud.
Photos: Suzanne Plunkett
Frankenstein runs September 7 – November 11 at Lifeline Theatre, 6912 N. Glenwood Ave.
(free parking and shuttle; see below).
Regular performance times (September 20 – October 28):
Thursdays and Fridays at 7:30 p.m., Saturdays at 4 and 8 p.m., and Sundays at 4 p.m.
Ticket prices are $40 for regular single tickets, $30 for active and retired military personnel (with ID), $30 for seniors, $20 for students (with ID), $20 for rush tickets (available half hour before show time, subject to availability), and $20 for previews. Group rate for 12 or more is available upon request. Tickets may be purchased at the Lifeline Theatre Box Office, 773.761.4477, or by visiting the theater website.
Accessable Performances: The Saturday, Sep. 22, 4 p.m. performance and the Friday, Oct. 26, 7:30 p.m. performance will feature open captioning for patrons who are deaf or hard-of-hearing.
The Sunday, Oct. 7, 4 p.m. performance will feature a pre-show touch tour of the set at 2:30 p.m. and live audio description for patrons who are blind or have low vision.
For more information about Lifeline's accessibility services, please contact Accessibility Coordinator Erica Foster at 773.761.4477 x703 or at ac****@li*************.com.