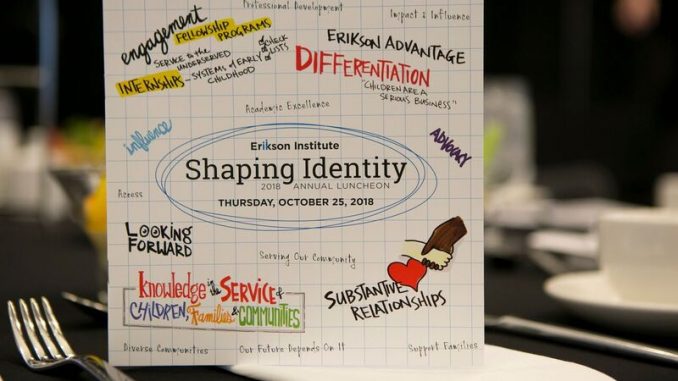 It was 1966 when four child advocates: child psychologist Maria Piers; educator and activist Barbara Taylor Bowman; social worker Lorraine Wallach; and businessman and philanthropist Irving B. Harris founded the Erikson Institute.  It was established to provide training for people working in the recently created Head Start program. Over time, its mission has expanded to the education of anyone who works with or on behalf of young children. Erikson's focus on early childhood takes many forms. They are a graduate school dedicated to child development, but they also provide direct services to community's most vulnerable children and families. They conduct applied research to solve real-world problems while playing a leading role in influencing early childhood policy.
During these years, I was working with preschool children and became familiar with the work being done at the Erikson Institute, approaches that had positive, measurable outcomes. The research covers a wide range of topics and can be explored here: Erikson education research
The stated mission of the institute-
"Because nothing matters more than a child's early years, Erikson Institute educates, inspires, and promotes leadership to serve the needs of children and families so that all can achieve optimal educational, social, emotional, and physical well-being". In addition, the website states that, "Our impact and influence are further amplified through our innovative academic programs, applied research, knowledge creation and distribution, direct service, and field-wide advocacy."
An important fundraiser, the Erikson Institute's 2018 Shaping Identity Luncheon was held Thursday, October 25 at the Radisson Blu Hotel (221 N. Columbus Dr.) The Spirit of Erikson Award was given to civic and business leader Michelle L. Collins at the luncheon, which was attended by nearly 450 of Illinois' most engaged and generous early childhood leaders. The audience was moved by the keynote address that was delivered by award-winning author and activist Andrew Solomon.
The record-setting $1.5 million that was raised through the luncheon will go towards strengthening Erikson's education programs, policy and advocacy work, direct services, and applied research.  Kudos to the planning committee which consisted of co-chairs Kathy Richland Pick and Rick Chesley, with Eric Adelstein, John L. Hines Jr., Lori Laser, Diane Goldstick Meagher, Kate Neisser, Ashley Hemphill Netzky, and Cari B. Sacks.
Erikson president and CEO Geoffrey Nagle made a very important announcement, that in January 2019, Erikson Institute will open a first-of-its-kind Center for Children and Families in the Little Village neighborhood, which will offer mental health services for infants, children, and their families to address the trauma inflicted by gun violence, poverty, and other pressing issues. This will clearly have benefit to individual families as well as the community in which they live.
Adding to its major focus on early childhood, Erikson is best known for its multidisciplinary and relationship-based approach to education.  Students are required to master child development knowledge from many fields and to develop professional self-awareness and a capacity for reflective practice.
Another exciting bit of news  was announced – that through the support of an anonymous donor, every dollar raised up to $200k will be matched through a challenge grant between now and December 1, 2018 (erikson education)
Photos: Courtesy of Ana Miyares Photography