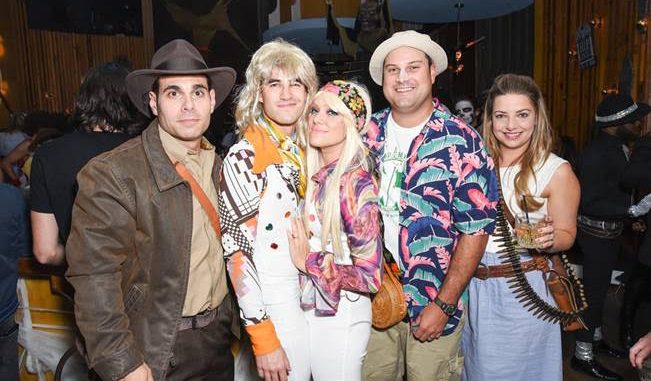 Halloween may have ended, but that doesn't mean the buzz from the excitement has. One of the hottest parties was Podwall Entertainment's 9th Annual Halloween Party!
Presented by Maker's Mark, the party was hosted by Eric Podwall of Podwall Entertainment, and took place at The Peppermint Club. This year's highly anticipated event featured special performances from  musical artists Nathan Sykes and Chord Overstreet.
Paris Hilton arrived hand in hand with her fiancee Chris Zylka! The spirited duo arrived dressed to the nines and ready to party. The two announced their engagement earlier this year on a trip to Aspen, Co. For Hilton, Zylka was clearly the one from the start of their relationship as PEOPLE reports.
"Ever since our first date I knew there was something special about him," she shares. "I have never in my life met a man so loyal, dedicated, and loving. I knew right from the start that I wanted to be with him forever." They have been living up the engagement period and enjoying the wedding planning process and have decided not to rush the wedding.
From party hopping and wedding planning to having a successful skincare line 2018 has definitely showed Hilton some love!
The Podwall Entertainment's Halloween Party went into the late hours of the evening. Other notable attendees include Darren Criss ("American Crime Story"), Mia Swier (Director), Chace Crawford ("Casual"). Chord Overstreet ("Pickle and Peanut"), Brandon Flynn ("13 Reasons Why"), JC Chasez (NSYNC), Lance Bass (NSYNC), Joey Fatone (NSYNC), Paris Hilton, Chris Zylka ("The Leftovers"), Niall Horan (Musical Artist) and Joe Mazzello ("Bohemian Rhapsody") and many more.