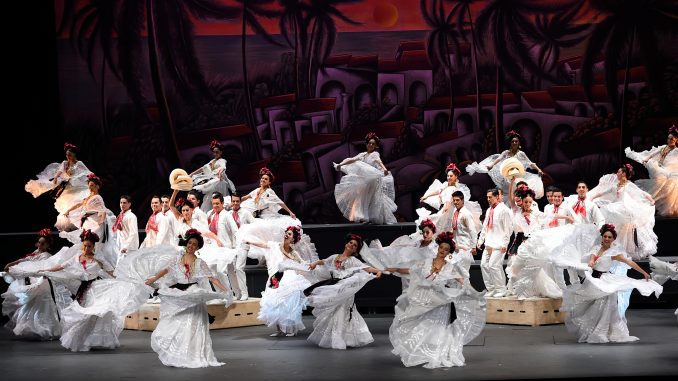 On November 10th and 11th, 2018, Ballet Folklórico de México returned to the Auditorium Theater of Roosevelt University, 50 Ida B. Wells Drive, Chicago, in a sensational program reflecting various regions and folk music genres of Mexico. The magnificent Romanesque inspired/Sullivan and Adler designed landmark with its grand gilded arches, glittering ceiling and dramatic decorative flourishes formed a perfect backdrop for the vivid artistry of the program.
The group was founded by Amalia Hernandez in 1952, grew into a fifty-piece ensemble by the end of the decade, and in 1959 they officially represented Mexico at The Pan American Games in Chicago. This weekend's program represented the work of a production staff of 14, and featured 14 musicians and 42 dancers.
There are 3 types of ballet folklórico: Danza, Mestizo, and Bailes Regionales (regional dances), and variations of all of these were represented in the delightfully colorful, joyously presented, beautifully dressed program, set to traditional music on unusual stringed instruments- often greeted by shouts of recognition from the sold out crowd- and capped with fabulous masks, headdresses, double-life-sized human puppetry effects, and costumes that were gorgeous and themselves part of the dance movements. The numbers of performers in individual dance numbers range from two to over thirty-five, all technically spot-on, enthusiastic, and proud.
During the 2+ hour show, in 2 acts,  this wonderful company presented a 10-piece program, consisting of the following highly imaginative works, many of them in multiple acts with musical interludes and audience engagement: Overture, The Great Tenochtitlán, Platform Dances of Tixtla, Revolution, Charreada, Tlacotalpan Festivity, The Quetzals of Puebla, Life Like a Game, Deer Dance, and Jalisco Festivity.
This reviewer was particularly taken with Charreada, or "the rope dance," which features a charro (horseman, here sans horse) who showed off his incredible skills with the lasso. Evolving from the traditions brought from Spain in the 16th century, the first charreadas were ranch work competitions between haciendas. The modern Charreada developed after the Mexican Revolution when charro traditions were disappearing; teams competing today are often made up from extended families who have been performing for up to five generations.
On stage, the wonderfully talented charro enjoyed pretend kisses from a lovely maiden whom he deftly encircled with his whirling lasso. In fact, such innocent flirtatious behavior was a sweet hallmark of many of the dances.
Another fascinating number was Deer Dance, a stylish interpretation of a mimetic dance widespread among American Indian tribes, Mexicans and other cultures that was performed to appease the deer spirit in order to effect success in the hunt or cure diseases held to be caused by this spirit. Specifically, the Danza del Venado, or Deer Dance, is a traditional, very old folk dance of the Yaqui Indians from the states of Sonora and Sinaloa in northwest Mexico. On stage, a male dancer portrayed a deer, wearing a headdress shaped like a deer's head with large antlers. The deer was a sacred animal to the Yaqui people, and this recreation of a religious dance is highly symbolic of that special status, seeming to give thanks for the deer, which historically provided food, skins to make clothing and shelter, and antlers for weapons and tools.
Other highlights included: Tlacotalpan Festivity, a work inspired by the February 2 celebration of the Candelaria Virgin, a week long festival involving events with bulls; Life is Like a Game, during which a terrified bride, her groom, and her very astonished lover find their lives manipulated by the devil; Quetzals of Puebla, in which the men stalk the stage in 6 foot headdresses shaped like birds of prey; Revolution, with its chorus line of women draped with bandoliers and toting rifles; and Fiesta en Jalisco, a tribute to the charros and mariachis of the Jalisco region.
The interpretation of these cultural dances, festivals and regional traditions is fluid, and the costumes, based on authentic influences, were made specifically for this company, creating an over-arching sense of historical theatre and spectacle, as the dancers present the imagery. Much of the dancing is percussive and appears heavily influenced by flamenco. Throughout, heads are held high, arms are raised in tribute, smiles abound, and demanding technique is proudly displayed.
For information and tickets to all the wonderful programs at The Auditorium Theatre of Roosevelt University, go to www.auditoriumtheatre.org
All photos courtesy of Ballet Folklórico de México