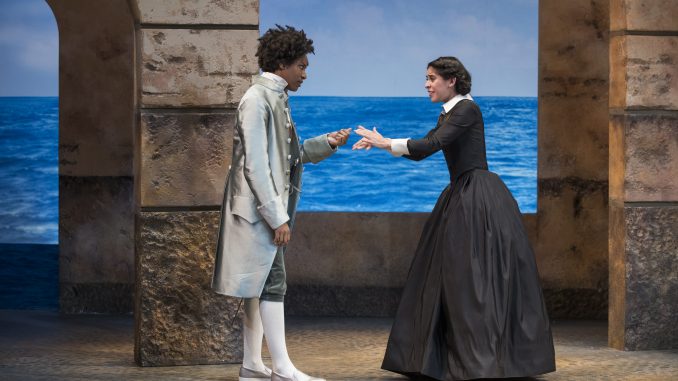 The plays of William Shakespeare fall into three categories: tragedy, comedy, and history. The Bard's tragedies and histories are tied in number, at 10 each. But comedy is king, with 18 comedic plays. To my mind, the funniest of them all is Twelfth Night, especially as it is now being performed at Writers Theatre in Glencoe.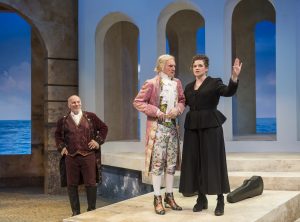 On opening night, Michael Halberstam, artistic director of Writers Theatre and director of this Twelfth Night, encouraged the audience to laugh out loud. No encouragement was necessary. The laughs came easily, thanks to Halberstam's deft direction and an exemplary cast.
The actors spin 400-year-old vocabulary with body English to prompt the laughs that were always there. Physical bits, like a strategically placed font of water and potted fronds animated by actors, amused without tumbling into slapstick. In side action in the aisles and on the edges of the stage, performers mimed bad theatergoers whose cell phones and crinkling candy wrappers disrupt performances.
Bring the kids to Twelfth Night — assuming the risqué material will sail over them — to show them that Shakespeare can be much funnier than anything on YouTube. Twelfth Night also has contemporary appeal, with cross-dressing characters fumbling through their confusion about love and identity on the windswept shores of Illyria, where Viola (Jennifer Latimore) washes up after a shipwreck has separated her from her twin brother, Sebastian (Luce Metrius), presumed drowned.
Viola disguises herself as a man named Cesario to land a job in the service of Duke Orsino (Matthew C. Yee), who uses his new hire to plead his romantic case with the wealthy countess Olivia (Andrea San Miguel), who is submerged in grief for her dead brother and thus completely uninterested in romance — until she falls immediately in love with Cesario, who has fallen instantly in love with Orsino. Hilarity ensues, as Orsino drops trou in front of an agape Viola/Cesario, who must then fight off advances from a horny Olivia. OK, maybe don't bring the kids.
But Twelfth Night offers more than laughs. Just as Shakespeare's tragedies include moments of comic relief, his comedies balance laughs with poignancy. Scott Parkinson almost steals the show as Sir Andrew Aguecheek — a part too often overplayed to the point of caricature — by imbuing Sir Andrew with vulnerability, making the comedy stronger and more soulful at the same time. In a masterful performance, Sean Fortunato humanizes the priggish Malvolio, allowing the audience to feel his pain at being the butt of someone's joke.
Generating much of the comedy is Feste, Olivia's jester, played by William Brown in his 25th production at Writers Theatre, acting in 8 and directing 17. Brown's deadpan delivery underlines the truths beneath Feste's witticisms, while his melodious singing (original music by Josh Schmidt) brings lyric relief to the comedy. Olivia's household includes her tippling uncle, Sir Toby Belch (Kevin Gudahl in a nuanced take on another part often overplayed), her not-so-gentle gentlewoman Maria (Karen Janes Woditsch) and servant Fabian (Mary Williamson) — all strong performances. That triumvirate of tricksters creates the elaborate practical joke that punishes Malvolio, and no one laughs harder at the result than the three themselves. Paradoxically, the fun-loving Sir Toby and Maria become the only couple in this tale of love at first sight to base their relationship on a meeting of the minds.
Nothing that "Elizabethan fashion is incredibly unflattering and, in contemporary terms, unsexy," director Halberstam shifted wardrobes to the 18th century. Costume designer Mara Blumenfeld made the most of the update, garbing male characters in sumptuous floral satins while sheathing the women in severe widow's weeds, heightening gender contrasts.
Treat yourself to a ticket to Twelfth Night and laugh out loud. But make sure to turn off your cell phones and unwrap your candies first.
Twelfth Night
Through December 16, 2018
Writers Theatre, 325 Tudor Court, Glencoe (accessible by Metra's Union Pacific North Line)
Tickets $35 – $80 at Writers Theatre or (847) 242-6000
Photos: Michael Brosilow