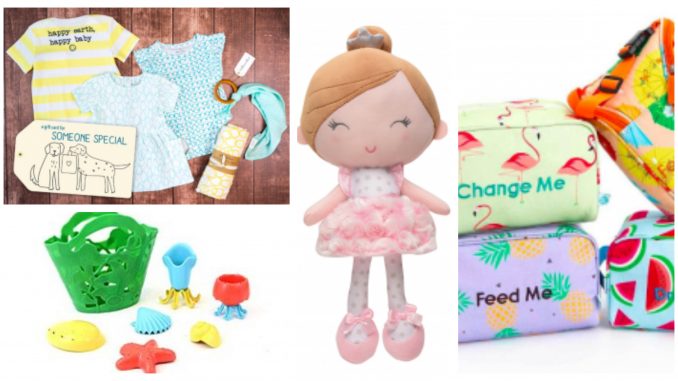 All items listed from most to least expensive.
abiie
Huggs is an innovative baby carrier built for versatility. Its revolutionary carrier booster seat not only provides all-day comfort, the ergonomic design ensures a healthy sitting position (frog-leg or M-position) for a growing baby. Huggs is lightweight, yet rugged, and has been designed to deliver the very best ergonomics in every carrying mode, for both the parent and child. It is the perfect companion for parents who want to keep their baby close and comfortable, at anytime and anywhere.
$129.00  Buy now!

Babylist + Solly Baby Collaboration Wrap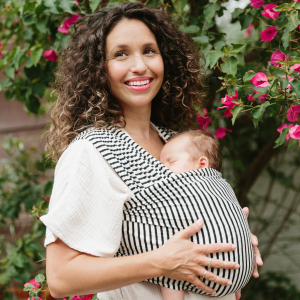 Lightweight and buttery-soft, the Solly Baby Wrap carrier is made from certified Lenzing modal fabric that ties around the body, creating a snug, womb-like environment for baby. Made with comfort in mind, the wrap distributes the weight evenly around your upper body, so it won't strain your shoulders and back. It also distributes baby's weight, so it doesn't put extra pressure on your little one's joints or spine and is hip-healthy certified. Designed for the first year of baby's life, the Solly Baby Wrap can be used with newborns through 25 lbs.
This black-and-natural stripe is exclusive to Babylist with limited availability. The Solly Baby Wrap is simple to use and comes with a step-by-step tutorial, as well as the instructional videos below that walk you through safe babywearing techniques.
$65.00  Buy now!
Moms + Babes Box
With options for infant, toddler or mom, each box includes six products that will be split up between you and your babe and that we hand-picked for you. This includes three awesome baby items perfect for learning, playing, growing, and exploring; and three well-deserved gifts to help mothers relax and de-stress—at least until the next tantrum hits.
$59.00  Buy now!
Easy Baby Traveler
Easy Baby diaper bag organizer insert sets are color coded and portable inserts available
in multiple patterns that make for easy and organized transport. The bags design allow the user to carry a lighter load and and find things quicker rather than digging through a bag.
$50.00-$160.00  Buy now!

Stroll & Discover Activity Walker
From floor play to first steps, the Stroll & Discover Activity Walker™ grows with your little one. The easy-to-remove activity panel is great for floor play and is packed with features and the legs fold for easy storage. Five light-up piano keys introduce colors and numbers, while spinning gears and a removable cell phone help develop fine motor skills. Meet six friendly animals by inserting the three shape sorter pieces, pressing the puppy button, sliding the mouse or batting the bird to hear their unique voices and sounds. Attach the panel to the adjustable two-speed walker as little ones grow, and watch them go!
$39.99  Buy now!

Milkease
Milkease is an all natural breastfeeding relief pack that helps increase milk flow (quicker let down, faster pumping), reduce discomfort (prevent & release clogged ducts, mastitis, etc) and increase milk production.
3 Easy Steps: 1. Warm in microwave for approx. 1 min. 2. Apply to breast 3. Remove & nurse/pump. It produces moist heat that dilates (opens) the milk ducts and allows the milk to flow quicker & easier. Removable & Washable cover. Made with 100% Cotton fabric, filled with Golden Flaxseed (produces moist heat) and dried lavendar flowers (to aid in relaxation). Manufactured in USA
$32.00  Buy now!

Babylist Bottle Box
The Babylist Bottle Box is giftable box of five popular baby bottles that lets new parents try out different bottles to see which works best for them before buying a whole set. Babylist Bottle Box contains five of the most popular baby bottles among Babylist parents. Also comes with an option to add $25 gift cards so parents can buy their baby's favorite bottle after testing.
$24.99-$49.99  Buy now!

Tide Pool Toy Bath Set
Bring the fun and learning of tide pool and water table play to the bathtub! The 7-piece Green Toys™ Tide Pool Bath Set includes a starfish, scallop, abalone, snail, squid, and jellyfish, as well as a seaweed-patterned storage bag. Made in the USA from 100% recycled plastic milk jugs, each of the six shells and creatures in the set are specially designed to interact with and pour water in a different way. Scoop up water with the abalone and create a cascading waterfall with the holes along the edge, or fill the jellyfish and watch the water run down and out each of the legs. The palm-sized shells are the perfect size for scooping and pouring water to wash little ones in infant tubs, while the whole set is also great for the beach and backyard. When it's time for cleanup, collect all the pieces in the storage bag (made from 100% recycled plastic bags!). The holes throughout the sides and bottom of the bag allow water to drain out and pieces to dry between uses. The whole set is also dishwasher safe and contains no BPA, phthalates, or PVC. Color combinations may vary. Packaged with recycled and recyclable materials printed with soy inks. For ages 6 months and up.
$19.99  Buy now!
Grabease
Grabease is a revolutionary, patented utensil designed with your little one's needs in mind.
$14.50-$72.50  Buy now!

BooginHead
BooginHead's PaciPal Teether Blanket is an absolute baby essential. With a plush pal and teether for comfort, this product makes the perfect soother for babies.
$12.99  Buy now!
Oliver & Rain
A new clothing brand for babies made with thoughtful and stylish designs, sustainable
practices and a lot of love. They include styles for boys, girls and gender neutral
styles as well.
$12 – $30  Buy now!
Baby Starters® Annette Princess Plush Doll
Baby Starters is there for every "first"— from smiles to coos to wobbly stands to the first Christmas — with fashionable clothing, luxurious blankets, and plush toys that stimulate and soothe. By interpreting trends into must-have products, our brand delivers an unwavering attention to detail and a steadfast emphasis on quality. You've got to appreciate the little extras, like special trims, superior fabrics, and modern colors and patterns! And babies make fast friends with Baby Starters' cuddly, plush companions, complete with interactive features and sweet details that make them uniquely snuggle-worthy.
$9.99  Buy now!

*All images courtesy of respective companies. – Splash Magazines is not paid for this content.