Capture the beauty within yourself and have mindfulness and well-being at one of the most breathtaking resorts that Mexico has to offer at Villa del Palmar Beach Resort & Spa at the Islands of Loreto, Mexico.
Vacations are great but are you ever truly rested, relaxed, and rejuvenated? Villa del Palmar is not just a vacation, it is an experience that allows you to escape to a serenity of pure bliss and wellness. Encircled by luscious palm trees, ocean views, and posh pools, Villa del Palmar is a hidden treasure nestled beneath mountain cascades near the Sea of Cortez and just an hour and half flight from LAX. Your wellness stay here is only the beginning of heaven on Earth.
It's time to take care of yourself and create a harmony of mindfulness where you can truly stop and be present in surrounding nature. Overlooking the Sea of Cortez on the eastern coast of the Baja Peninsula, Villa del Palmar will help you appreciate the treasures in life that only a resort like this can bring. Along with authentic Mexican cuisine, the resort offers nightly diverse themes including Italian, Mediterranean, and Argentinian meals that are accompanied by nightly dancing and singing entertainment. The entertainment and activities are only a glimpse of your wellness week.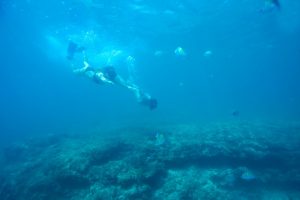 Snorkeling in the Sea of Cortez, even in December, where the water is cool to warm is a paradise delight in the ocean. Unlike other resorts, at Villa del Palmar, you don't have to waste valuable time traveling to and from your destination; your adventure is at the beach front, just steps away from your room.
Your tour begins with a view of all the little islands surrounding this gorgeous resort. The water at Danzante Bay is so clear and sparkling words cannot depict its beauty, which makes it an ideal spot for viewing a wide variety of sea creatures and fish. If you're squeamish about the cold, don't worry wet suits are available complimentary. The hidden secret is that this tour to the island is so remote you feel like you're on your own personal island. After splashing in this crystal blue-green ocean, your tour continues and while basking in the sun of your boat, guests are treated to authentic guacamole and chips, sandwiches and that refreshing cerveza. If you're feeling a little chilly, a couple of shots of tequila will warm you up as you enjoy your boat ride back to the resort with a view of dancing dolphins.
Salt water not your cup of tea? No worries, there is plenty of ways to get grounded in nature near Danzante Bay. Villa del Palmar offers several hiking trails including the Coyote Short Cut, the Blue Whale Hike, the Osprey Hike, and the Panorama Hike.  Hiking trail maps are included that gives you a visual of where you can sight see, snorkel, kayak, swim, and rest.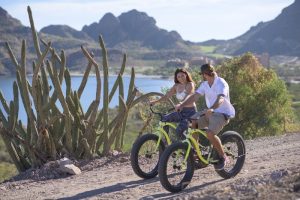 There are a variety of trails to make your wellness stay in a mindful state of harmony. The Coyote Short Cut is a 15 minute, low-pace, hike where you can sight see atop of the island and rest in comfortable beach chairs atop the mountainside overlooking Danzante Bay facing glorious sunsets. The Blue Whale Hike is a 35-minute, low-pace hike where points of interest include animal footprints, replica paintings, and ending with sea bird and whale watching fun.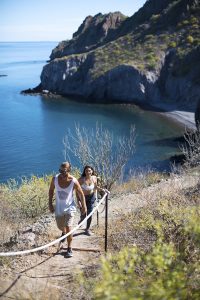 The Panorama Hike is also a 35-minute, low-pace hike that allows you to be mindful of the most stunning scenery on the island. This hike lends itself to a hidden treasure: secret stairs that lead to a private beach. There, while wading in the shore, you can spy amazing creatures such as octopus, seahorses, spotted eels (not the ones that shock you) and a multitude of fish. While submersed in nature take time to pause and reflect on this awe-inspiring land and sea. Finally, there is the Osprey Hike, which is a 45-minute low-pace hike which begins at the TPC Golf Course. This hike has amazingOsprey nests, animal footprints, and a view of the Monserrat & Catalina Island.
Speaking of golf, Villa del Palmar has one of the most elite golf courses in Latin America and is said to be the favorites of many athletes including Byron Scott, former Los Angeles Laker. The Danzante Bay Golf Course provides the most amazing views and a 178-yard, par 3, 17th which can be regarded as one of the best in the world. Additionally, Danzante Bay is only the fourth international facility in the TPC Network's owned by the PGA Tour collection of championship golf course.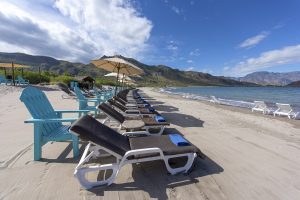 Amidst your luxury villas, you are just steps away from the water either poolside or beach relaxation where you'll find fresh towels, hammocks, palm huts all located near accessible bathrooms and showers. Other adventurous activities on the resort can be rented right on spot including kayaks, paddle boards, bicycles, ATVs, and borrowed tennis equipment.
During your stay, make sure you take a tour into the town of Loreto, where this small village provides authentic treats, shops, and food such as chicken and mole' (a thick gravy, sauce made of chili peppers and a hint of chocolate) you can have at the Mi Loreto Restaurant.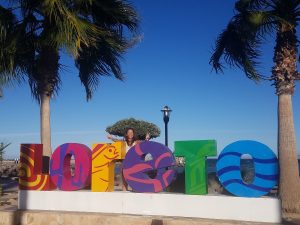 Along with the rich culture is the history of Loreto where you can explore the Mission of Our Lady of Loreto and Museum of the Jesuit Missions. The Mission of Our Lady of Loreto is considered the Mother of all the missions that are in the Peninsula of Baja, California. In 1697, it was founded as one of the first Jesuit Missions and it is the holding place for oil paintings such as Arch Angel Michael the Leader of Divine Protection and Arch Angel Raphael, the healing angel as well as the main altar, and the original sculpture image of Our Lady of Loreto. The Museum of the Jesuit Missions over its course of existence, was housed as storage, a school, and even a prison. Both architecture structures became paramount in the design of all California Missions.
After a fun day in the sun, ending your day at the Villa del Palmar Sabila Spa is a mindful experience like no other. What makes this spa so unique is its specialized therapies that are designed for all your specific needs. In addition to the assorted therapies from Little Teasers to Sabila Signature Treatments, this spa offers unique salt and Sabila (which means Aloe) whirlpool baths. The salt bath remedy is great for aching muscles as it helps the muscles relax as well as loosen stiff joints. The Sabila (Aloe) vera soaking tub includes hand cut Aloe vera that you rub all over your face, neck, and body. The Aloe vera is a natural healing plant that relieves dry skin and promotes the care of eczema and psoriasis. The result is a moisturized body and soothing mind.
The Hydro-therapy Treatment can be done every day of your stay and is one of the high points in maintaining a mindful state of being. Your skilled valet will enhance your VIP rehabilitation by escorting you through this mindful healing. You begin with 10 minutes of warm whirl pool followed by a 10-minute heat sauna where your valet will pamper you with cold cloths and cucumber eye treatment. You are then led into a 30 second, cleansing, cold shower to build your mitochondria which produces the energy currency for your cells. From there you can relax in the Eucalyptus, steamed sauna enjoying the same eye treatment. Now it's time to take the iced-water plunge! If you can stand it, this plunge will help your body by lowering damaged tissue's temperature, reducing inflammation and swelling by constricting your blood vessels. This is followed by a nice dip in the heated jacuzzi. Once you have re-entered the cleansing shower, you can finish your treatment with the salt or Aloe bath (or both) and your relaxation ends with a Swiss heated shower. The result is a soft, silky skin accompanied with a relaxed and rejuvenated mind and body.
Villa del Palmar also offers a Wellness Week several times throughout the year. During these weeks, the resort offers several health and wellness activities including yoga and meditation classes, guided hikes, detox sessions, aqua aerobics, treatments at Sabila Spa, healthy meals and expert-led talks. Get a running start into the New Year with Resolutions that encompass a Mindful experience: health with a mind-body practice to change your life.
The latest Wellness Week in December included Hollywood personal fitness trainer Rebecca Broxterman, @RebeccaBroxfit who lead many of the group classes that comprised of the Bitiband workout. Although I work out regularly, I found out soon enough that my workouts were not necessarily complete.
During Rebecca's Bitiband workout, you will discover muscles that you didn't know existed and leave feeling well and motivated. Visit: bitibrand website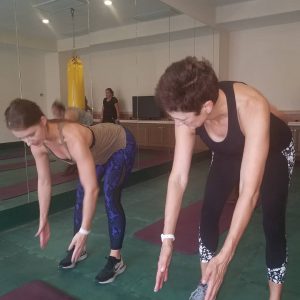 Along with Rebecca's workout was celebrity yoga instructor and nutritionist Beth Manos, founder @TastyYummies. Beth is a Certified Nutritional Therapy Practitioner (NTP) and yoga instructor (500-RYT). Yoga classes were held at the beach front, in a serene setting at shore side. Her wellness talks encapsulated the need for individualized nutrition plans including gluten-free recipes, paleo shakes, and creating a healthy mindset.  Her wellness week experience was highlighted with getting grounded to nature, mindfulness style with personalized meditations.  You can access her website: tasty-yummies website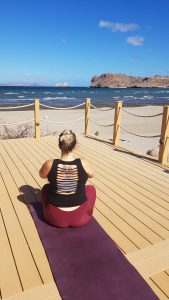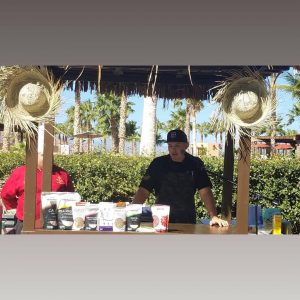 Vacations are not complete without good food and during wellness week guests were treated to healthy alternative meals without sacrificing flavor. Guest Chef David Fuerte, is the CEO and founder of @MadeForChefs, a company that creates quality chef products. He also specializes in corporate catering and private clients including Yasiel Puig of the Los Angles, Dodgers. For more information please visit: https://www.facebook.com/madeforchefsbychefs/    https://www.instagram.com/madeforchefs
Please contact the Villa del Palmar resort for future Wellness Week programs.
There are five- and seven-day Villa del Palmar Wellness Week packages that each include:
Lodging accommodations in a deluxe suite
An all-inclusive healthy meal plan (breakfast, light lunch, snack, dinner)
Participation in all classes, talks, hikes and sessions
Multiple spa treatments
The Villa del Palmar Beach Resort & Spa, which, is just under a two-hour flight from Los Angeles International Airport (LAX) via Alaska Airlines and is accessible seasonally with direct WestJet flights from Calgary, and from Tijuana via Califia Airlines.
For more information visit: villadelpalmarloreto website   loretoretreats/activities website
[contact-form][contact-field label="Name" type="name" required="true" /][contact-field label="Email" type="email" required="true" /][contact-field label="Website" type="url" /][contact-field label="Message" type="textarea" /][/contact-form]
[contact-form][contact-field label="Name" type="name" required="true" /][contact-field label="Email" type="email" required="true" /][contact-field label="Website" type="url" /][contact-field label="Message" type="textarea" /][/contact-form]